The government must justify the "substantial difference" in costs between teacher training routes, a new report has claimed, with calls for a review into the additional costs to the taxpayer for schemes such as Teach First.
The Institute for Fiscal Studies (IFS) has published today what it claims is the first analysis of the cost and benefit of each the routes into teacher training.
The study found the average cost of initial teacher training (ITT) is about £23,000, but this sum varied significantly by route, from £17,000 for an undergraduate primary degree to £38,000 for a Teach First trainee.
The report also found that 40 per cent of people who start ITT are not working in a state school five years later, but that rises to 60 per cent for Teach First trainees.
According to the IFS, this means the cost per teacher in school five years after training is £60,000 for Teach First, compared to between £25,000 to £44,000 for other routes.
The report read: "Justification is required for the substantial difference in funding from central government between routes, most notably for Teach First."
Ellen Greaves, the report's co-author, added: "Dramatic changes to the system of initial teacher training should be based on assessments of the costs of each route in comparison to the benefit it brings, which has evidently not occurred to date. Greater policy attention is also need on how to retain teachers in the long-run."
As well as a review into ITT costs, the IFS has also suggested removing tuition fees for PGCE routes could remove a "deterrent" to train and has backed up a call from the National Audit Office for a review into the use of bursaries of up to £30,000 offered to trainees in shortage subjects.
Alongside today's IFS report, new research looking at the careers of Teach First "ambasssadors" (those who complete the two-year programme) compared with their PGCE counterparts has been published.
This analysis, also authored by Rebecca Allen, from Education Datalab and who contributed to the IFS study, shows that ambassadors are seven times more likely to progress into senior leadership positions at schools, and are twice as likely to be teaching in schools in low-income communities if they remain as a teacher for three years.
The report also found trainees on the PGCE route have higher drop out rates in the year after QTS – but the report notes that this could be impacted by a decision to take a gap year, or not finding a job after qualification.
However, by the fifth year after gaining QTS, the difference in retention rates between Teach First and matched-PGCE students is "anywhere between 12 and 24 percentage points".
Teach First said 56 per cent of its trainees who started since 2003 are currently teaching and 68 per cent work directly in education. The IFS also said the extra cost of Teach First could be justified by the fact trainees are "disproportionately likely" to work in disadvantaged schools.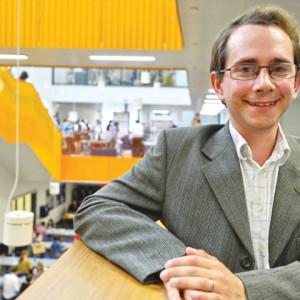 The IFS reported noted that some of the data used will be based on estimates, due to issues in the collection of workforce data.
Sam Freedman, (right) executive director of programmes at Teach First, said he welcomed the report, but added it "does not yet have access to the necessary data to enable fair comparisons on cost or benefit between all routes."
"We therefore hope the government invests in high quality independent research to ensure all teacher training routes can continue to be as successful as possible and allow for fair comparisons between each."
Commenting on the report, a Department for Education spokesperson pointed to the fact that there has been a net gain of 15,100 teachers since 2010 and said there had been a "year-on-year fall" in the number of vacant posts.
It said that Teach First "continues to be a popular route for the best graduates" and reiterated Teach First's figures about retention, above.