Schools may be asked to restrict attendance to vulnerable and key worker children and certain year groups as a "last resort" if cases spike under an updated Covid contingency framework put in place by the government.
The Department for Education has updated the framework to reflect wider school reopenings from this week.
But just like with the framework published last November, ministers will decide whether the measures are implemented, not school leaders.
Schools are welcoming pupils back from today after being closed to all but the most vulnerable pupils and the children of key workers since January 5.
Here's what the latest guidance says.
1. Primaries may be told to prioritise younger pupils…
If attendance does need to be limited again, primary schools may be advised either to restrict attendance to vulnerable and key worker children, or to those groups plus pupils in reception, year 1 and year 2 pupils.
This represents a change to the contingency framework issued on December 30, which stated that primary schools would be advised only to open to vulnerable and key worker children if restrictions were needed. This ended up happening nationwide just a few days later.
If attendance is restricted, schools will still be expected to provide "high quality" remote education for all pupils not attending.
2. …and secondaries could be asked to prioritise exam years
If secondary attendance needs to be limited, schools may be advised to prioritise only vulnerable and key worker children, or those groups plus pupils in years 10, 11, 12 and 13, and "other pupils who were due to take external exams this academic year".
Middle schools "may need to adopt a combined approach depending on the restrictions in primary and secondary schools in the local area".
As with primaries, remote education expectations will remain in place for those not in school.
3. DfE must sign off on measures
Schools have been told they must not implement the measures of the kind set out in the contingency framework without the "explicit approval" of the DfE.
The restrictions set out should also "not be used to address operational challenges, including staff shortages".
The guidance states that the "exact nature" of the restrictions will "depend on the scientific and public health advice", and that "detailed operational guidance will be published when restrictions are advised".
Government will "endeavour to give as much notice as possible of any need for restrictions in education and childcare".
4. Decisions will be on 'area-by-area basis'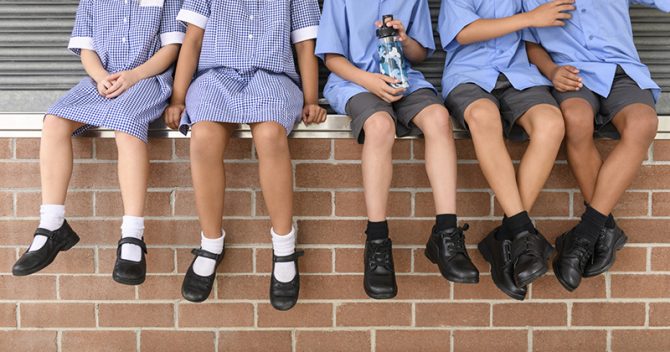 Ministerial decisions to restrict attendance will be made "on an area-by-area basis in the light of all available evidence, public health advice and local and national circumstances", the guidance states.
Schools "should have a contingency plan for how they would operate if any of the approaches for easing and tightening of restrictions become necessary in their local area", the DfE also said.
5. Restrictions will be 'last resort'
The guidance states that restrictions affecting education "may be necessary as a last resort" if there is an "extremely high prevalence of coronavirus (COVID-19) and existing measures have failed to reduce community transmission".
It also adds that restrictions may be needed to "help minimise the impact from new variants of the virus".
6. Special school expectations 'in line' with mainstream age groups
Attendance expectations in special schools will "remain in line with the equivalent age groups in mainstream schools", but the DfE accepts there may be "exceptional circumstances" where they "cannot provide their usual interventions and provision at adequate staffing ratios, or with staff with vital specialist training".
In these circumstances, they should "seek to resume as close as possible to the specified provision for the child or young person as soon as possible".
Alternative provision settings "should continue to allow all children or pupils to attend full-time", the framework states.
However, where AP settings encounter circumstances "where they cannot provide their usual interventions and provision at adequate staffing ratios, or with staff with appropriate specialist training", they should "seek to resume as close as possible to full-time provision, as soon as possible".
7. Continue providing free school meals
As well as providing meal options for all pupils attending on-site, schools have been told they should also provide free school meals support for those eligible for benefits-related support who are not attending.
This could include pupils who are self-isolating after showing symptoms receiving a positive Covid test or those at home because they have been in close contact with a confirmed case.
Schools "should work with suppliers to prepare meals or lunch parcels to be collected by, or delivered to, these eligible children during their time at home", the DfE said.