Teachers' working hours dropped to "more manageable levels" during last year's lockdown, but returned to pre-pandemic levels when schools reopened fully, a new report has found.
The National Foundation for Educational Research (NFER) today released its teacher labour market in England annual report.
The report, which is funded by the Nuffield Foundation, also found Covid-19 placed additional strain on teachers due to high absence rates. It also found that teacher training bursary cuts had helped control demand in non-shortage subjects.
Here's what we learned.
1. Working hours dropped in first lockdown…
Data from the Labour Force Survey (LFS) found that in 2018-19, teachers worked on average around 47 hours in a normal week, compared to 41 hours for similar professionals.
This pattern continued during 2019-20 up until March last year. However, NFER found that during the spring 2020 lockdown "when teachers were mostly working at home" and schools were only open to key worker and vulnerable children, full-time teachers' working hours fell to around 40 hours.
A number of reasons could be behind the drop, such as childcare and other caring responsibilities along with constraints on teachers' ability to work from home, the report found.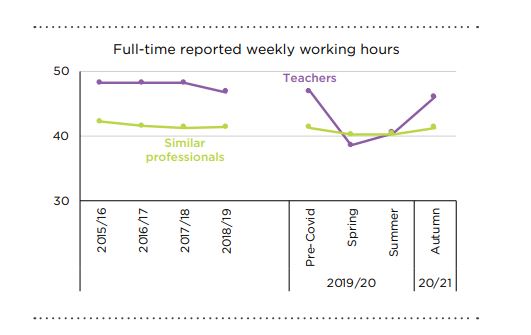 2. …but rose again in the autumn
Teachers' working hours remained lower throughout the summer term in 2020. But when schools fully reopened in September, working hours rose again to pre-pandemic levels, at around 46 hours per week.
NFER added that this was "significantly more hours on average than the 42 reported by full-time similar professionals during the same period".
According to the LFS, in autumn 2020, 55 per cent of full-time teachers would have preferred to work shorter hours, compared with 38 per cent in similar professions.
The report said this indicated workload remained a significant issue for teachers, and recommended workload reduction and well-being support should remain a priority for the government post-pandemic.
3. Absences placed 'strain' on those still working
The report found that Covid-19 led to an increase in staff absence for a variety of reasons, such as staff self-isolating due to contracting coronavirus or through being a close contact of a positive case.
This in turn put extra strain of the teachers who were available to work, NFER warned.
An NFER survey during the autumn term found 10 per cent of the primary workforce was unable to work, rising to 13 per cent of the secondary teacher workforce.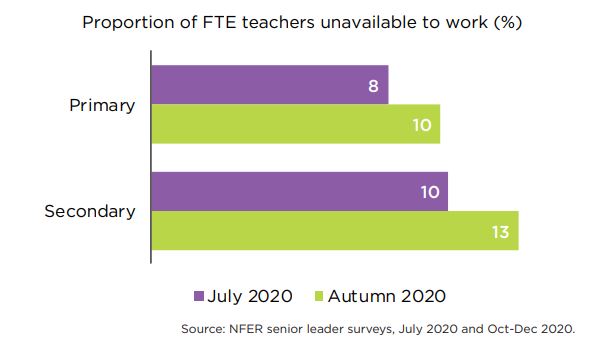 4. Bursary reduction dampened demand in non-shortage subjects
In October the government slashed some teacher training bursaries by as much as 73 per cent, and scrapped others altogether, due to a surge in the number of people wanting to be teachers due to Covid.
The NFER report said UCAS data showed the growth in the number of applications from mid-February 2020 to mid-February 2021 was considerably lower in subjects with bursaries that had been reduced the most.
"Bursaries for modern foreign languages (MFL), geography, biology, design and technology and English have been reduced by more than £10,000, dampening the numbers applying to these subjects compared to what they might otherwise have been. In contrast, there has been strong growth in 2021 for shortage subjects such as maths, chemistry, computing and physics.
"Broadly, the bursary changes appear to have been successful in maintaining the strong demand for shortage subjects, while reducing the over-supply of new teachers in non-shortage subjects."