A primary school teacher has organised a day to raise awareness about refugees involving 61 schools across Norfolk.
Jake Brown, a year 4 class teacher at Avenue Junior School arranged the 'Norfolk Welcomes' event to help around 18,000 pupils in the area make sense of the refugee crisis.
Schools across the region took part, hosting assemblies, lessons, sports events and non-uniform days to raise awareness and educate pupils about refugees and their role in the local community, as well as raising money for, New Routes and Welcome Wheels, local asylum seeker and migrant charities.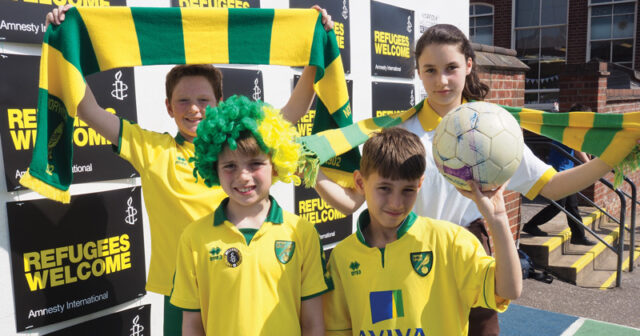 "As a parent and a teacher, watching the refugee crisis unfolding on the TV and in news media has been really upsetting and confusing. It left me feeling powerless, and I thought that if I was feeling these things about the images and stories I was hearing, then what are the children experiencing?" she explained.
"We very much wanted to help them make sense of what they were seeing and also connect them with our community's history as a place of sanctuary as well."
A series of teaching resources about the history of refugee migration in Norfolk were developed for use on the day, made by local teachers and researchers from Anglia Ruskin University.
Brown, who also leads the Norwich Schools of Sanctuary network, a group of refugee-friendly schools, linked the day with Amnesty International's annual Footwall Welcomes event, which celebrates the contribution refugees have made to the world of football since World War 2.
"Our local football team [Norwich FC] has lots of interesting links to refugee migration. Their emblem is a canary, which was first brought to Norwich and Norfolk by a group of refugees in the 16th century," Brown added. "We've been trying to use some of those largely unknown stories of local refugee history to get the children to engage."