Regional schools commissioners have been told to grant more than 60 new free schools each as the Department for Education formalises plans to meet David Cameron's "challenging" pledge of 500 new schools by 2020.
Academy chain chief executive Alan Yellup (pictured above), who is also on the headteacher board for West Yorkshire and Lancashire, revealed his region's target at the Westminster Education Forum last week.
Schools Week understands the directive was sent to all eight regional school commissioner regions as efforts are stepped up to meet Mr Cameron's pre-election pledge of 500 new free schools.
It was also revealed at the forum on Thursday that the DfE plans to involve local authorities in its free schools programme, a significant shift from the past five years where councils were generally bypassed.
The DfE refused to comment on the statement from Mr Yellup, chief executive of Wakefield City Academies Trust.
He said: "We are told we have to find 60 free schools [in West Yorkshire and Lancashire]. If there's a need for 100 – let's have them. Let's not get fixed up on numbers."
The disclosure appears to show a further shift in the programme from its early years where schools were "driven by demand from local people for improved choice".
Robert Hill, an education consultant and former government policy adviser, said the target figure was "arbitrary".
"Any number should really be based on an estimate on the number of schools we need to meet place pressures, rather than plucked out of the air. Some regions need a lot more [school places], others less so."
Mela Watts, director of the DfE's Free Schools Group, told the forum that providing another 500 free schools would be "a big challenge".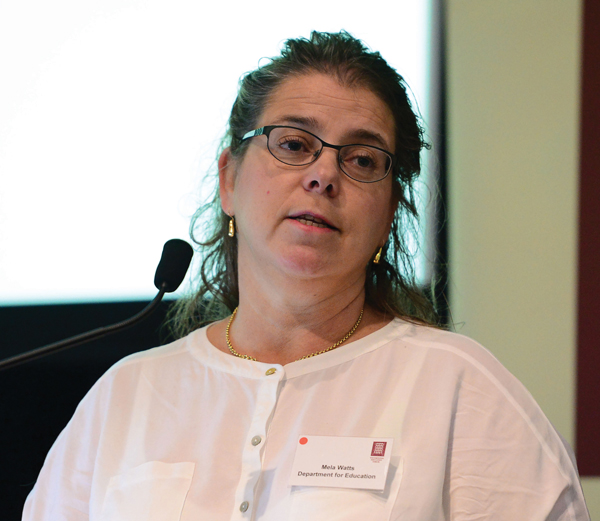 Finding appropriate sites was the "most vexed issue", she said, before adding that the department would work with councils on solutions – although she did not reveal how the relationship would work.
Mr Hill said the move "made sense" to deal with issues around school sites. "That has been a source of controversy and friction. The local authority understands much better how to get them in the right place and catchment area."
Roy Perry, chairman of the Local Government Association's children and young people board, said free schools should only be granted in areas in need of places.
"Councils have unique local knowledge that helps to identify the best areas for new schools, to secure sites, and to make sure other implications such as traffic are dealt with. If the government is to achieve its target of 500 new free schools during this parliament, then it will achieve more by working with local authorities, and even allowing them to build new schools."