The first six organisations to receive their share of a £75 million teaching fund have been named, almost two months after a leaked list of the winners appeared online.
Schools Week looks at what's in store for the first winners, and speaks to two organisations featured on the leaked list but missing from the Department for Education's new list.
The Teaching and Leadership Innovation Fund was launched by Justine Greening in October 2016 in order to pay for the professional development of teachers and school leaders in areas identified as social mobility coldspots. These 12 regions, now labelled "opportunity areas", include Blackpool, Derby, Norwich and Oldham.
Before the government announced the first winners, a list of successful bidders was posted online by education blogger Graham Brown-Martin, who accused the government of favouring its policy supporters with cash rewards.
The six successful organisations now officially unveiled by the DfE are:
• Ruth Miskin Training
• the Teacher Development Trust
• STEM Learning Ltd
• Teach First
• The Institute for Teaching
• The Institute for Physics
The winners will receive a total of £17 million between them, though there are further announcements to come on the remaining funds. A second round of funding is expected to be held this autumn.
Two firms were named on the leaked list back in July, but have not been mentioned by the DfE. These are the education consultancy Edison Learning, and Anvil Education, a company owned by the former teacher and government behaviour tsar Tom Bennett. Schools Week understands that both bodies are still in negotiations with the DfE.
Greening said the funds are to help young people "reach their potential" by improving teacher professional development.
What will the groups do with the money?
Ruth Miskin Training
Ruth Miskin Training is offering a two-year cycle of professional development in phonics and early reading, with two-day training for headteachers and reading leaders in eligible schools.
The project will include whole-school training and 16 in-school support days.
"We are using the funding to deliver our training (leadership, phonics and early reading) in Ofsted 'requires improvement' or 'inadequate' schools in opportunity areas or other priority areas," said a spokesperson.
Miskin herself has advised the government numerous times on curriculum, and the schools minister Nick Gibb has namechecked her as an inspiration on many occasions.
Previously, Read, Write Inc, a series of resources produced by her, received over £4 million of government. Ruth Miskin Literacy Limited, of which she is director, also received over £500,000 from the DfE to provide teacher training.
Teacher Development Trust
The Teacher Development Trust will identify schools to act as excellence hubs for Continuing Professional Development in Blackpool, Northumberland, Sheffield, Stoke and West Sussex, to improve the way schools design, commission and implement training for teachers.
We'll be supporting those schools to change and improve the way that they are developing staff
David Weston, TDT's chief executive, said: "There will be members of senior leadership who will be our CPD excellence insiders, who will work with around eight local schools in the most disadvantaged areas, which are currently given an Ofsted rating of 'requires improvement' or 'inadequate'," he said. "We'll be supporting those schools to change and improve the way that they are developing staff."
Initiatives will include personalised guidance and fortnightly coaching for senior leaders, as well as half-termly local forums for schools to come together and share good practice.
David Weston formerly advised the government on teacher development, and has led an expert group in the subject.
STEM Learning
STEM Learning will deliver a scheme called 'Aspire to STEM', which aims to provide support for science, technology, engineering and maths.
The project will support over 200 schools across primary and secondary level, and reach around 880 teachers over two years.
It wants to aid senior leaders' understanding of the STEM curriculum to ensure they can make the best decisions for the departments in their schools.
"It's about enthusing students to follow STEM pathways but also to educate teachers about the latest developments and opportunities," said Wayne Jarvis, who is in charge.
The project will also extend into the wider community to inform parents about local STEM careers.
Teach First
Education charity Teach First will be delivering a new two-year programme with its share of the funding, called 'Leading Together'.
Launching in Spring 2018, the scheme will focus on the development of leadership teams, using a "research informed approach" and the organisation's "strong network of partners".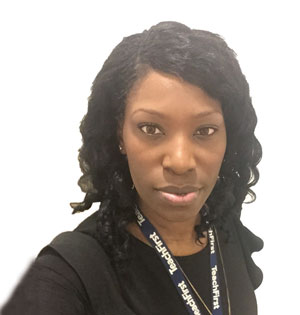 Ndidi Okezie, the body's executive director, said the programme would "be focused on supporting schools to build and sustain strong, empowered and effective leadership teams", with the aim of having "a positive impact on the achievement of teachers and their pupils".
Teach First already receives substantial funding for its initial teacher training programme. Its settlement in 2013 was worth £33 million.
The Institute for Teaching
The Institute for Teaching, a partnership involving the Ark, Dixons and Oasis academy trusts, wants to help teachers earn a master's qualification in expert teaching, in order to tackle the retention crisis which sees around a third leave the profession within five years of starting.
Its new 'Transforming Teaching Programme' will focus on supporting school leaders to improve their expertise in developing other teachers.
"We believe the best way to close the attainment gap between disadvantaged pupils and their wealthier peers is by improving teaching through better teacher training," said Matt Hood, the IfT's director.
Hood is an active campaigner for the Labour Party and has flagged opposition to government policy in columns written for Schools Week.
The Institute for Physics
The Institute of Physics will provide extra physics subject knowledge for science teachers who specialise in biology or chemistry, as well as leadership training for physics specialists and mentoring for newly-qualified science teachers.
"There are schools in areas of England where the chance of pupils taking physics beyond the age of 16 in very low," said Charles Tracy, the institute's head of education.
"The hope is that we can encourage physics specialist teachers in these schools to stay in the regions, alongside recruiting and supporting new physics teachers."
The institute is developing a physics-only timetable, which would allow new teachers who want to focus on physics to develop more quickly in the subject.