The Department for Education this morning released provisional figures for the number of trainee teachers recruited for this academic year.
More than 28,000 people started a postgraduate course in initial teacher training (ITT) this year. This is up from 25,753 last year. Recruitment to ITT courses was at 94 per cent overall.
For the first time, Teach First's recruits are included in the figures – adding 1,584 people to the overall numbers.
Below, we break down the figures.
1. Primary teaching numbers are booming. But more teachers are needed at secondary level, and a lot of subjects are struggling.
While there were more entrants to secondary ITT subjects (15,114 up from 12,971 last year), this filled just 82 per cent of places needed this year, as estimated by the Teacher Supply Model (TSM).
History, English and PE are the most popular subjects for trainees.
Recruitment into design and technology, religious education, art and design, and business studies are very low. Computing – which is expected to need more teachers after a government decision to scrap ICT by 2017 – only recruited 70 per cent of its target.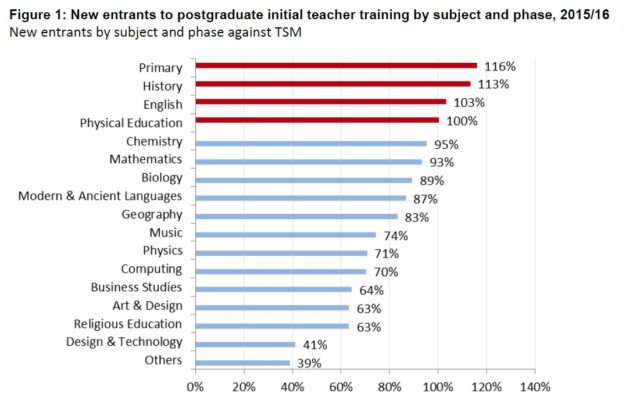 2. Recruitment into the three science subjects differs widely. Chemistry filled 95 per cent of its target, but physics only recruited 71 per cent of its target.

3. Men are still in the minority of recruits. They are most likely to take the School Direct salaried route (34 per cent).
The School Direct salaried route also attracts the highest proportion of people over the age of 25. Perhaps unsurprisingly, Teach First has the highest proportion of under 25s (76 per cent).

4. When you look at the age breakdown by route further, it is more interesting.
The salaried School Direct route is aimed at "career changers", according to the Department for Education. However, the majority of people taking this route are still under 30 (1,865 people), and only 1,300 are 30 or over, and just 71 are over the age of 50.
Over 55s are most likely to choose the higher education route (40 of the 76).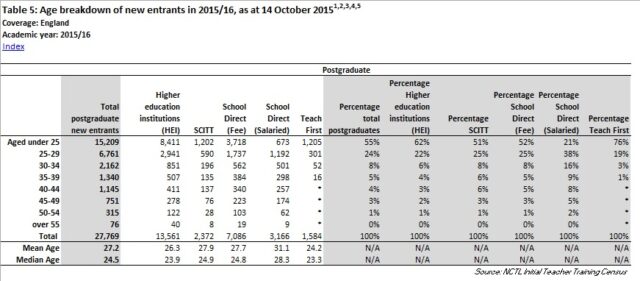 5. Edge Hill University has the highest number of first year trainees. Followed by Manchester Metropolitan University.
The top 10 most popular routes are listed below.