The average size of secondary school classes has risen for the fourth consecutive year as the number of pupils continues to grow.
Data released by the Department for Education today reveals that 8.4 per cent of all secondary school classes now have between 31 and 35 pupils, up from 7.7 per cent last year and considerably higher than the 5.6 per cent recorded in 2014.
The overall number of pupils in state funded secondary schools has risen for the fifth year in the row with 69,500 more pupils in the school system this year, compared to just 10,800 more in primary schools. Primary school class sizes have remained stable.
The average class size for all secondary school classes increased from 21.2 in 2018 to 21.7 in 2019 and has been increasing since 2015.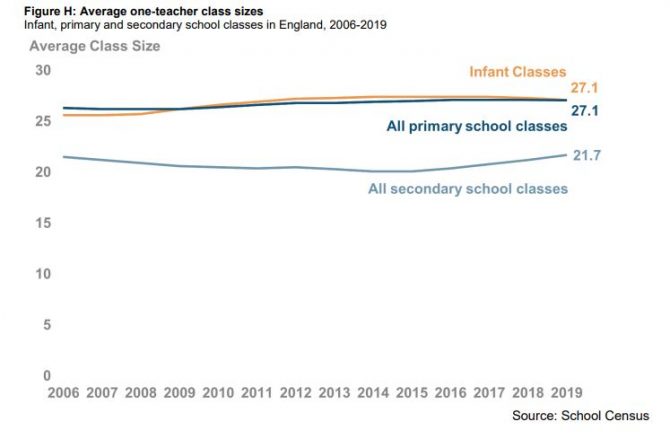 The DfE said the number of pupils in secondary schools is expected to continue to increase in the coming years as the population bulge in primary schools since 2010 starts to move through the school system. There are now 727,000 more pupils in schools than there were in 2009.
There were seven more schools in operation in January 2019 than the year before, bringing the overall number to 24,323, but the large increase in pupil numbers means schools are larger this year.
Geoff Barton, general secretary of the Association of School and College Leaders, said the increase in class sizes "is a direct result of real-terms cuts in school funding".
"Class sizes have increased because schools have had no alternative other than to reduce the number of staff they employ at the same time as pupil numbers are rising."
The data also shows there are 6,500 more pupils in special schools compared to last year, but 900 fewer in independent schools. The number of pupils in independent schools has been falling since 2017, and there are now 2,300 fewer pupils than there were at that point.
The average primary school has 282 pupils, up from 281 in 2018 and increase of 43 since 2009, equivalent to 1.5 extra classes per school. The average secondary school has 965 pupils, up from 948 last year. The data also showed that 32 per cent of all primary schools and 75 per cent of all secondary schools are now academies and free schools.
In January, 15.4 per cent of all pupils were eligible for and claiming free school meals, the highest proportion since 2014 and reversing a downward trend. The DfE said this was because of changes made in April 2018 that protected the eligibility of pupils to claim free school meals even if their circumstances change.