Schools will benefit from a share of the Conservatives' £100 billion infrastructure fund if the party regains power, but will have to wait until after the election to find out by how much.
Speaking exclusively to Schools Week, Gavin Williamson, the education secretary, also asked the sector "to please not read anything into" the omission of academies or a free schools target from his party's manifesto.
This is something that would be outlined as part of our spending review if we are fortunate enough to get into government
The Times reported earlier this month that Sajid Javid, the chancellor, would raise government borrowing to fund extra spending, including on schools.
The party's manifesto confirmed a £100 billion infrastructure fund and allocated specific amounts for some projects, including more than £700 million to upgrade the further education estate. But there was no equivalent figure for school capital spending.
"This is something that would be outlined as part of our spending review if we are fortunate enough to get into government," Williamson said.
"I'm not quite sure when the spending review would be, but I think it would be imminent."
Williamson also re-emphasised his commitment to some of the government's key reforms.
"Please don't read anything into that," he said. "Just because something isn't mentioned . . . academies, free schools are an absolute central part of everything we're doing in terms of education. We want to drive up the numbers."
In its 2015 manifesto the Conservatives pledged to open at least 500 new free schools by 2020.
That was superseded in 2017 by a promise to open at least 100 a year.
According to government data, 313 new free schools have opened since 2015. Fifty-eight opened in 2017-18 and 67 in 2018-19.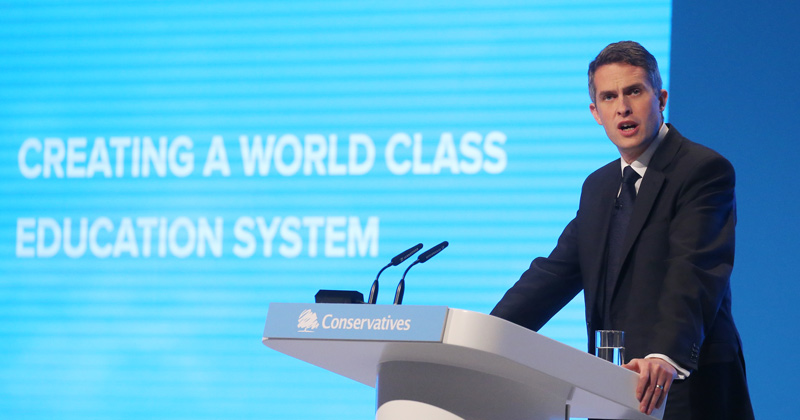 The government has also come under fire for missing its three million apprenticeship target, pledged in both the 2015 and 2017 manifestos, by a projected 800,000.
In response to this, Williamson said "we can all bandy around numbers", adding it was better to focus on "driving quality and opportunities".
The new manifesto simply says: "We will continue to build more free schools".
Williamson said a "key element is how we continue to innovate within the free schools programme, how we continue to bring new bold imaginative thinking into every single new free school. We want them to be the incubators for excellence."
As well as the already reported funding hikes, the party pledged up to £34 million a year to boost PE teaching in primary schools. This equates to just £7.19 per pupil per year.
It also promises up to £260 million a year to boost "wraparound childcare" at schools and childcare providers.
That is on top of a one-off £250 million in capital funding to help schools deliver it – the equivalent of just over £12,000 for every school in the country.
A promise of an annual £110 million "arts premium" for secondary schools works out at about £33 per pupil per year, or less than £1 a week.
Asked if the new arts premium was an admission the EBacc had adversely impacted arts subjects, Williamson said: "No. Not at all."
He said the party recognised that the arts and creative industries "play an incredibly important role in terms of driving opportunities, prosperity and wealth in this country, and we're wanting to look at how we can capitalise it, how we can drive it forward, how can we do things in a slightly different manner. This is very much in recognition of that."