Schools are being urged to ignore "dangerous" new guidance on pupils' gender from a pressure group.
Transgender Trend, an organisation set up by parents who "question the trans narrative", has this week published what it calls a "schools resource pack", offering advice to teachers and school leaders about how to support pupils dealing with gender issues.
The group believes an increase in the number of children worried about their gender is the result of pupils being taught about gender identity, and blames internet use and "social contagion" for "glamorising medical transition" and causing "rapid-onset gender dysphoria" in children.
The idea that listening to young people and taking steps to make them feel included might encourage them to be trans is quite simply a myth
Its guidance urges schools to abandon what it sees as "special rules" for transgender pupils and to ignore existing advice, which it claims is biased in favour of transgender people.
But the LGBT charity Stonewall, which advises hundreds of English schools, said the guidance is "packed with factually inaccurate content" and warned schools they "must have nothing to do with this deeply damaging publication".
Hannah Kibirige, Stonewall's director of education and youth, said the document not only "fails to reflect the real experiences of trans young people", but "actively encourages schools to take steps that risk them falling foul of their legal duties and duty of care to pupils".
"The idea that listening to young people and taking steps to make them feel included might encourage them to be trans is quite simply a myth," she added.
"Most teachers would agree that effectively supporting any young person begins with listening to them, and understanding their experiences and needs. Supporting trans young people is no different. Talking to young people about what steps will help them to feel included, happy and welcome at school just makes sense."
Stephanie Davies-Arai, a spokesperson for Transgender Trend, said: "Our schools pack has divided opinion, which is a reflection of the controversy surrounding the issue. We ask parents and educators keep an open mind, read it and decide for themselves."
In its guidance, Transgender Trend claims that some groups of pupils, including lesbians, those on the autistic spectrum and children with troubled backgrounds and mental health issues, are more prone to gender-nonconformity, and are being "encouraged to interpret their non-conformity as a sign that they are transgender".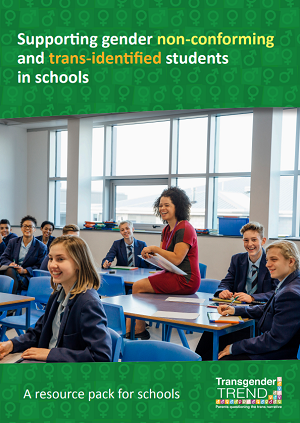 The document also warns that schools "should be cautious of giving a transgender child rights that are not afforded to other children", and should adopt "a consistent approach to interests and personal style (clothing, hairstyles, footwear) without having special rules for a transgender child".
According to the document, much of the existing advice on transgender issues comes from "organisations specifically set up to promote the political interests and needs of transgender people". This guidance sometimes "fails to take account of the needs and rights of the whole school community", the group said.
Kibirige said increasing numbers of schools are "welcoming, safe places for young people who are trans, or who simply don't conform to the gender stereotypes society expects of them", and warned the guidance would create confusion.
"As more schools open themselves to learning about how to be trans inclusive, there is a hunger for information from teachers, school staff and others involved in education," she said.
"That's why the 'schools resource pack' produced by Transgender Trend this week is so dangerous. Masquerading as professional, 'evidence-based' advice for schools on how to 'support trans and gender-nonconforming young people', the pack in fact provides the reverse. It is a deeply damaging document, packed with factually inaccurate content."
The Department for Education declined to comment on the content of the guidance, but confirmed that it did not endorse the document, or provide any funding to Transgender Trend.