Schools in England will remain open during the month-long national lockdown due to begin on Thursday, Boris Johnson has confirmed.
The second national lockdown announced by the prime minister today will see pubs, restaurants and non-essential shops shut and socialising between households banned indoors in all parts of England from 12.01am on Thursday.
But schools, along with colleges and universities, will remain open, the PM said.
"Our senior clinicians still advise that school is the best pl;ace for children to be. We cannot let this virus damage our children's futures even more than it has already and I urge parents to continue taking their children to school, and I am extremely grateful to teachers across the country for their dedication in enabling schools to remain open."
Johnson also announced that the furlough scheme will be extended until December to help organisations affected, although he said the scheme would be different to how it was when introduced in March.
Nick Brook, deputy general secretary of school leaders' union NAHT said it was "right to prioritise keeping pupils in school".
"But the government needs to be wholly transparent about the risks to children, families and school staff of doing so, and give clear guidance on what additional measures schools may have to take in order to keep everyone safe."
Geoff Barton, general secretary of leadership union ASCL, said it was "right that keeping schools open should be the priority".
"However, this second Covid wave and the announcement of a new national lockdown will be very worrying for many pupils, parents, and staff, and it is important that the government provides clear information to reassure the public about the rationale for its decision to keep schools open."
Barton added that rising rates "may mean that some restrictions will become necessary sooner rather than later, such as implementing the rota system in secondary schools suggested in the government's own contingency planning".
The National Education Union today called for schools to be closed to all but the most vulnerable pupils and the children of key workers, as they were during the first national lockdown.
Kevin Courtney, the union's joint general secretary, said it would be "self-defeating for the government to impose a national lockdown whilst ignoring the role of schools as a major contributor to the spread of the virus".
The union pointed to the results of survey by the Office for National Statistics, which suggested that infection rates among older schoolchildren are on the rise.
The ONS said older teenagers and young adults "continue to have the highest positivity rates, while rates appear to be steeply increasing among secondary school children".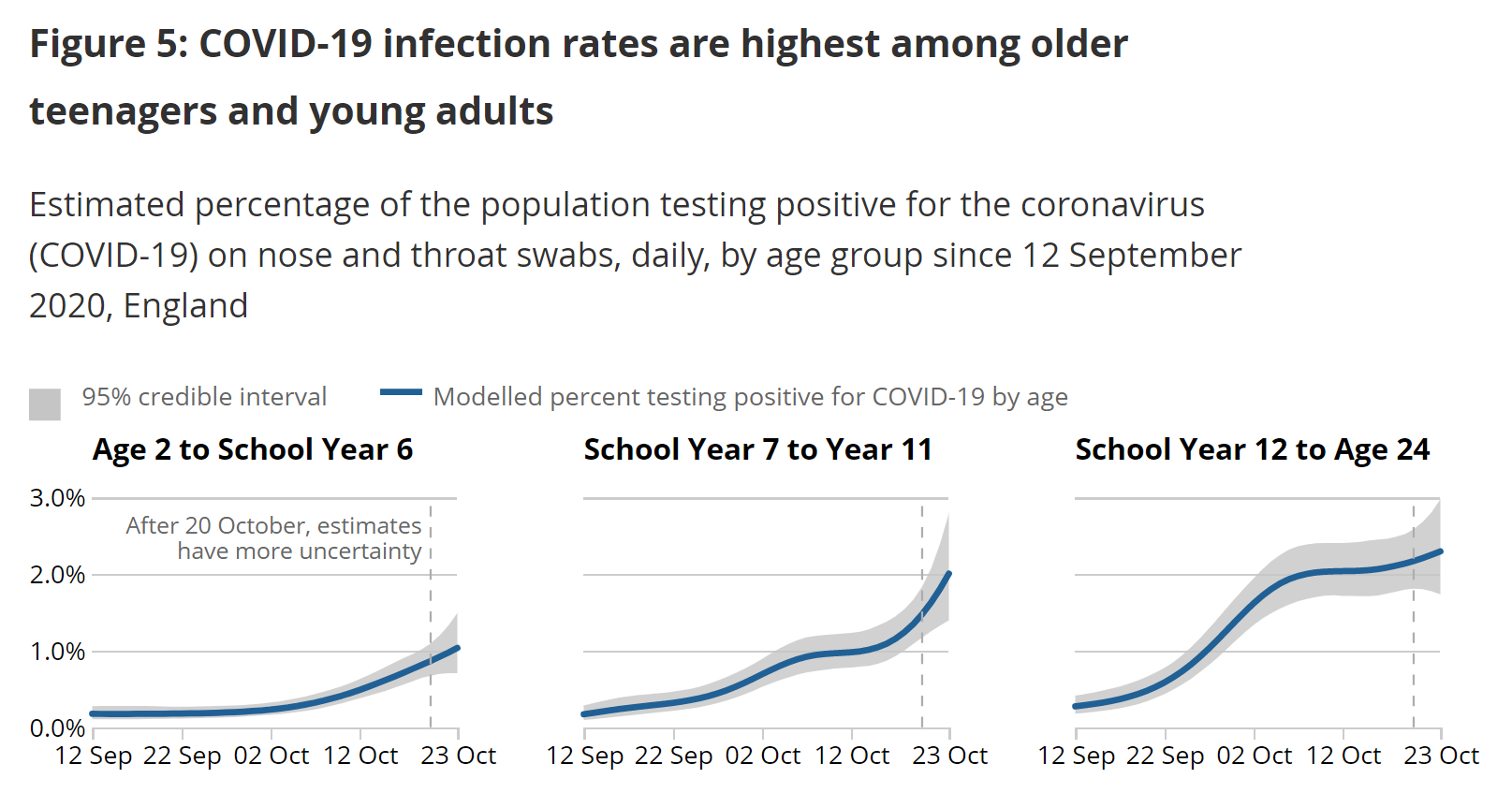 Courtney added: "The National Education Union called for a two week circuit break over half term to include schools…but the government in Westminster has ignored this call.
"More severe measures are now called for as a result, the government should not make this mistake again."
The NEU also said a rota system should be introduced in schools at the end of the lockdown.