Ofsted has been warned by a former education secretary not to undermine academy freedoms "by the back door" in a report that found schools running three-year GCSEs were more than twice as likely to be rated 'inadequate'.
A report published today by think tank Policy Exchange, The Watchmen Revisited, claims the schools watchdog has created a "de facto preference" for a two-year GCSE curriculum under its new framework.
Based on analysis from the 169 Section 5 inspections which have taken place between September 1 , 2019 and January 30, 2020, the report found 16 per cent of schools who had extended their GCSE curriculum to three years were rated 'inadequate', compared with just 7 per cent of those running a two-year key stage 4.
The analysis also revealed 24 percent of schools with three-year GCSEs were rated 'good' or better, compared to 56 per cent of those running a two-year key stage 4. In total, 69 schools were found to be operating three-year GCSEs and 73 a two-year key stage 4.
While the report supported Ofsted's focus on the curriculum, Iain Mansfield, Policy Exchange's head of education, added "it is critical that this is not implemented in a way that undermines the academy freedoms that have been responsible for driving up standards".
The report recommends Ofsted should amend its framework to reflect this impartiality by removing the need for inspectors to "see that the school has made provision to ensure that pupils still have the opportunity to study a broad range of subjects" when "a school has shortened key stage 3".
Baroness Morgan, a former education secretary, in a forewood for the report, also warned: "Part of the success of academies, if they choose to make use of them, are the freedoms they are given. We must be careful not to undermine those academy freedoms by the back door and it is important that all of us, including Ofsted respect that."
Think tank uses Harris Federation data to make its case
The think tank also used data provided from the Harris Federation to illustrate how a system of three-year GCSE's can lead "not only increased EBacc results, but also high levels of pupils achieving in creative subjects".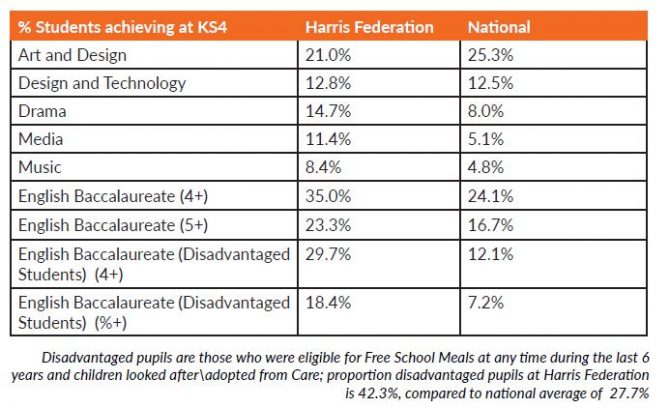 Harris' chief executive Sir Dan Moynihan has been highly critical of Ofsted's new regime, claiming "it is a middle-class framework for middle-class kids".
Policy Exchange said the trust provided the statistics on the back of a roundtable discussion, hosted by the think tank, which involved selected representatives from 12 academy trusts and six industry leaders.
Ofsted has been accused of having a "preferred curriculum", with schools which began teaching GCSEs in year 9 claiming they had been told by inspectors they were unable to attain an 'outstanding' due to this policy.
While Ofsted deny this is the case, the new report claims "the wording of the inspection framework, and consequent inspection practice, has created a "de facto preference".
However, the report goes on to describe Ofsted as "the linchpin of the English schools system" and commend its "its robust stance on discipline".
An Ofsted spokesperson said it welcomed the report's "support for our new inspection framework and its backing for our strong stance against schools that game the system".
"We'll continue to celebrate excellence in all types of school and to recognise academies and faith schools for exercising their freedoms in the best interests of their pupils. We'll also continue to listen carefully to feedback on our work."
Ofsted's faith focus makes radicalisation more likely
Elsewhere the think tank criticises the watchdog for also straying beyond official guidance and "seeking to create its own education policy" under its approach to faith school. The report stated there "have been too many occasions when a secularist bias has been displayed" during inspections.
Policy Exchange said the watchdog should "not show less flexibility than is established" by the Department for Education on issues such as mandatory age for schools to teach LGBT+ issues.
The report claims: "If parents of faith feel their children cannot receive an education that respects their belief in regulated schools, they are more likely to seek out alternative unregistered provision, where they will be more vulnerable to radicalisation."
Morgan said the report made "important recommendations" between Ofsted and faith schools in a "tricky area… We must never confuse those who wish to wish to overthrow our way of life or to incite violence towards others with those who are simply different."