Ofsted has told schools they must do more to protect vulnerable and disenfranchised pupils – despite new figures showing schools are spending more on alternative provision providers.
A report published today by the education inspectorate found schools are switching from poor quality alternative provision to in-house interventions, with schools praised for working together to find and commission better provision for pupils unable to remain in mainstream classes.
But the report also flags that when schools commission outside services they don't have to ensure alternative provision providers are registered, or that staff have undertaken adequate checks.
Sean Harford, Ofsted's national director for education, said the improved awareness around alternative provision was good news but "there is still much to be done".
He said it is vitally important schools recognise their responsibility for every pupil sent to an external provider.
"These are some of the most vulnerable children in the education system and the school is responsible for ensuring their personal and online safety while they are off site, as well as the quality of the education provided."
it is vitally important schools recognise their responsibility for each and every pupil sent to an external provider
The three-year study was commissioned by the Department for Education (DfE) after a survey in 2011 found significant weaknesses in how schools used alternative provision.
It reveals that schools are now ploughing more money into finding provision.
Ofsted found the amount spent on off-site alternative provision across the schools it surveyed rose from £2.4 million in 2011/12 to £3.9 million in 2013/14.
The average spend per pupil increased 27 per cent, from £2,536 to £3,217.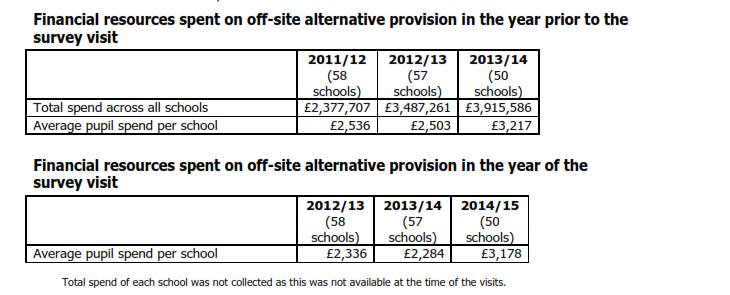 Micon Metcalfe, a school business director in south London who also trains education leaders, said her school witnessed a similar rise in costs.
She added: "As local authorities and third sector providers faced cuts or reduction in income, the charges to schools get bumped up."
She said costs at one provider rose by more than 10 per cent with only a few days' notice.
Instead, her school started doing more in-house interventions with use of external alternative provision "tightly focused on the student's need and whether it will make a difference to outcomes".
She said GCSE results improved after the shift in approach.
Ofsted found many schools are doing the same. Of the 417 schools identified, 251 did not use off-site alternative provision.
The report read: "Reworked in-house provision became broader and more creative, and was then better able to meet the needs of all the pupils, thereby reducing the need to send pupils off site".
Mr Harford added: "The message is filtering through but I hope that this report will help to hit home that every pupil in alternative provision has the right to expect the same quality of education and care that they would get in the school classroom."
Ofsted also again highlighted registration problems – some alternative providers offering part-time, or full-time education to a small number of pupils, do not have to be registered and do not fall under Ofsted's inspection powers.
Of the 448 alternative providers visited by Ofsted, a total of 14 were found to be contravening registration rules.
The report read: "This is a very worrying situation, particularly considering that the schools were sending some of their most vulnerable pupils to these placements, sometimes five days a week."
They have since closed or have been registered. Ofsted has now asked the DfE for direct access to all alternative providers that take pupils of compulsory school age for six hours or more and to "strongly consider" the threshold for providers to register as independent schools.
Ofsted has also urged school leaders to check registration of provision they use, as well as if staff have appropriate checks, and asked the DfE to provide clear guidance about how to do this.
A DfE spokesperson said: "Every setting should be delivering an excellent education while ensuring the safety and wellbeing of pupils, and we welcome Ofsted's recognition of the progress we have made with alternative provision.
"However, we recognise there is still work to be done to make alternative provision even more rigorous, and we will be coming forward with plans in due course."