Schools are facing logistical problems just to ensure pupils get to the school gates safely without coming into close contact with others.
That includes making sure pupils avoid walking in "clusters" to school, along with road safety – particularly around the school gates – should car journeys increase.
Meanwhile there are fears that reports of a 40 per cent drop in bus services could leave pupils stranded.
Jon Andrews, school system and performance director at think tank Education Policy Institute, said: "How children will get to school is one of the many things that school leaders will be grappling with as they consider how to re-open."
Government guidance published this week said schools should encourage parents and children to walk or cycle, and avoid public transport at peak times.
The National Travel Survey data states the average travel distance for primary schools is 1.5 miles and 3.5 miles for secondary school.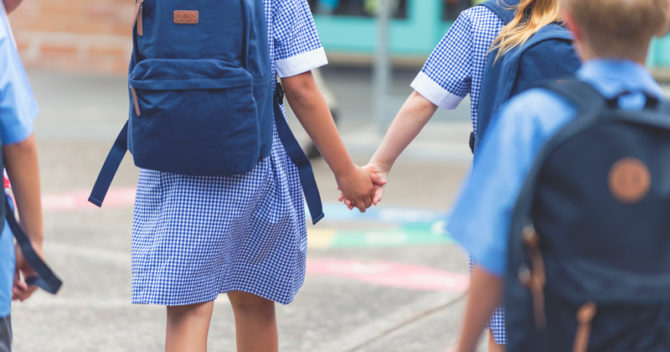 Andrews said: "For many walking will simply not be practical."
The most recent National Travel Survey of about 2,000 people in 2018 found that 44 per cent of children aged between five and 16 years old walked to school and just three per cent cycled.
While 36 per cent overall went in a car or van, this figure increases to 45 per cent for primary children.
At primary, one per cent of pupils used a private bus and two per cent used a local bus. But the figures jump considerably when looking at secondary school pupils – 21 per cent use a local bus, eight per cent a private bus and two per cent go by rail.
While pupils in rural areas face greater distances to get to school, Andrews said those in urban areas, and particularly London, are reliant on public transport.
But the Confederation of Passenger Transport UK has said bus operators were running about 40 per cent of their services.
In the capital, Transport for London said the bus network would only be able to carry about 13-15 per cent of normal passenger numbers with social distancing, even when all services were operating again.
Andrews said: "Capacity on public transport is likely to remain reduced, and families may be reluctant to use it."
The government has published guidance for children travelling on public transport. It states they should keep a two-metre distance from others. If this isn't possible, children should "avoid physical contact, face away from others, and keep the time spent near others as short as possible".
Meanwhile government guidance for local authorities on providing home-to-school transport states they should look at using larger vehicles, running two vans or buses rather than one, and cordoning off seats to spread out passengers.

A survey of members by the Association of School and College Leaders last month found "a lack of transport for pupils" as one of the situations listed as making it "impossible for schools to open on a specified date".
Schools are beginning to come up with their own plans. Wreake Valley Academy, in Leicestershire, will be staggering start times for years 10 and 12 when they re-open. This will be done alphabetically by surname.
Up to 70 per cent of pupils walk to school, while the rest cycle, get dropped off or use two school buses serving villages in their ten-mile catchment radius.
But concerns remain about making sure students who are walking in remain socially distant. "We do not want to encourage students to be walking in clusters," head Tim Marston said. "Our messaging will be clear."
The government has announced new pop-up bike lanes, wider pavements and cycle and bus-only corridors will be created "within weeks" as part of a £2 billion package.
But Chris Bennett, head of behaviour change and engagement at walking and cycling charity Sustrans, warned these need to happen "as soon as possible".
Special schools will face their own unique challenges, too. School Census travel figures, which Andrews said were last collected by the Department for Education in 2011, show 57 per cent of special school pupils relied on a bus to get to school.
For transporting children with complex needs who need help, for example with seatbelts, government guidance says "appropriate actions" should be taken to reduce the risk if hygiene or social distancing is not possible.
Paul Silvester, head teacher at Newman Special School, in Rotherham, added the sector may need to encourage parents to bring in their children.
But he said increased traffic would itself "create a bottleneck. We have a single-track drive with a turning circle… So if we have more traffic, it can get a bit tricky."