A new study published today by the National Association of School Business Management (NASBM) claims to have found ways for a school to slash up to 20 per cent on their administration costs.
The report follows NASBM chief executive Stephen Morales writing for Schools Week last year urging schools to "think differently" to make large-scale savings.
Recommendations from the study, entitled Guidance for Improving School Financial Outcomes, include getting SLT involved in school finances, using ICT students to build invoicing systems, and not wasting money advertising your school in the local press.
Schools Week reports the key findings:
Get SLT involved in finance:
The senior leadership team (SLT) should be aware of the school budget, says the report, and governors – who should have financial skills – should hold SLT to account.
For increased efficiency, it also recommends that SLT should strive to create an inclusive, collaborative team environment, where all staff step in to address discipline issues as they occur. This will ensure that things are dealt with quickly, with a minimum of wasted effort.
Other leadership advice includes introducing a regular, informal observation regime (in addition to formal observations), supported by constructive feedback and effective coaching, so teaching staff receive proper support and poor practices don't become embedded.
Get pupils to build your IT systems:
Don't buy specialist software for your "requisition to pay" process – use Microsoft Excel or Access and give your ICT students a project to build you a system. (It really says this.)
For school-wide admin procedures, make sure they're clear to everyone. Document them so they're not reliant on the knowledge of individual staff members.
Another essential recommendation is to make sure there is only one version of student data, and be clever about how you collect it – e.g. add additional fields (if necessary) to the consent forms for school trips or events and add to the database on return.
Other general admin tips include:
– Use BACS to pay supplier invoices rather than cheques
– Don't leave a cash surplus in a current account, reinvest for a better interest rate
– Use +Pay or Parent Pay to manage online payments from parents and integrate with cashless payments for catering
– Build flexibility into admin teams by multi-skilling staff
Make meetings shorter:
The report suggests activity logging, to analyse and improve time use.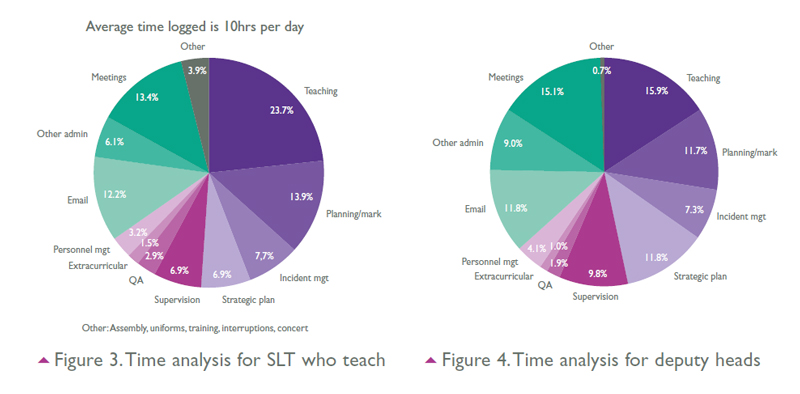 Meetings and emails are identified as obvious candidates for efficiency savings, with the following ways to make meetings more efficient:
– Distribute documentation 24 hours before
– Have an effective chairperson and stick to agenda timing
– Assign actions to individuals with a target deadline
– Use smaller working groups. The action owner should come to the meeting with a decision-ready plan and aim to present this to the group in under two minutes.
– Have stand-up meetings to keep them short
Trim from the top:
A common problem in schools is a desire to retain experienced admin staff, says the report, but they aspire to a higher earning potential.
This leads to "the creation of additional (unnecessary) team leader roles and promoting staff into them" and a consequently "top-heavy cost structure."
Paradoxically, says the report, "with small teams the level of management of the work actually goes down as the team leader focuses on doing work themselves rather than managing."
The authors advise resetting team sizes to management ratios of between 8 and 12 to 1.
Outsource, outsource, outsource:
This section includes a few tips, mostly based on outsourcing services such as timetabling and cleaning.
The report found Backwell School, in Bristol, has saved £40,000 per year by outsourcing its cleaning.
However, outsourcing and schools hasn't always worked well: private firm Serco had to apologise after a catalogue of errors in Lincolnshire, including leaving teachers unpaid.
The firm signed a £70 million five-year contract with Lincolnshire County Council in 2014 to provide its back office functions.
Save laptops from the scrapheap:
Instead of throwing away old computers, NASBM said schools should keep them and hand them to supply teachers. The association said this can help the supply teacher take the register without paper records and help them cover lessons.
Another key point feature in the report is over-printing. NASBM found ways for schools to save cash included analysing which departments have the highest print and copy usage, before focusing on ways to cut that down.
The report also said savings of more than 20 per cent can be made in securing good value copier and printing leases. Schools Week has previously reported the benefits of this, but schools have also been stung after using such deals.
Join a multi-academy trust:
The study says joining a cluster of schools can effectively cut down on expensive staff, for instance the senior leadership team, finance department and smaller departments including IT support.
This is because, the reports says, clusters of multi-academy trusts will instead have centralised teams to run these functions across all their schools.
MATs can bring economies of scale, for instance driving better value in outsourcing deals for schools in its trust, as opposed to being a single school.
New skills for schools: operations and process management:
The report states schools need to "develop a further new set of skill and capabilities" they typically don't have.
That includes operations, performance and business management. NASBM says, as financial pressures grow, it is essential school management teams develop commercial acumen to spot opportunities to reduce costs and raise additional revenue.
Morales talked about the rise of the business manager at NASBM's last annual conference, including launching a new set of professional standards to define their role.
A warning for moving to part-time:
The final section report talks of "realising benefits" – including keeping a central benefits tracker.
But the section warns schools should "carefully consider" moving staff to part-time roles.
"While it may seem an elegant way of capturing savings of less than one full-time employee, the aggregate costs to the school of managing dozens of differing work schedules, added real-world costs and complications of job-sharing … mean the part-time working could be less of an economy than it first appears."