Schools are sending more vulnerable children to social care services, with more than 110,000 cases last year, the latest government data has revealed.
In 2016-17, schools were responsible for referring 114,530 children in need to social care services, an increase of nearly 11,000 compared with the previous year.
This was 17.7 per cent of the total referrals to children's social services in England in 2016-17, a single percentage point increase on 2015-16, when schools made 103,670 referrals.
Pupils are said to be "in need" if they are assessed as needing social care services to achieve a "reasonable standard of health or development", or to prevent significant or further harm happening to them. This includes children with disabilities.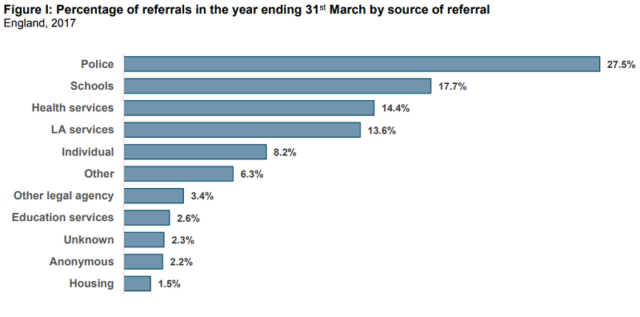 In June 2016 Schools Week reported that schools were under pressure to become "mini welfare states" to support vulnerable pupils as child poverty increased.
In 2016-17, schools were second only to the police as a source of referrals. The police made 177,470 referrals – 27.5 per cent of the 646,120 referrals made in total in England. This represented a one percentage point decrease from 2015-16.
Health services were the third most common source of referrals, dealing with 93,330 cases, or 14.4 per cent.
The data is drawn from the children in need census, which collects information about every child referred to children's social care services every year, as well as any cases already being dealt with by local authorities at the beginning of the year.
The overall number of children in need decreased from 394,400 in 2016 to 389,430 in 2017, a fall of 1.3 per cent.
However, the percentage of children in need with a disability has increased this year from 12.7 per cent in 2016 to 12.9 per cent in 2017, ending a five-year downward trend.
The proportion of children in need with a disability decreased from 14.2 per cent in 2010-11 to 12.7 per cent in 2015-16.