New figures published by the government today reveal how well the country's multi-academy trusts are performing.
The Department for Education's MAT league tables rank chains based on their progress scores and other metrics recorded in last summer's GCSEs.
The data covers 85 trusts with three or more schools that have been with them for at least three years.
Here's what we found.
1. Tauheedul, Dixons and the Diocese of London lead on Progress 8
Three academy trusts boast "well above average" progress 8 scores for 2018.
The Tauheedul Education Trust, now known as Star Academies, is the highest, with a score of 1.42, followed by the Dixons Academy Trust on 0.83 and the Diocese of London on 0.67.
A further 23 trusts have "above average" scores, including the Harris Federation, the Cam Academy Trust and the Diocese of Westminster.
2. Doomed UCAT and WCAT trusts among worst progress 8 performers
Six academy trusts had progress 8 scores that were well below average in 2018.
The University of Chester Academies Trust, which is currently in the process of being wound up, had a score of -0.83, followed by the Fylde Coast Teaching School Ltd on -0.78 and Midland Academies Trust on -0.70.
Aldridge Education had a score of -0.63 while Wakefield City Academies Trust, which has given up all of its schools, had a score of -0.61. The sixth trust with well below average score was the Education Central Multi-Academy Trust, with a score of -0.57.
3. Overall, MATs show below-average progress…
Today's data shows that the national progress 8 score for multi-academy trusts was -0.04 in 2018, compared with 0.01 in all state-funded mainstream schools.
Last year, 27 per cent of MATs had progress 8 scores above the national average and 4 per cent were well above, while 33 per cent were below the national average and 7 per cent were well below. The remaining 29 per cent were not "significantly different" from the national average.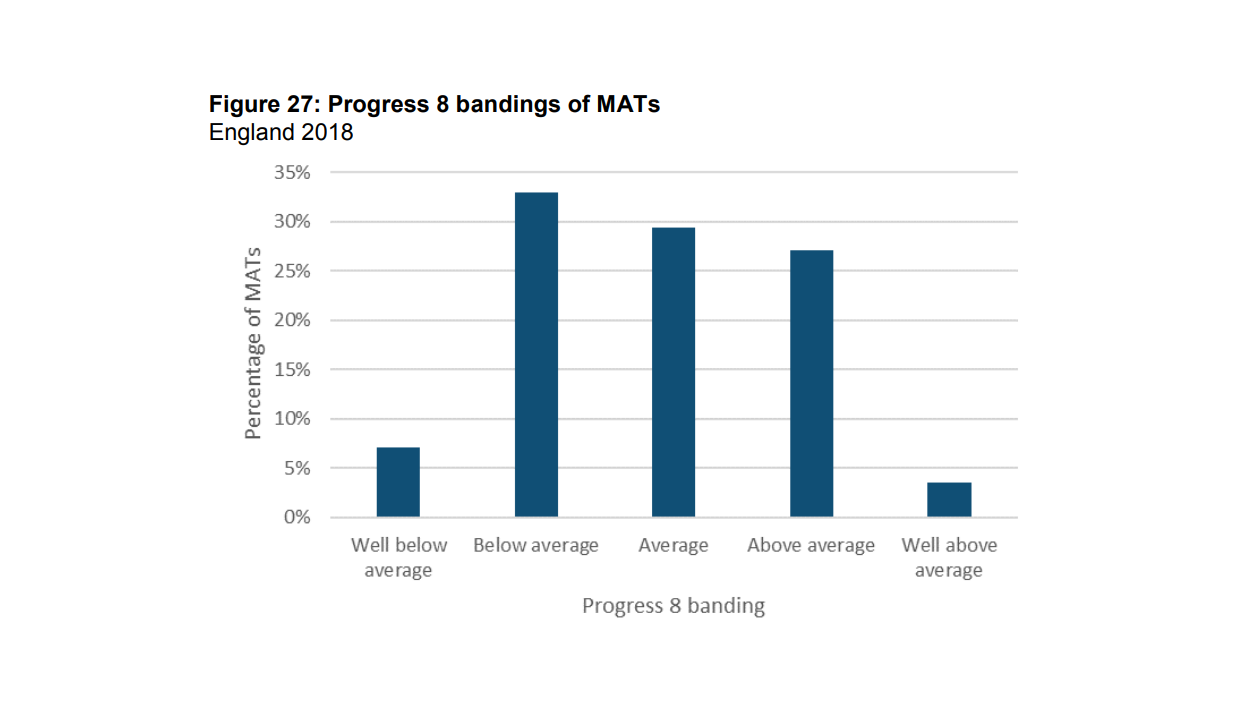 4. …and they fall behind on the EBacc too
MATs had an EBacc entry rate of 35.2 per cent last year, compared with 39.1 per cent among all state-funded mainstream schools. At the same time, 56 per cent of MATs have an EBacc entry rate below the national average.
They also score lower in terms of the government's new average point score for the EBacc, which in 2018 was 3.78 among MATs, compared with 4.12 for all state-funded schools.
Around two thirds of MATs had an EBacc point score lower than the national average.