School budgets have been raided to the tune of tens of millions of pounds by cash-strapped councils scrambling to make up an education services grant funding black hole.
Thirty-six local authorities have top-sliced more than £22.4 million from school budgets between them this year to make up for the loss of the education services grant, analysis shows.
Some councils charge over £60 per pupil.
The finding is heaping further pressure on already squeezed school budgets – which are also facing hikes in pension contributions amid squeezed funding.
We really need the government to listen to councils, headteachers and parents about the very real impact that budget reductions are having
The real top-slice figure is also likely to be much larger because dozens more councils have been given leave to skim money from schools. It is also understood more councils are set to ask permission from their schools forum to do the same next year.
At the same time, town halls have warned they are still top-slicing far less than they used to receive from the government, leaving them in a worse financial position to help their local schools.
Headteachers have hit out at the situation, calling it "classic robbing Peter to pay Paul".
The education services grant was slashed in 2017, and although funding for councils to fulfil certain legal duties such as place planning was retained in the form of "central school services" funding, councils lost money for the general funding element of the ESG, which covered extra services such as legal costs and improvement services.
It was revealed last year that 61 councils had been granted permission by their schools forums to top-slice money for these general services – such as legal costs and improvement services – in 2018-19.
Of those, 36 responded to Schools Week's enquiries, admitting to a combined top-slice of £22,419,459 million this year.
The highest top-slice rate was in Bedford, where the £600,980 top-slice in 2018-19 represents 1.4 per cent of the schools budget.
Other councils with a large top-slice were the Isle of Wight (£600,000, or 1.3 per cent), West Sussex (£2.2 million, or 0.77 per cent) and Wakefield (£392,276, or 0.62 per cent).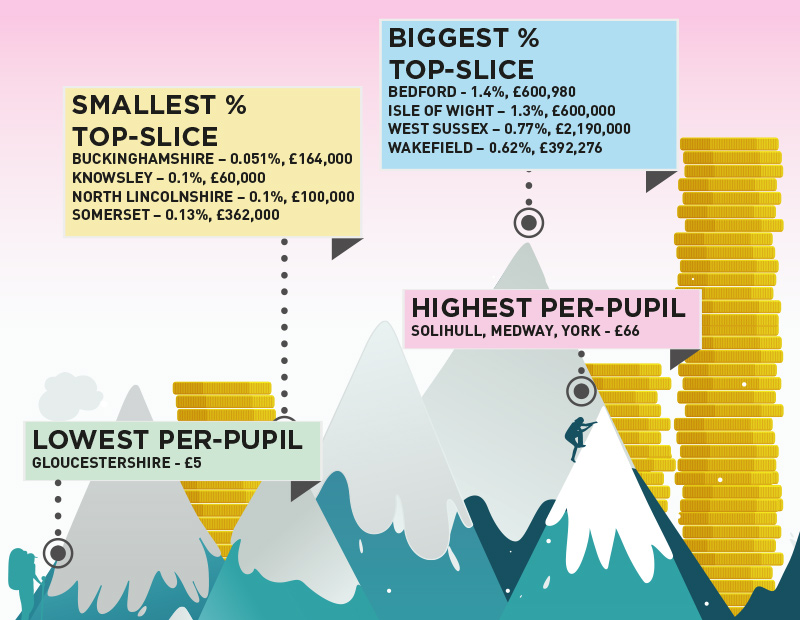 Minutes from West Sussex's schools forum meeting in December 2017, where the top-slice was approved, show discontent among some members.
"Many responses commented on the impact of the charge on school budgets despite the increased funding allocated in as part of national funding formula arrangements," it said.
"Other responses did not support the charges in view of the pressures on school budgets. Some responses reluctantly supported the proposed charge."
A West Sussex County Council spokesman said it had had to "significantly reduce our costs for the services we provide our maintained schools.
"This ensures the amount we now charge schools for services like school improvement is kept to a minimum."
Jules White, a West Sussex headteacher who leads the WorthLess? school funding campaign, told Schools Week the top-slicing was "classic robbing Peter to pay Paul", and said his campaign stood in solidarity with councils forced to pass on the cuts in order to protect "critical services".
The amount top-sliced per pupil also varies significantly between areas, from £5 in Gloucestershire and £7.80 in North Lincolnshire to £66 in Medway, Solihull and York.
There is a benefit to this flexibility as local authorities are best placed to understand the needs and requirements of their local area
However, despite the high per-pupil rate charged, a Medway Council spokesperson said the money taken from schools "does not cover the full cost of delivering these services and we use funding from our own resources to cover the shortfall".
Jasmine Ali, cabinet member for children, schools and adult care at Southwark Council, which took £350,000, or 0.13 per cent of the schools budget to pay for its services, said: "We really need the government to listen to councils, headteachers and parents about the very real impact that budget reductions are having."
A DfE spokesperson said ending the ESG had been a "difficult decision", and pointed to £450 million of funding that still helps councils with their retained duties.
"This new funding model means that local authorities can choose to fund some services for maintained schools from their schools' budgets, with the agreement of their local schools forum.
"There is a benefit to this flexibility as local authorities are best placed to understand the needs and requirements of their local area."