Sarah Hewitt-Clarkson's desk in Anderton Park primary is strewn with cards from well-wishers across the world. A bunch of flowers in rainbow colours sent by a supporter in Australia are in a vase next to her as she tells me how exhausted she is.
It has been nine weeks since protests against her inner Birmingham school's equalities education started. Protesters, most of them Muslim, moved on to Anderton Park after Parkfield in nearby Alum Rock dropped its "no outsiders" LGBT education programme.
We talk about being gay about 0.5 per cent of the time
The crowd outside her school gates may be gone for now – the High Court granted an interim injunction last Friday – but the sense that they could return again at any moment hangs over this vibrant, calm school like a dark cloud.
Those involved say children are being "sexualised" and that the school's teaching about LGBT rights conflicts with their religion.
But Hewitt-Clarkson is adamant that the protests do not represent her city or most of her parent body.
"When I see those pictures of 200 to 300 people on one afternoon standing outside my school, I look at that like I'm an observer from a foreign land. That's not my city. That's not my school," she says.
Born in the city, Hewitt-Clarkson first left her beloved Birmingham when she went to study philosophy at Swansea University.
She chose the Welsh city because she "wanted to go to the beach", and loved her time there.
Returning to Birmingham to do her PGCE, Hewitt-Clarkson worked in schools in Dudley for about 13 years before becoming deputy head at Anderton Park 12 years ago. She became its head in 2012.
She can't remember exactly why she became a teacher. Her father, "another Brummie", was a head in Dudley and she "never really thought I wanted to be anything else".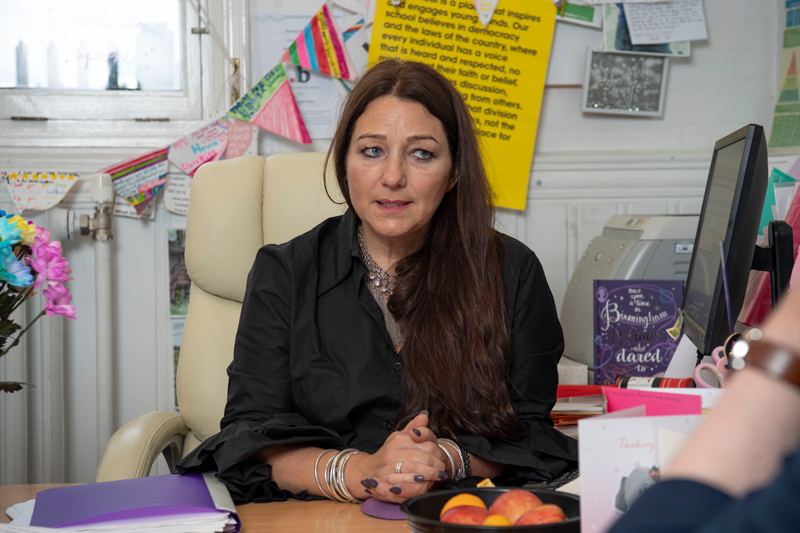 "Without being clichéd, education is massively important, and if there's anything this current situation teaches you, it's thank God for schools and teachers," she says.
"This isn't an extension of home. It's not a place of worship. It's different. And many things will be similar and some things will be different, and that's the way it should be."
Anderton Park's approach to equalities education, which weaves teaching about equal rights and the challenging of stereotypes into the wider curriculum and has the 2010 Equality Act at its core, is nothing new.
Hewitt-Clarkson and her team updated their approach in the wake of the Trojan Horse scandal that rocked Birmingham's schools half a decade ago, but it was only after the government announced plans to update relationships and sex education in England's schools earlier this year that Anderton Park's approach came under fire.
For Hewitt-Clarkson, there are "numerous" similarities between the protests and the Trojan Horse affair.
"It's only ever a handful of people. It's never everybody. But it's coercive, controlling behaviour by mainly men, making demands," she says.
"Back in Trojan Horse times, they were saying things like 'she's fixed the SATs results' or 'she spent money where she shouldn't spend money'. Now it's 'she's a vile Islamophobe' and 'she's a paedophile'."
Equality literally oozes out of this school's walls
The suggestion that Hewitt-Clarkson and her dedicated team are somehow "sexualising" pupils at the school is popular among the protest's leaders. But unlike many other primary schools, Anderton Park doesn't actually teach sex education.
"We have never taught sex here," Hewitt-Clarkson says. "Some primary schools do, but we don't, and we never will."
Anderton Park doesn't deliver specific lessons on LGBT rights either. Instead, the idea of families with "two mummies or two daddies" is normalised through the books that children read and the discussions they have with teachers.
"When you read all these news reports or listen to these protesters, you'd think we talk about being gay the whole time," Hewitt-Clarkson says. "It's probably 0.5 per cent of the time, but because it's here there and everywhere, it's just normal.
"It's not a lesson. It's not a special week. It's tiny, but it's the most valuable thing we can talk about."
The protests may be on a hiatus, but Hewitt-Clarkson is still preoccupied. She tells me she's "exhausted" and "a bit vacant" when she gets home every day.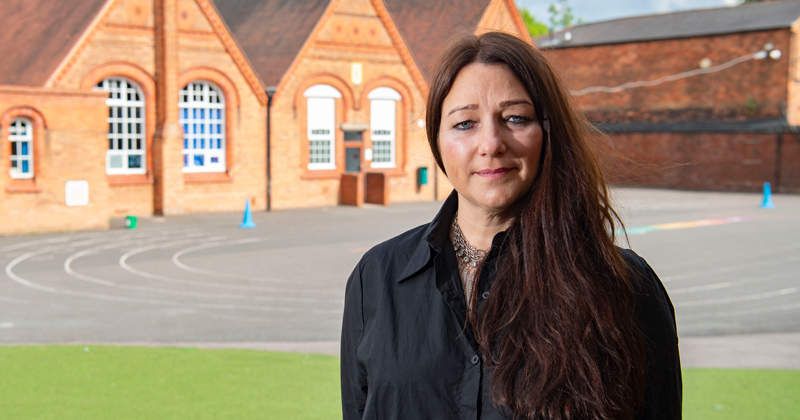 "One of my children is doing her GCSEs, and I don't see her in the morning because I leave really early, and I get back at 7pm. That's not very good for a mum whose child is doing GCSEs. I'm dealing with the protests and trying to do my job at the same time."
Has she considered giving up? "Not once."
"There is so much hate and anger and misery in the world that is caused by inequality that I'm really glad there is a public sector equality duty placed on me and my staff to make sure that's part of our school life and part of these kids' education.
"And since I've been here, but also before that, this school is built on that. It literally oozes out of the walls."
A catalyst for the protests was the publication earlier this year of the government's new relationships and sex education curriculum. From September next year, all schools will have to teach about relationships and health, and all secondaries will have to teach sex education.
Hewitt-Clarkson said some parents "started freaking out" about the words "compulsory" and "sex", and that "genuine fears and genuine confusion were fuelled unforgivably by people who are homophobic".
Like Trojan Horse, nobody actually knows what to do
The Department for Education's statutory guidance on the matter, which dictates what schools must cover, is unequivocal that all schools must teach that marriage can be between members of the opposite or same sex, and that some families look different to others.
Hewitt-Clarkson is fully supportive of the content in the guidance itself.
But she is damning about an insistence in a "frequently asked questions" document and in statements by ministers that although primary schools are "enabled and encouraged" to cover LGBT content if they "consider it age-appropriate to do so", there is no requirement for them to teach it.
She believes this contradiction amounts to discrimination and has fuelled homophobia because a single protected characteristic is singled out for exemption.
"I'm amazed that nobody from the LGBT community has taken the DfE to court for discrimination. Because I can't see what else it is," she said.
"We have people holding banners saying 'Adam and Eve not Adam and Steve'. And that fire is still being given oxygen because the bottom line is 'I'll leave it up to headteachers'. That's wrong."
Damian Hinds, the education secretary, has recently called for an end to the protests, but Hewitt-Clarkson says his response was too little, too late.
"It's one of these situations, a bit like Trojan Horse, where actually nobody knows what to do," she adds. "I genuinely do think that.
"Having said that, the government of a country that has a law about equality, a public sector equality duty, should know exactly what to do."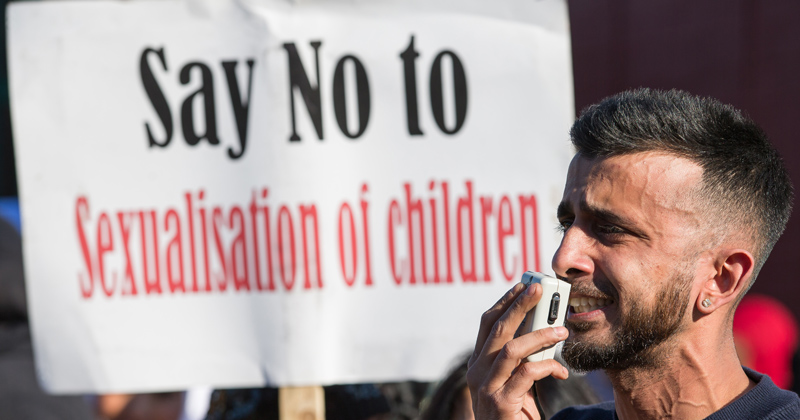 It is this public sector equality duty – a legal requirement on school staff to advance equality between those with a protected characteristic and those without – that drives Hewitt-Clarkson's commitment to her equalities programme.
She believes that holding all schools to account over their commitment to the duty would make protests like the one outside her school pointless.
"This is where the DfE needs to come in and say every school is expected to tell pupils that some people have two mummies. Full stop. The guidance needs to go further. Parents should not be under the illusion that a school down the road does not teach this 'immoral nonsense'. That's completely untrue, and schools should not be shying away from that either."
Next Monday Hewitt-Clarkson will return to the High Court in London to find out if the interim injunction granted against the protesters last week will become permanent.
But she says a change in approach by the government is needed – to prevent the same thing from happening at other schools across the country.
"They wrote their policy from Whitehall. They should've written it sitting in this office. They should do that with all policies, because Damian Hinds doesn't have to listen to somebody screaming down a megaphone."