A regional schools commissioner has been criticised for requesting an underperforming school to grade its teaching – despite Ofsted ditching the controversial practice last year.
Dominic Herrington (pictured above), RSC for south London and the south east, wrote to school leaders at Astor College in Kent, to ask for evidence that at least 80 per cent of teaching at the school "is rated to be good or better", including in English and maths.
The disclosure has sparked concerns that teachers could be graded based on lesson observations, a practice Ofsted scrapped last year amid concerns over its reliability.
Inspectors are now expected to produce an evidence summary of all their observations about the overall quality of teaching.
Dr Mary Bousted (pictured below), general secretary of the Association of Teachers and Lecturers (ATL), told Schools Week: "We all want all teachers to be good teachers. But there is a reason Ofsted stopped grading teachers individually – it was not able to do it – so how will RSCs be able to do so reliably?"
She pointed to research by the Sutton Trust, which found there was no framework for assessing effective teaching that was not open to interpretation.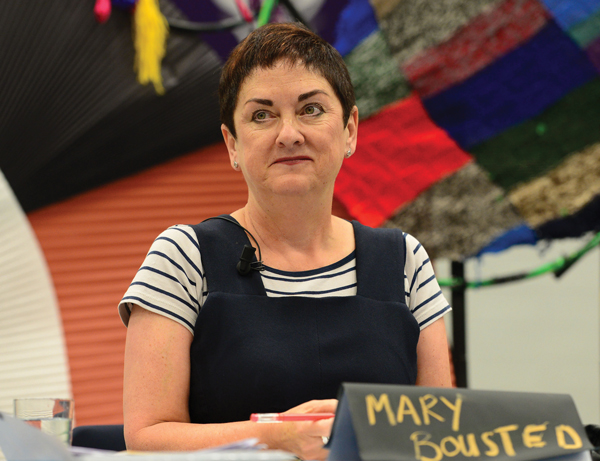 Astor College, part of the Dover Federation for the Arts multi-academy trust, was issued the warning notice last Friday.
Mr Herrington said the performance of pupils at the specialist arts college was "unacceptably low".
The trust now has until mid-December to implement a series of actions, outlined in the notice, or face intervention from the secretary of state.
One of the actions read: "To improve the quality of teaching, so that at least 80 per cent of teaching is rated to be 'good' or better, and no teaching is rated inadequate, including within the subject areas of English and maths, through robust, externally moderated assessment by the senior leadership team."
David Didau, a former English teacher and education consultant, said: "An RSC should not be telling schools to do this.
"You might as well ask to see evidence that there is fairy dust in 80 per cent of your lessons.
"It's nonsense. It encourages schools to think in a short-term, dishonest way."
Headteacher John Tomsett told Schools Week that teaching could be graded by drawing on a series of data points over time. There was no need to grade individual lessons.
This is not the first time RSCs have conflicted with Ofsted.
In March, Jenny Bexon-Smith, RSC for east Midlands and the Humber, warned a struggling school for not forcing its teachers to use standardised lesson plans. Her comments appeared to contradict Ofsted guidance and raised concerns that RSCs were operating as a "shadow Ofsted".
Former government adviser Robert Hill recently wrote to the education select committee questioning the legitimacy of RSCs offering critiques when they had no experience as a headteacher or teaching leader, as is the case with Mr Herrington.
A DfE spokesperson said: "All schools are rightly expected to evaluate the overall quality of teaching to ensure pupils are getting the excellent education they deserve and they are routinely assessed on this by Ofsted, who have made clear that this does not relate to individual lessons.
"The RSC's letter is not suggesting that Astor College go beyond those requirements, he is simply making clear that the quality of teaching must improve."
The school did not respond to requests for comment.