It's been two years since the first regional schools commissioners and their headteacher boards were appointed.
To keep you up to date, Schools Week is running four updates in which Freddie Whittaker looks at two RSC areas each week. Who's new, who's still there – and how they are doing on those all-important academisation rates.
Lancashire and West Yorkshire: Vicky Beer
Two years on and the Lancashire and West Yorkshire headteacher board has shrunk, retained just three of the original seven members and has a new commissioner in charge.
In post since last October, Vicky Beer (pictured) has not often appeared in public and, unlike most of the other commissioners, has not appeared before a parliamentary committee.
She did, however, release a "vision statement" on her role and that of her headteacher board, in which she talked of their being able to "enable and accelerate" increases in school standards by "developing academy sponsorship and multi-academy trusts" and "opening excellent new provision and challenging underperformance".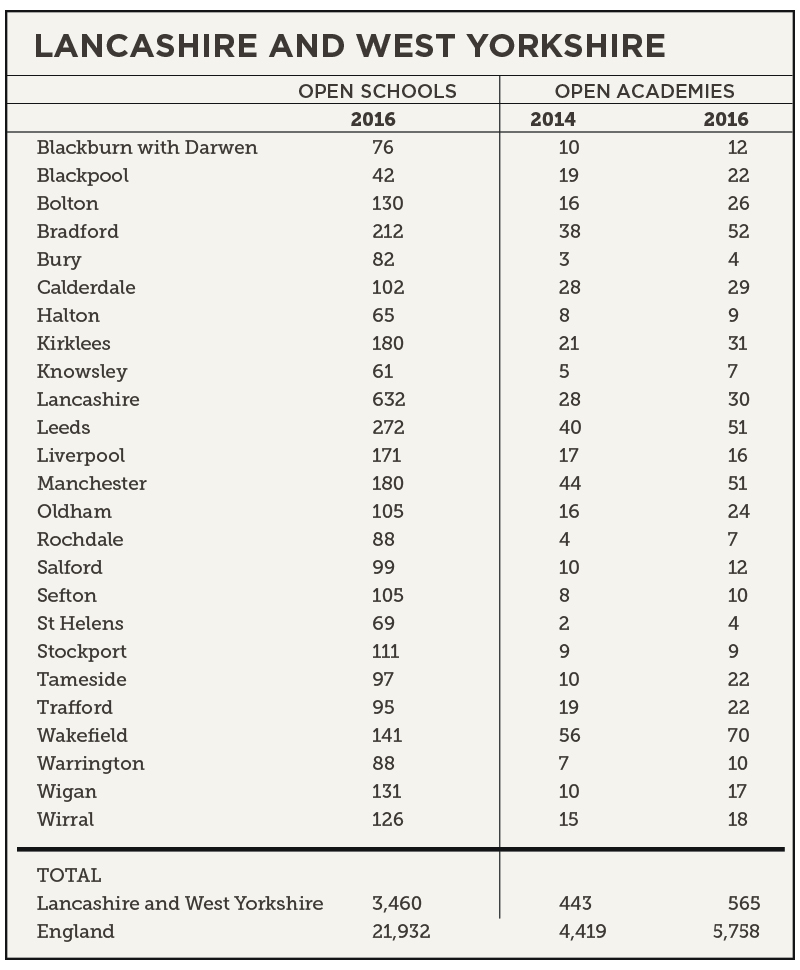 "Our aim is that young people in Lancashire and West Yorkshire should receive an education at least as good as in other parts of the country; if not the world, and that we work together with partners in the region to secure improved outcomes for all young people."
Progress in converting schools into academies, however, has been slow.
At present, 16 per cent are academies compared with 13 per cent two years ago – and 10 percentage points below the national rate of 26 per cent.
In some local authority areas, the increase is tiny. In Lancashire, for example, the proportion of schools that are academies rose from 4.6 per cent in 2014 to 4.7 per cent this year.
In Lancashire, the proportion of schools that are academies rose from 4.6 per cent in 2014 to 4.7 per cent this year
Some areas have moved more quickly, though. In Bolton, 20 per cent of schools are now academies, up from 12.6 per cent in 2014, and in Bradford the proportion rose from 18.5 per cent to almost 25 per cent.
The group advising Beer has changed dramatically in the two years since its creation.
The headteacher board had seven members back in 2014: four were elected (Jack Acklam, Pamela Birch and Alan Yellup were serving school leaders, while Martin Shevill was a former head), two appointed (academy trust bosses Sir Iain Hall and Sir Michael Wilkins) and one co-opted (Sir Rod Aldridge from the London-based Aldridge Foundation).
Now, the board has just five members with just three of the four elected members remaining in service – Acklam, Birch and Shevill – with none of the appointees or co-optees still in place.
Two new co-opted members have joined: primary head Karen Bramwell and secondary head Tom Quinn.
The Gorse Academies Trust chief executive, Sir John Townsley, Chris O'Shaughnessy and Beer herself were also board members at some time.
The most recent Department for Education senior staff salary data is from last September, before Beer was appointed. Her predecessor Paul Smith was paid a basic salary of between £110,000 and £115,000.