It's been two years since the first regional schools commissioners and their headteacher boards were appointed.
To keep you up to date, Schools Week is running four updates in which Freddie Whittaker looks at two RSC areas each week. Who's new, who's still there – and how they are doing on those all-important academisation rates.
South-west England: Rebecca Clark
The vast rural patch across which Sir David Carter once darted is now in the hands of Rebecca Clark (pictured) after two years of significant growth in the number of academies.
Stretching from Chipping Campden in the north of Gloucestershire more than 250 miles down to Land's End on the most westerly point in Cornwall, the south-west of England is the longest of any of the eight commissioner regions.
About 38 per cent of schools in the region are now academies, up 12 percentage points since 2014. This compares with a current national figure of 28 per cent.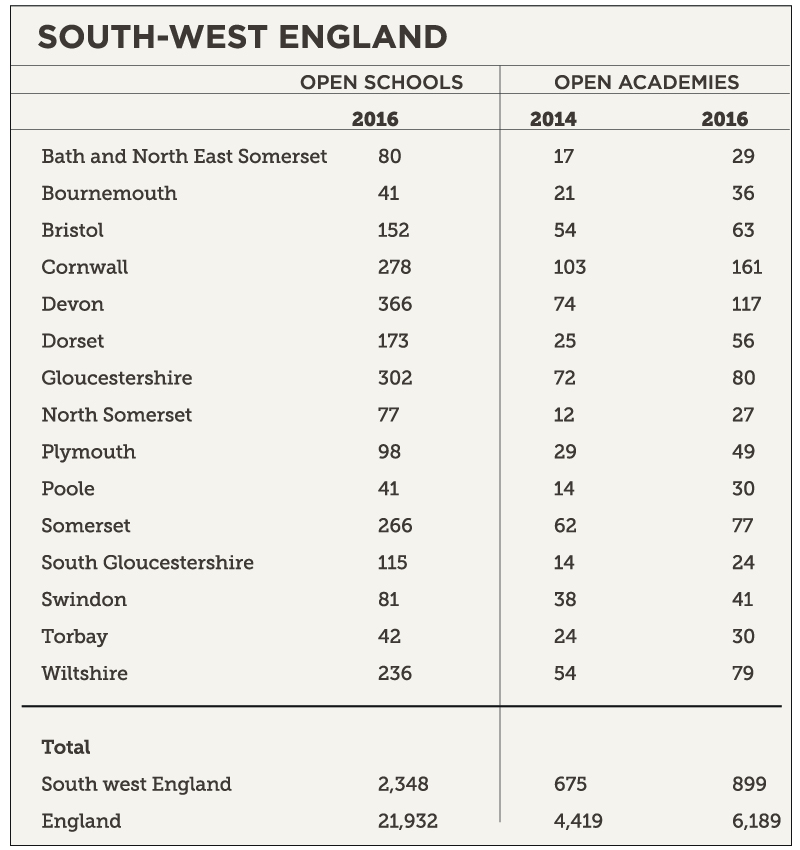 Carter presided over much of the growth before his promotion to national commissioner in February. Clark, once England's youngest headteacher and latterly a national director for Oasis Community Learning, was appointed in April.
Academy growth rates between local authority areas in the south west are diverse. While the number has doubled in some areas since 2014, the percentage increase is in single digits in others.
In North Somerset, which has 77 schools: 27 are now academies, an increase of 125 per cent on 2014, when 12 were academies. In Poole, 30 of the 41 schools are now academies, up 114 per cent from 14 in 2014.
In Bristol and Gloucestershire, two areas in which Carter made his name as a head, growth has been slower – with increases of 17 and 11 per cent, respectively.
The area's headteacher board has been relatively stable for the past two years.
Roger Pope, from Kingsbridge community college, attended his last board meeting in September, but the three other original elected members, Dave Baker, Lorraine Heath and Lisa Mannall, remain in post.
Appointed members Nick Capstick and Brian Hooper are also still on the board with new members Alun Williams and Joy Tubbs co-opted last autumn. Their appointment boosted membership from six to seven.
According to evidence presented at the education select committee, Clark undertook 162 external engagements in her first five months, ranging from conversations with heads and academy trusts, to school visits and speaking engagements.
She also leapt to the defence of academy trusts that were seen as having grown too quickly.
She admitted that there was "absolutely" a stage where some trusts "grew really quickly", and faced a "challenge" in terms of capacity.
But she added that the "vast majority" of those trusts "have learned those lessons and have taken quite definitive steps to address them".
As of last September, Carter was paid a basic salary of between £140,000 and £145,000. Details of Clark's salary are yet to be published.