Former grammar school head Martin Post oversees an area spanning parts of London, the south-east and several home counties.
Analysis of the government's open academies and free schools databases shows varying growth in academy numbers across the region over the past two years.
Northamptonshire now has 159 academies, up 34 per cent on 2014 and representing 49 per cent of the area's schools.
Just over a third of schools in Oxfordshire are now academies, up 39 per cent on two years ago.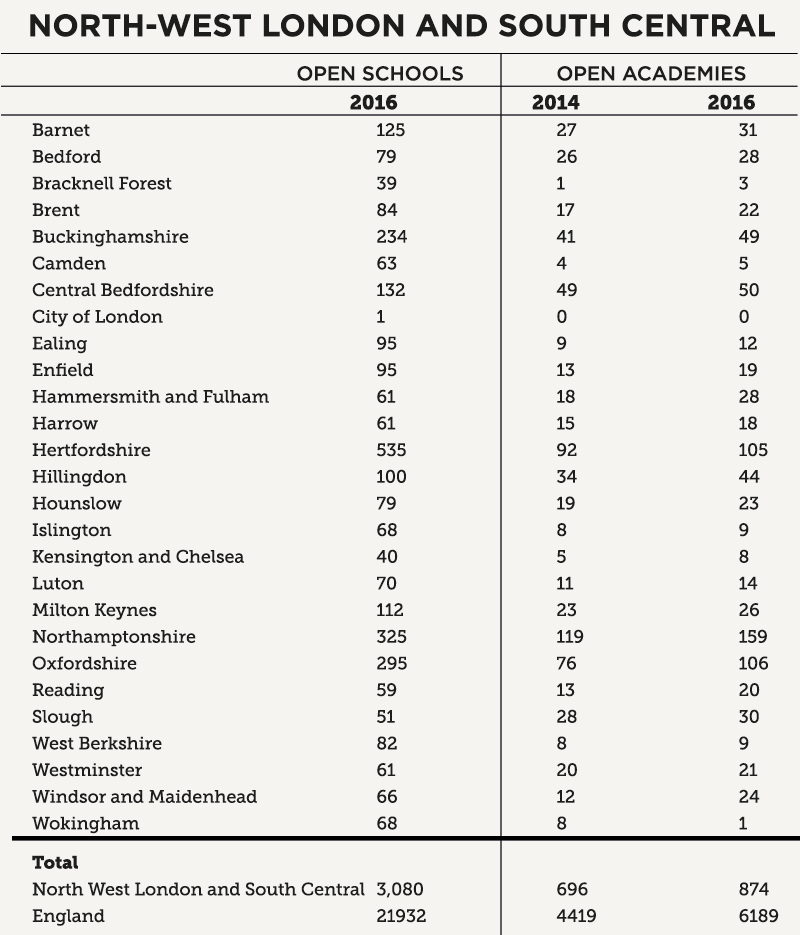 However, in other areas with large numbers of schools overall, the increase has been more gradual.
In Hertfordshire, 105 of the county's 535 schools are academies, just 20 per cent of the total. The number of academies has only increased 14 per cent, from 92, since 2014.
One of Post's first interventions was in the crisis-hit Cuckoo Hall academies trust in north London, which was issued with a financial notice to improve in February 2015 following allegations relating to safeguarding, staff bullying, recruitment, and SATs assessment. The notice is still in place.
Post's headteacher board has also undergone several changes after a series of high-profile appointments.
All four of the original elected members remain in place, although two are no longer serving heads, but previous appointees Dame Alison Peacock and Dame Kate Dethridge departed this summer.
During her time on the board, Peacock, now the chief executive-in-waiting of the College of Teaching, attended just 18 of 42 meetings, following other busy superheads whose attendance at different boards also fell behind their colleagues.
Dethridge, who has now been appointed to a paid role as a deputy to Post, attended 35 meetings.
Several further high-profile appointments over the summer have increased the board's membership from five to eight.
These include Dame Yasmin Bevan, a trustee of United Learning who retired as chief executive of the Chiltern Learning trust in 2014. Bevan, one of Michael Gove's "magnificent seven" (a group of heads regularly praised by the former education secretary) first attended a board meeting as a guest in April and was appointed a full member this summer.
In October, Post announced the appointment of a further three educationists.
Tony Draper, a past-president of the National Association of Head Teachers, will serve alongside TBAP executive principal Seamus Oates and Peter Little, who chairs the Bedfordshire Schools Trust and the Reach 4 academy chain.
According to the latest records from last September, Post is paid a basic salary of between £125,000 and £130,000 a year.