It's been two years since the first regional schools commissioners and their headteacher boards were appointed.
To keep you up to date, Schools Week is running four updates in which Freddie Whittaker looks at two RSC areas each week. Who's new, who's still there – and how they are doing on those all-important academisation rates.
East Midlands and Humber: Jenny Bexon-Smith
Jenny Bexon-Smith (pictured) has been a vocal defender of her work as she presided over significant growth in academies in her region.
Almost a third of schools in the East Midlands and Humber are now academies, up from a quarter in 2014.
Bexon-Smith's headteacher board is much as it was, with five of its six original members still there, and all attending at least 29 of the 33 meetings held since September 2014.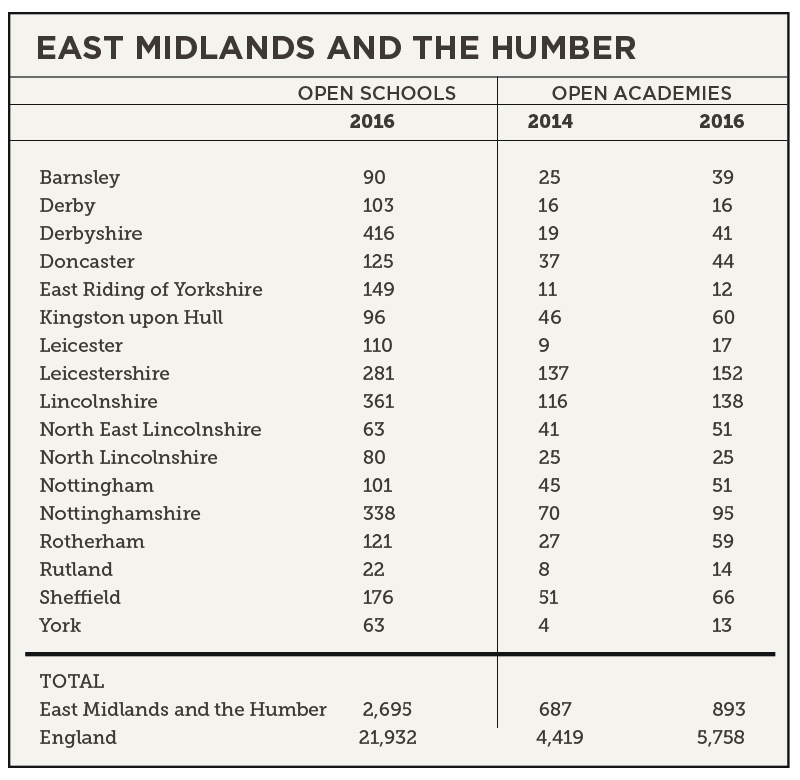 But MPs have been critical that it no longer has any elected members that currently work as heads.
Chris Beckett and Christine Linnitt, both serving heads when they were appointed two years ago, are no longer in school roles, and recent departure Hugh Howe, from Beauchamp college, Leicestershire, has been replaced by the chief executive of the Hull Collaborative academies trust, Estelle MacDonald.
"I think really what they bring is that experience and expertise of running schools," Bexon-Smith told the education select committee last month.
Almost a third of schools in the East Midlands and Humber are now academies, up from a quarter in 2014
"They were all former headteachers, even though they may have continued their career to become CEOs.
"I suppose you can argue about the terminology, but they have all fulfilled, in my particular case, that role, so it would seem appropriate."
Bexon-Smith's approach to local authorities has not always been popular.
In June this year she was overruled by the former education secretary, Nicky Morgan, after a council officer reported she had "refused to meet" with his children and young people's committee and had written to him asking he refrain from meeting academy leaders.
John Peck, who chairs the committee, told Morgan that he had received a letter from Bexon-Smith telling him not to hold his planned annual meeting with heads of academies that fell below floor targets.
Morgan told Peck to continue the meetings "if that's something that as a local authority you feel is appropriate. You have a relationship with those schools in other ways, so why wouldn't you continue to have that relationship with them?"
According to the most recent senior staff salaries data from the Department for Education, Bexon-Smith was paid a basic salary of between £140,000 and £145,000 as of September 2015.