Teachers are happier and more satisfied with life than the average graduate – but their job satisfaction has fallen over the last seven years, a study has found.
The Education Policy Institute today released a review of evidence into the wellbeing of the school workforce in England following "a growing list of headlines" which indicated teacher mental health is declining.
Last year's Teacher Wellbeing Index found over a third of education professionals (34 per cent) experienced a mental health issue – up from 31 per cent the year before.
The Department for Education launched a 26-member expert panel last year to boost teacher and school leader wellbeing and help staff deal with the "pressures of the job". The group is due to make its recomendations early this year.
So what does the evidence tell us?
1. Teachers are happier than other graduates …

The EPI say teachers in mainstream schools are happier, more satisfied with life and find their lives more worthwhile than the average graduate.
But, EPI found that while anxiety levels have stabilised for all graduates, they have risen slightly for educators. Also, as the graduate population's levels of happiness and satisfaction have seen "slow but steady growth, among educators they have stalled".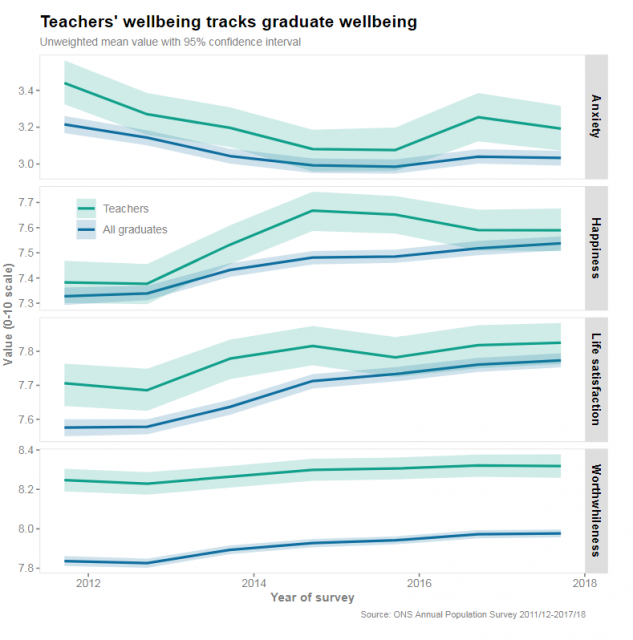 2. … But, while personal wellbeing is up – job happiness seems to be falling

The analysis is based on The Office for National Statistics annual population survey (APS), which evaluates an individual's evaluative, eudemonic and experimental wellbeing.
Odette Wang, who compiled the research, states these measures of personal wellbeing encompass an individual's perception of their whole life, while the majority of research to date has focused on teachers' occupational wellbeing – which relates only to wellbeing in the workplace.
While the APS found educators reported high positive wellbeing they also reported "high anxiety or job related stress" in The OCED Teaching and Learning International Survey (TALIS).
According to Wang these findings are in keeping with the general graduate trend and "indicate that the profession is one in which the majority find their work as demanding as it is rewarding".
However, the trends differ as occupational wellbeing among teachers is falling as personal wellbeing rises.
Between 2013 and 2018 TALIS discovered fewer teachers believed the profession was valued by society and found the proportion of secondary school teachers satisfied with their jobs dropped from 82 per cent to 77 per cent.
EPI said the difference between could be down to changes in the the "sort of person who chooses to remain in education. If, for example, only the most resilient and optimistic people stay in the profession as job satisfaction falls, average wellbeing across teachers may still rise over time as occupational wellbeing declines."
The think tank called for more research to "truly understand" the situation.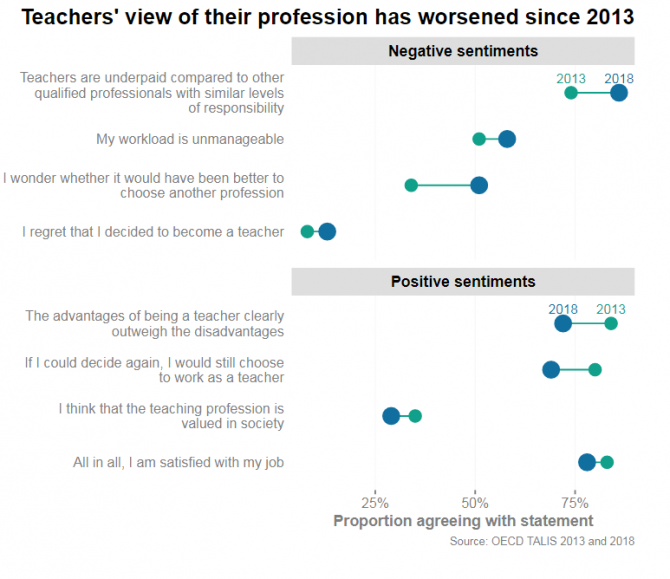 3. And the award for the happiest teacher goes to …
Data shows that educators working in special schools were the happiest teachers.
Secondary teachers reported lower levels of happiness and life satisfaction than their colleagues in primary and early years education, but they also have lower levels of anxiety.
The lower levels of happiness among secondary teachers is paralleled in job satisfaction levels – with primary teachers also reporting that they are more satisfied with their jobs.
The study states the secondary school teachers' lower levels of anxiety were "surprising" as "previous studies have found that they experience high levels of work-related stress and less manageable workloads". However the analysis was based on figures from the 2014/15 ONS annual population survey.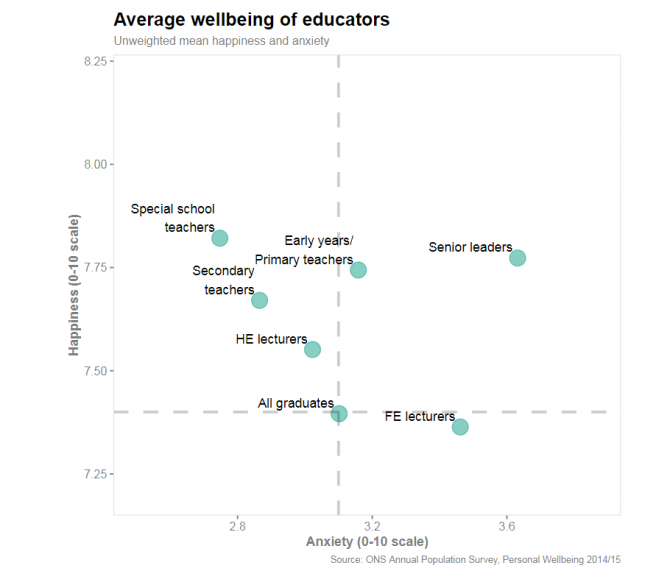 4. Senior leaders are feeling more anxious
Between 2011 and 2015, anxiety levels decreased for almost every group of teachers – yet shot up for school leaders. However school leaders still have among the highest levels of positive wellbeing.
Wang suggested that "changing policy and accountability demands could be a plausible explanation if they are placing a greater burden on school leaders".