Secondary schools have lost more than 15,000 members of staff over the last three years, but teacher-to-pupil ratios have remained relatively stable.
Schools Week analysis of new data from the education unions shows that although there were 15,065 fewer people working in secondary schools in 2017 than in 2014, teachers are still teaching roughly the same numbers of pupils, despite a rise of almost 4,500 over the same period.
Non-teaching staff appear to have borne the brunt of the cuts. According to the unions, teachers made up 6,463, or 43 per cent, of the total staff losses from secondary schools between 2014 and 2017. However, last year, the teacher-to-pupil ratio in secondary schools remained at 1:17, the same as it was in 2014.
The unions say their figures show that cuts to school budgets are hitting the front line, but the Department for Education suggested the numbers are "fundamentally misleading", and claimed there were "15,000 more teachers in classrooms since 2010".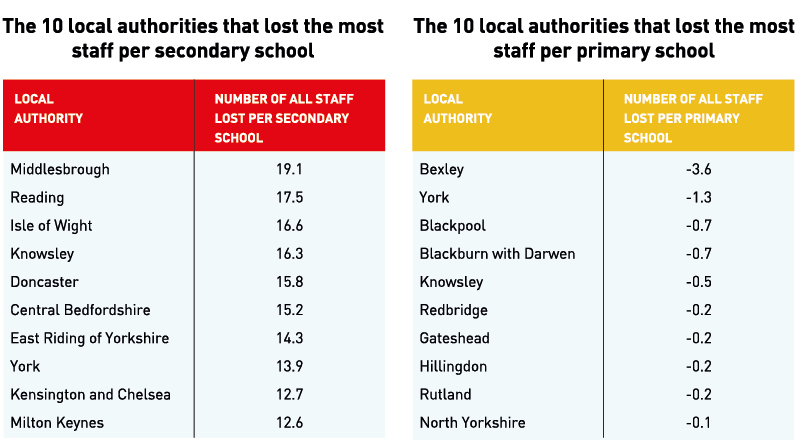 At primary level, there are 3,975 more teachers now than three years ago. But there are 166,555 more pupils – working out as one new teacher for every 41 new pupils.
There were also 9,895 more teaching assistants at primary school, but 4,455 fewer in secondary schools last year, compared with 2014.
Paul Whiteman (pictured), the general secretary of the National Association of Head Teachers, said schools had made "every other possible efficiency" and it is now "impossible for schools to avoid making redundancies".
Geoff Barton, the general secretary of the Association of School and College Leaders, said schools are now less able to give individual support to children, and are seeing class sizes grow.
Despite the nationwide increase in primary staff, some areas have seen staff numbers increase. More than half of the 10 areas with the largest net loss of primary school staff were in northern regions. The three in the south were all based in London.
Four of the 10 councils that saw the biggest net loss in teaching assistants were in London. York and Knowsley were the only two local authority areas to make the top 10 staff cuts at both primary and secondary level.