Twenty-three academy trusts breached funding rules last year when they made payments of more than £4 million to companies related to members of their staff or trustees.
For the first time, Schools Week can reveal who the trusts are and the 26 transactions in which they failed to show they were fully compliant with rules laid down by the Education Funding Agency (EFA).
Trusts wanting to purchase services from companies linked to their staff, sponsors or trustees must follow regulations, including that they are provided at no profit and that they disclose the payments in their accounts.
But 23 trusts breached those rules, including Bright Tribe and the Adventure Learning Academy Trust, both set up by the venture capitalist Michael Dwan, and both of which made non-compliant payments of more than £2.3 million to companies connected to him and his family.
Ark Schools, regularly complimented by ministers, also did not meet regulations over payments worth £4,500 to a cleaning firm linked to one of its trustees, Lord Stanley Fink.
There is no suggestion of wrongdoing by the companies that received the payments; it is for trusts to check compliance.
Such payments should be banned
The government said irregular payments were found in less than 1 per cent of trusts, and could be due to procedural failings or insufficient evidence to prove that rules were followed.
But Kevin Courtney, general secretary of the National Union of Teachers (pictured below right) , said there was "no justification" for trust directors or family members to profit from such payments, which should be banned.
"The public cannot be confident that the EFA's systems are robust enough to provide the oversight that is needed to safeguard public money and ensure financial probity."
He also questions the EFA's ability to oversee thousands of trusts and say that more rule-breaking payments may have gone under the radar.
About one third of the estimated 3,000 academy trusts in 2015 had related-party transactions, according to the EFA.
Tip-offs regarding non-compliance can include whistle-blowers and auditors. However, the latter do not always raise concerns.
An EFA review into all related-party transactions in 2012-13 found 48 cases of potential risk that auditors had missed.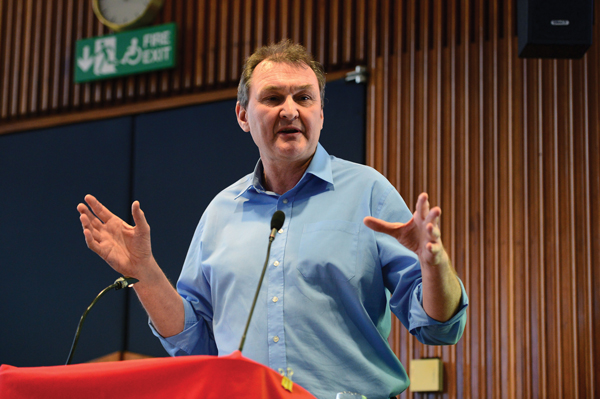 Further analysis by Schools Week found that 17 of the 26 related party transactions were to companies owned by trustees.
Eight were for consultancy services, with another three paid to firms linked to the trust's chief executive.
At least three were for payments to companies linked to a trust's sponsor. That includes the high-profile case of Bright Tribe, which was told to provide additional disclosures about its outsourcing payments. The EFA says that it has now satisfied regulations.
The second largest single payment that breached rules, according to the EFA, was £1.2 million from St Peter's Catholic School and Sixth Form Centre in Gloucester, to Town and City Builders – a firm linked to a governor.
The school said it contested the payment breached rules. A statement sent to Schools Week stated the contract was awarded in according with open procurement/tender rules, an independent consultant was appointed to manage that process, and at no stage was the related governor involved in any decision-making.
Four Ark schools were labelled non-compliant for buying services from Zenith Hygiene Services. Its parent company, Zenith Hygiene Group, is chaired by Ark trustee Fink.
It's vital there is proper transparency
An Ark spokesperson said the schools bought services through their own procurement policies and were unaware of any connection with Fink.
They said that Fink had declared an interest in the firm, as stated by EFA requirements.
The 26 payments were discovered by the EFA after being flagged to its "risk analysis division", which looks over academy trust accounts.
Neil Carmichael, chair of the education committee, said his committee has raised issues around related-party transactions, including whether the government should do more to ensure trusts were making the correct disclosures.
"It's vital there is proper transparency … to ensure they are properly held to account for public money."
But the Department for Education insisted that payments to related companies could be beneficial in helping schools to meet educational objectives and could offer good value for money.
"All academies operate under a strict system of financial oversight and accountability – more robust than in council-run schools.
"Where issues are identified we can and do take direct action," said a spokesperson.
"Most academy transactions have shown no reason for concern, but where concerns are raised we will investigate."
Bright Tribe and Adventure Learning – £2.3 million
The outsourcing payments included £982,000 to Blue Support Services, a facilities management company, and £780,000 to North Consulting, a financial management firm. Both companies list the trust's sponsor Michael Dwan, along with other Dwan family members, as directors.
The EFA investigated after a tip-off, and told the trust to provide "additional disclosures". A Bright Tribe spokesperson said the trust was now "compliant with all regulations".
Both trusts have now moved to a fully in-house model for support services.
Interserve Academies Trust – £145,748
The Interserve Academies Trust was set up by support services firm Interserve to run Crawshaw academy, in Leeds, in 2014.
The trust said payments to its sponsor covered its operational requirements and statutory obligations, listed under its management services agreement.
A trust spokesperson said the actual costs of the services provided was greater than that charged, and said the EFA was aware of this.
Aspirations Academy Trust – £70,282
The payment related to Vanessa Miner, who was appointed on a 15-month contract in May 2014 to develop links with businesses and boost income.
The trust said Miner had significant experience and was recruited without a public appointment process.
She later joined the board. But the EFA said the trust should have publicly advertised the role to meet its procurement rules.
The trust said this was a "minor procedural" breach, but added it would be mindful of EFA guidance in the future.
Miner no longer works for the trust.
Click table to enlarge