Fire chiefs are again calling for sprinklers to be made mandatory for new and refurbished schools after two devastating fires over the weekend.
Two schools in Derbyshire were left severely damaged from the blazes, with Derbyshire Fire and Rescue Service saying neither had sprinklers fitted.
The pupils are now being educated remotely while the council finds "safe spaces" for bubbles to be taught in.
The incidents have led to renewed calls for it to be compulsory for automatic fire suppression systems to be installed in new build and refurbished schools.
Derbyshire's chief fire officer Gavin Tomlinson said: "A school is right in the heart of a community, providing our children with the education they need, so to see this taken away at a time when schools are just starting to recover following Covid lockdown restrictions, is both a huge shock and totally unacceptable when there are fire safety measures that can prevent such devastation."
Tomlinson, the National Fire Chiefs Council's lead for sprinklers, added: "Sprinklers are one of a range of fire safety measures that would not only protect our schools from fire and prevent injuries, but they would also protect against costly rebuilds and of course, protect against the stress and anxiety caused to the children who need their education."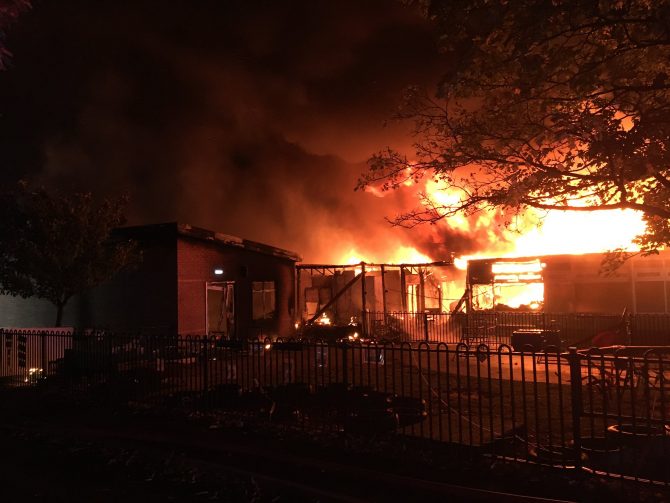 The first fire this weekend destroyed St Mary's Catholic Voluntary Academy, in Darley Abbey. Fire crews were called just before 5.30am on Saturday.
Crews were then called to Ravensdale Infant School, less than four miles away in Mickleover , at just after 1.30am today (Monday), where "large" parts of the school suffered extensive damage.
Investigations into the cause of the fires at both schools are ongoing. Police said it was "too early to make any links" between the fires.
There was a third severe fire at a school in May at Harrington Junior School in Long Eaton, Derbyshire Fire and Rescue Service said. They added that a further five schools have been affected by fire in Derbyshire since April 2019.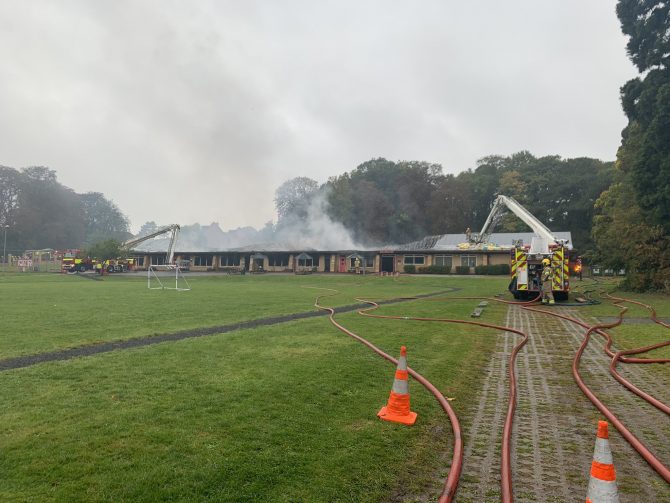 The NFCC said every year there are around 1,500 fires in schools across the UK, which disrupts the education of approximately 90,000 students.
But Schools Week revealed last year that sprinklers were installed in just 3 per cent of English schools where fires broke out in the past five years.
Tomlinson added he was "not sure what more evidence is needed to bring legislation in line with Scotland and Wales where it is mandatory for sprinklers to be fitted".
"The current guidance allows a number of interpretations to the fitting of sprinklers which must be rectified. There are a number of loopholes regarding the fitting of sprinklers which should be looked at, which allows designers to take alternative approaches to fire safety. This guidance needs to be re-examined and changes made to protect our schools."
In May last year, the Department for Education launched a call for evidence on how to update guidance on fire safety design in schools.
It asked for views from stakeholders including architects, fire safety experts and building firms on its guidance, the building bulletin 100: design for fire safety in schools.
However, the government has yet to publish its response – nearly 18 months on. The DfE say they are due to launch a full public consultation on the building bulletin. It is understood the call for evidence response will be published at that point.
NFCC said it highlighted that the rate of schools being fitted with sprinklers "may have fallen from 70 per cent to as low as 15 per cent of new builds" in its submission to the latest DfE consultation.
NFCC chair Roy Wilsher added: "Children across the UK have had their education severely disrupted this year due to the pandemic; a fire in a school will only make this worse, putting additional pressure on the education service and parents."
Councillor Evonne Williams, Derby City's cabinet member for children and young, said remote learning will be offered to pupils in the first instance "until safe spaces can be agreed for bubbles of children and staff to move into, and the council is working with both schools to find suitable spaces."
"Losing a school has an enormous community impact, and it's fair to say that in an already uncertain time, due to COVID-19, the last thing any of our children need is further disruption. It just makes these incidents even more devastating for the community."
Cllr Williams added that social care colleagues are supporting vulnerable pupils and identifying those on free school meals.
"In the short term, a return to remote education is the only solution. In the long term, schools may be rebuilt. It is the medium term solution that will need some care. Derby City Council is committed to providing help and support for both schools, academy and local authority maintained."
A DfE spokesperson said: "All schools are required to have an up-to-date Fire Risk Assessment and to conduct regular fire drills. All new school buildings must be signed-off by an inspector to certify that they meet the requirements of building regulations. Where sprinklers are considered necessary to protect pupils and staff, they must be installed.
"We are working closely with Derby City Council and St Ralph Sherwin Catholic Multi-Academy Trust to help support the schools and their pupils."
Main photo credit: Gavin Tomlinson