Schools have introduced "comfort breaks" and reduced screen time to boost the mental and physical health of staff and pupils during remote education.
Since the third lockdown began in January schools have had to provide remote education for most pupils but some have adapted their approach after feedback from staff, pupils and parents.
Although all pupils are expected to return to schools from March 8, remote learning must still be provided for any pupil who has to continue to learn from home.
This could include those sent home to self-isolate because of a confirmed or suspected Covid case, or contact with someone who has the virus.
Belinda Chapple, the head of Caterham High School in Ilford, Essex, said her school had reduced hour-long lessons to 40 minutes to allow pupils regular breaks from their screens.
The changes were made after the school noticed pupils struggling with screen fatigue, and parents got in touch to raise concerns their children were "glued to screens all day".
Staff report physical health issues
Meanwhile staff said increased screen time affected their physical health, with back, neck, shoulder and eye problems reported.
Chapple said a survey found 95 per cent of parents favoured the introduced changes as they allowed children to be more active, while staff savoured the "pause for breath to refocus" between lessons.
A survey from Teacher Tapp this month found that 80 per cent of primary teachers said their biggest worry for their pupils was loss of social experiences and wellbeing, rather than any dip in academic learning.
The Guardian reported last month excessive screen time could impact children's mental and emotional development, sleep patterns and eyesight.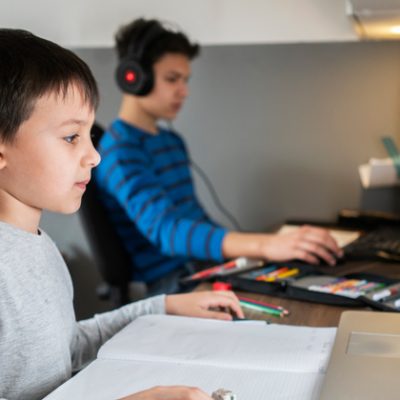 Barnhill Community High School, in Hayes, Middlesex, has introduced ten-minute comfort breaks between morning lessons, and longer breaks and lunch periods after determining the increased screen time of remote learning "is not healthy for sustained periods".
John Jones, the school's head, said the reduction of "draining screen time" was introduced "to ensure the wellbeing of staff and students is looked after".
Total screen blackouts
Some schools have gone further and introduced regular screen blackouts.
Nene Park Academy in Peterborough held a "no screen day" last term, encouraging pupils to spend the time completing community activities, such as charity work or learning a new skill like first aid.
Since January the school has also shortened lessons from 60 to 45 minutes, and extended lunch from 30 minutes to an hour.
Rob Grover, the school's principal, said that the initial drive to ensure children kept learning meant they were "almost blind to the side-effects" of increased screen time. Regular surveys of parents and pupils helped to identify the issues.
"It is so important that we take time to step away from the screen and engage in activities that help boost mental health and encourage human interaction."
He said another "no screen day" would be held, while the school was looking into keeping the extended lunch and regular breaks for children learning remotely this term.
Elsewhere, Meols Cop High School, in Merseyside, has introduced "no screen bingo" one afternoon each week in which pupils take part in activities that benefit their wellbeing and the local community.