Regional School Commissioners are to be given formal powers to find sponsors to take over "failing" maintained schools, it has been announced today.
Lord Nash, Parliamentary Under Secretary of State for Schools, outlined the changes  which represent the "next step to creating a more regionalised system" in a letter to councils.
The ever-growing responsibilities of RSCs will now include finding a sponsor and setting levels of funding for schools to be converted into academies because they are failing.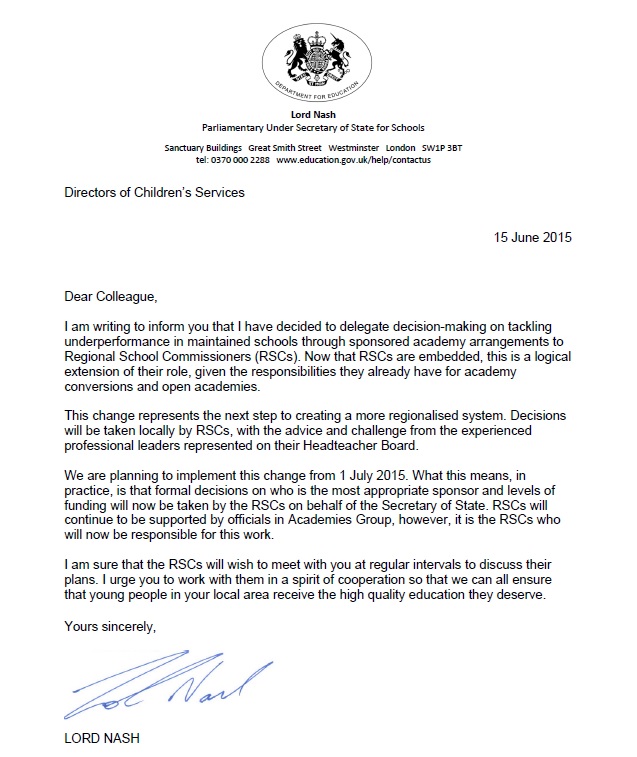 It follows the proposed education and adoption bill, unveiled last month, which paves the way for local authority maintained schools in special measures to automatically become academies.

Lord Nash wrote: "Now that RSCs are embedded, this is a logical extension of their role, given the responsibilities they already have for academy conversion and open academies.
"This change represents the next step to creating a more regionalised system. Decisions will be taken locally by RSCs, with the advice and challenge from the experienced professional leaders represented on their headteacher board."
The powers will be delegated down from the secretary of state and will come into force from the beginning of next month.
Lord Nash added: "I'm sure RSCs will wish to meet you at regular intervals to discuss their plans. I urge you to work with them in a spirit of cooperation so that we can all ensure that young people in your local are receive the high quality of education they deserve."
Schools Week revealed last month 133 academies are rated as inadequate. Our investigation found 28 of those used to be good or outstanding before they converted.