The education charity Teach First has recruited a record cohort of trainee teachers after almost two in three passed its screening process.
This summer, 1,735 trainees will join the scheme, which places high-flying graduates who might not have considered teaching in schools serving disadvantaged communities.
If the next prime minister wants the country to thrive, we need serious action
For the 2019 intake, 65 per cent of applicants passed the charity's initial screening, the highest level ever, and 21 per cent went on to get a place.
The cohort is Teach First's largest to date and is just 15 trainees shy of the 1,750 target set by the government in its £39 million funding contract. The boom this year reverses a three-year slump which saw cohort numbers drop as low as 1,259 last year.
It comes after Schools Week revealed how the charity was sharpening its focus on the teacher recruitment elements of its business, amid doubts over the future of its government funding. Several non-teaching-related programmes were ditched, putting a number of jobs at risk.
Data obtained by this newspaper shows that of 8,240 applicants for this year, 65 per cent passed the charity's blind screening process, which is based solely on "academic qualifications and long standing competencies". Applicants need at least a 2:2 degree and certain A-level and GCSE qualifications to pass the screening and go through to the next stage.
Although the proportion of applicants gaining a Teach First place is now back to around the level it was in 2015, the proportion getting through initial screening has risen substantially.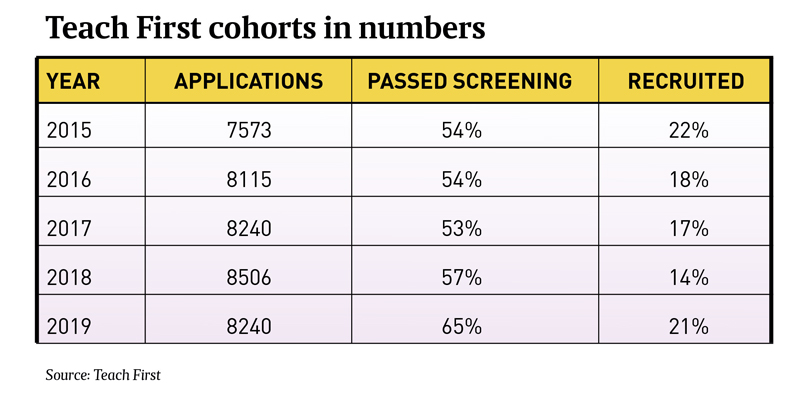 Last year, 57 per cent of applicants passed, and in 2017 just 53 per cent made it through.
However, Teach First insists its screening process has not changed, and puts the increase down it receiving more high-quality applications as a result of other changes to its recruitment process.
The charity says it redoubled its efforts to highlight "the huge rewards that come with joining the profession" and targeted advertising and social media at trainees in specific subjects and "from a more diverse pool".
Teach First also claims to have "re-engineered each stage of their recruitment process to improve the overall applicant experience, increasing feedback and face-to-face assessment of candidate potential".
"While there was no magic bullet, the carefully targeted changes meant the charity saw more high quality applicants than ever before in their sixteen year history and more who stayed in the application pipeline all the way through," a spokesperson said.
Announcing the news today, Teach First chief executive Russell Hobby called for "serious action" from whoever becomes the next prime minister to tackle the teacher recruitment and retention crisis.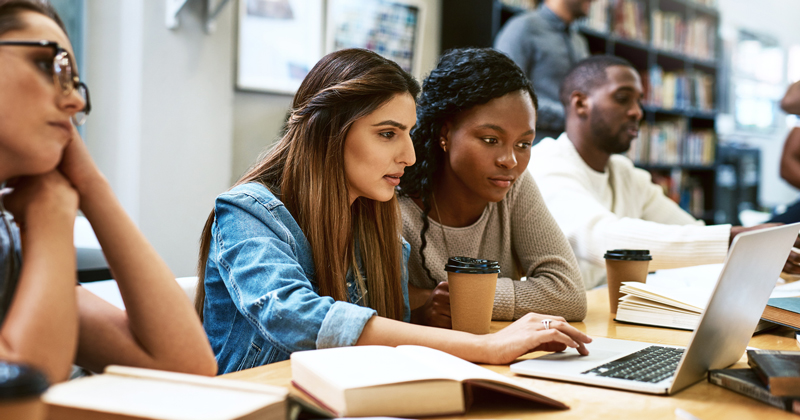 Hobby said he was "delighted" the charity had "bucked trends" with its record-breaking cohort, "but with pupil numbers rapidly rising, this isn't 'job done'".
"We're striving to make sure our teachers of the future truly reflect the diversity of the communities they serve. We know there are more people out there from all walks of life who could build a rewarding career in teaching and we're determined to find them.
"If the next prime minister wants the country to thrive, we need serious action. This means pledging to increase school funding, protect the pupil premium, and urgently address teacher starting salaries and workload. If we get this right, we can change the tide on teacher recruitment and retention, to change the direction of children's lives."
As well as being the charity's largest, this year's cohort is also its "most diverse", Teach First said.
Black, Asian and minority ethnic teachers make up 22 per cent of the cohort, up from 15 per cent in 2015. The proportion of LGBT+ trainees has also increased from 6 to 12 per cent over the same period, while the number with disabilities has increased from 9 to 17 per cent.
This year, 30 per cent of Teach First trainees changed careers to join the scheme, up from 22 per cent in 2015. The charity has also announced increases in its numbers of STEM and modern foreign language trainees.