Hundreds of parents want private companies banned from running special schools after a healthcare firm announced plans to close a school just weeks before the end of term.
Parents of pupils at Crossley Manor school in Rainhill, Merseyside were told by Elysium Healthcare on June 17 that the independent school would close this month. The short notice leaves many pupils without places for September.
Almost 600 people have signed a petition calling on the Department for Education to ban the involvement of private firms in running schools for pupils with complex needs.
Many councils rely on private special schools, which have dwindled in recent years despite a growing pupil population. DfE figures show there were 58 non-maintained special schools as of January 2019, down from 75 in 2010.
Crossley Manor has 12 pupils with social, emotional and mental health needs. According to government records it has a capacity of 68, but it hasn't come close to reaching that target since it opened in September 2017.
Elysium, which runs three other schools and operates Crossley Manor, a residential care home, on the same site, blames poor recruitment for the closure. Parents say the company failed to adequately advertise the provision.
"Unfortunately, we were unable to attract sufficient pupils," a spokesperson said.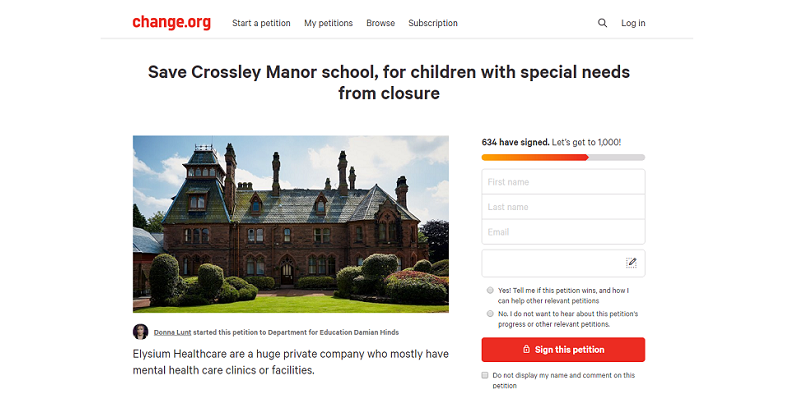 "We are now focused on supporting local authorities, families and students to find the best alternative placement before the new term commences in September."
Donna Lunt, a parent of an 11-year-old child with autism and epilepsy, said the school had left it too late for many families to find alternative school places.
"There's nothing for any of the kids. We're all just scrabbling around.
"The school I got offered the other day is in Bootle, and that's miles away. I wouldn't like him to be that far away because of his medical needs.
"I'm willing to keep him at home for as long as it takes because I don't want to put him somewhere for it to fail again. This [school was] working for all these kids. It's such a shame."
St Helens Council said it was "working with the school – as well as the families of those affected – to find suitable alternative educational settings to meet the needs of pupils".
Elysium, which specialises in healthcare for people with mental ill health, learning disabilities and neurological conditions, made a pre-tax profit of £9.4 million in 2017.