Schools are demanding copies of pupils' passports, and asking parents to confirm if their children are asylum seekers or refugees amid confusion over a new legal duty requiring the collection of nationality data.
Schools Week revealed in June that the Department for Education (DfE) had expanded the census details schools must collect from this month to include pupils' nationalities and countries of birth.
The government insisted the change was driven by a "dearth of information" about how effective the education sector was for foreign nationals. Its guidance states that schools should seek birthplace data from parents, although it is not compulsory for parents to provide it.
However, an investigation by Schools Week suggests that schools have misinterpreted the new rules, including asking for pupils' passport numbers and for parents to confirm their child is not an asylum seeker.
It comes during a time of heightened deportation concerns in some communities. Earlier this month protesters demonstrated outside the Jamaican high commission after more than 50 people – many who had lived in the UK all their lives – were deported.
The confusion could increase fears among ethnic minority families about how the data might be used, although education leaders say they have received assurances it will not be passed to the Home Office.
Diane Leedham (pictured), a specialist English as an additional language (EAL) teacher, said she was worried about the "range of interpretation" schools were placing on the government's "contentious but clear" instructions. Schools should "make it clear that parents can opt-out if they wish.
"They can't opt out of asking the question; they have to put the form out with the right questions, but they are not entitled to ask for passport numbers."
Schools Week found De Beauvoir primary school, in Hackney, east London, has issued a form to parents that appears to require staff to check details provided against passports and birth certificates, and asks guardians to specify whether or not their child is a refugee or asylum seeker.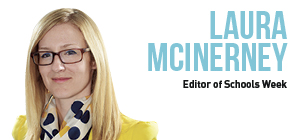 At Garth Hill college in Bracknell, Berkshire, parents received different emails depending on their child's recorded ethnicity. Those with children recorded as being white British were told the school was assuming they were British and born in the UK, and they should only respond if that assumption was incorrect, while those with a different recorded ethnicity were told to send in birthplace data as a matter of urgency.
St Richard's Church of England first school in Evesham, Worcestershire, also wrote to parents this week requesting pupils' passport numbers.
Malcolm Trobe, interim general secretary of the Association of School and College Leaders, said schools should "sensitively" ask parents for the information and explain why it was being collected, but should not request documents. Schools that had done so should "simply make a very brief apology" and explain they had misunderstood the guidance.
"There are some very legitimate reasons behind the collection of this data," said Trobe, who claimed it would help schools and the government understand the impact of language GCSEs on foreign nationals.
"We have been completely assured that none of this is being passed to the Home Office."
The Department for Education has now reconfirmed its guidance. A spokesperson said: "The guidance is clear – there is no requirement for schools to request a child's passport or birth certificate". He insisted the nationality and country of birth data "should be as stated by the parent or guardian".