Pupil premium funding has the potential to spark significant improvements for disadvantaged learners, a report has found.
But the National Audit Office report, published today, states that Government and schools have more to do for that potential to be realised.
It found 94 per cent of school leaders are now targeting support to disadvantaged pupils, compared to 57 per cent before pupil premium funding.
The attainment gap has narrowed by 4.7 per cent in primary schools and 1.6 per cent in secondary schools, between 2011 to 2014.
But the report found there was no clear trend and the gap "remains wide". A survey found 75 per cent of school leaders believed not all pupils with parents on low-income were identified, and Universal Infant Free School Meals makes it difficult to identify disadvantaged pupils consistently.
It added: "Other real-terms reduction in school funding mean the pupil premium has not always increased school budgets."
The NAO estimates per-pupil funding in 16 per cent of the most disadvantaged secondary schools fell by more than five per cent between 2010-11 and 2014-15.
Meg Hillier MP, Chair of the Committee of Public Accounts, said: "It's welcome that since the introduction of the pupil premium, head teachers and school leaders are now more focused on improving outcomes for disadvantaged children but it should be a matter of concern that some schools are not spending this funding in a cost effective way."
The committee found seven in ten schools spend their funding on teaching assistants. But only a quarter of school leaders thought it was one of the most effective ways of improving disadvantaged pupils' attainment.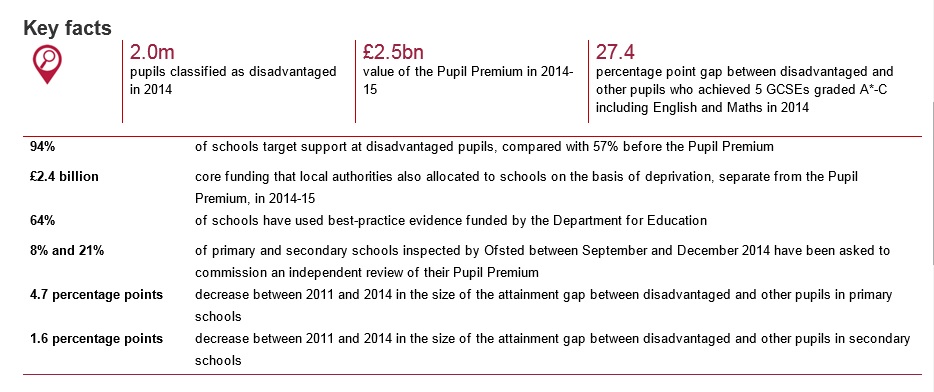 It estimated schools spent an extra £430m on teaching assistants since pupil premium was introduced.Other low-cost interventions, such as peer-to-peer learning, are not used enough, the report found.
Amyas Morse, head of the National Audit Office, said: "Early signs are that the pupil premium has potential, but it will take time for its full impact to become clear. "As it takes the policy forward, the department will need to review whether spending more in this way would allow it to close the attainment gap more quickly.
"The high degree of local discretion has benefits and costs. Some schools don't appropriately focus funding on disadvantaged pupils, and some spend funds on activities which are not demonstrably effective."
Commenting on the findings, Teach First Executive Director James Westhead said: "We believe that the impact of the pupil premium has only just begun. "More than ever we must deliver adequate and robust funding so every child has the best start in life. We must commit to protecting the pupil premium and continue to prioritise a fair education for every young person, no matter their background."
A Department for Education spokesperson said: "The NAO's report recognises the important role which the pupil premium has had in improving the educational outcomes, and ultimately life chances of some of the most disadvantaged young people.
"However, we know there is more to be done to tackle educational inequality and we will consider the findings of the NAO report carefully."