Pupils from across the Ark multi-academy trust auctioned off their artwork last week, raising more than £25,000 for their respective schools.
Forty-five pieces of art from primary and secondary pupils – and teachers – went up for auction at the Art for Ark event at London's Saatchi Gallery.
One piece (pictured above) by art teacher Sarah Sandeman, from Ark academy in Wembley, raised £10,000, which will go back to the art department at her school.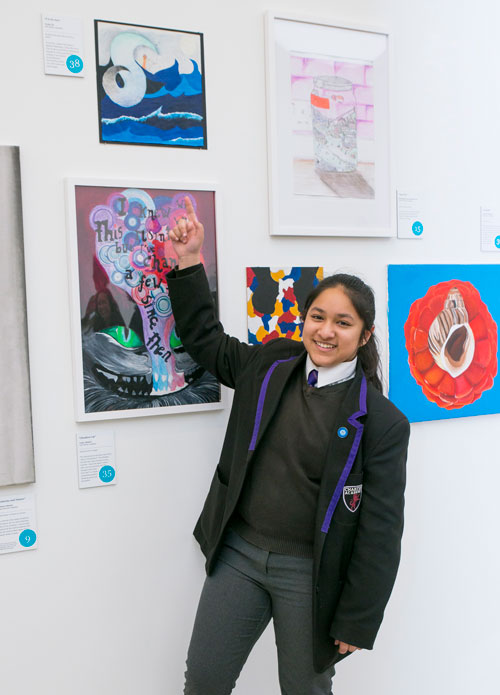 The silent auction was attended by the trust's supporters, including principals, sponsors past and present, foundations, businesses and partners of the event, Bank of America Merrill Lynch – who also helped to secure the prestigious venue.
Pupils put forward their work as part of a competition, with successful entries coming from academies including Ark King Solomon, Ark John Keats, Ark Globe and Ark Charter.
Aysha Ali, a year 9 pupil at Ark Charter, said of her piece, S is for Sea: "The sea is something I really enjoy. I wanted to incorporate something that is part of my identity into my final piece.
"It feels really strange to have had my piece up for auction, but I feel honoured.
I think my teacher has helped me by giving me advice on the techniques I should use, and how I can put some of myself into my work."
Vesela Valeva, a year 9 pupil from Ark John Keats, said it was "amazing" to have her work hanging at the Saatchi Gallery.
Explaining the message behind her work, she said: "My piece is about the world and how different people view it. Some people might think they have a lot of problems, and really feel down about that, when there are others that live in worse situations."
Sir Paul Marshall, chair of Ark schools, said: "We were delighted to receive so many entries to this year's competition, and this evening serves to highlight the creativity, talent and passion of our students and their art teachers."