The proportion of schools recorded as 'good' or 'outstanding' has dropped by two percentage points after missing data for 702 schools was added to Ofsted's statistics.
Once their data is added to the watchdog's datasets, 86 per cent of schools are now rated 'good' or 'outstanding', down from 88 per cent.
Most of the missing schools are sponsored academies that have not yet been inspected since they converted. Ofsted set out plans to include these in its statistics last November after Schools Week highlighted that hundreds of schools were missing Ofsted grades after their records were wiped when they converted.
Though overall the proportion of 'good' and 'outstanding' schools has only dropped by two points, the impact is bigger on secondary schools, where the proportion fell from 80 per cent to 76 per cent. There has also been a four-point drop in the proportion of 'good' and 'outstanding' pupil referral units, down from 87 per cent to 83 per cent.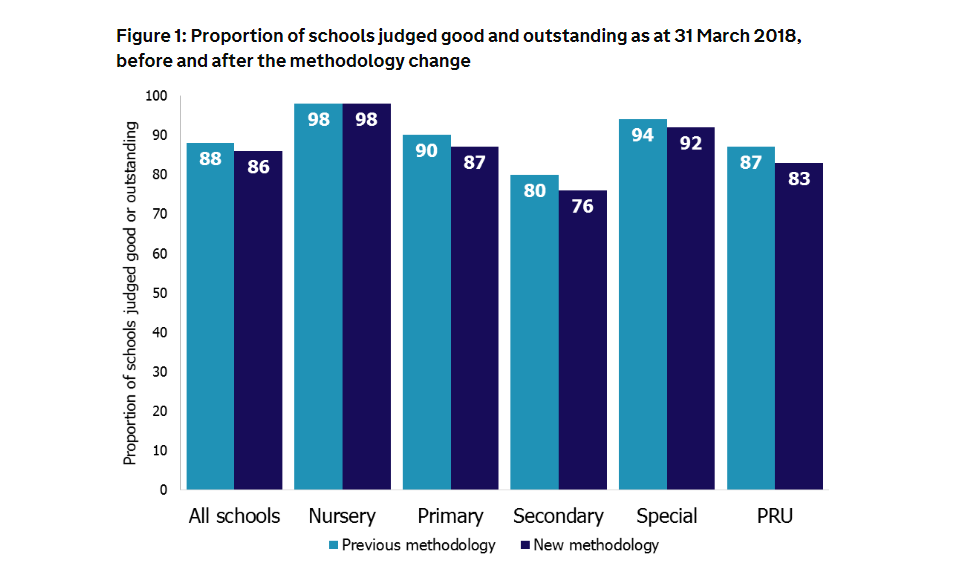 According to Ofsted, the data still shows a "clear trend of improvement in the sector since 2010". The new methodology has resulted in a "slightly lower proportion of good and outstanding schools in each year".
A consultation on the proposed changes ran from November to January. As well as a move to include missing data on predecessor schools of academies, Ofsted proposed to remove data for university technical colleges and studio schools from the sponsored academy category, and create separate categories for them.