Primary school applications fell by 5.1 per cent this year, which the government said could be in part due to an increase in home schooling and late applications due to the pandemic.
This year, there were 580,771 applications to primary schools from parents, down from 612,146 for the 2020-21 academic year, according to new data published today.
The Department for Education listed four possible reasons behind this drop, including "reactions to the pandemic", adding that, for example, there "might be an increase in the number of parents and carers opting to home school".
An investigation by Schools Week last year found that some of the country's largest local authorities reported increases in elective home education registrations of more than 200 per cent.
The DfE also said there was a reduction in births in England from late 2016 onwards.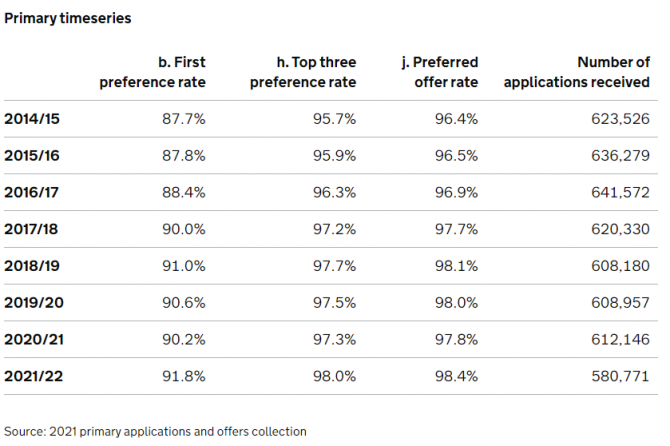 Another reason could be that a number of LAs told the DfE that a "larger than usual" number of applications were submitted late. Late applications will not be included in the figures published today, but they will still result in an offer of a school place "later in the offer process".
"The application deadline was during the winter pandemic period and therefore extra pressures on parents and carers may have impacted on them submitting their application on time."
The DfE also said a "reduction in migrations" due to pandemic travel controls may have also contributed to the drop.
The decrease takes applications down to their lowest level since at least 2014-15. But the number of first preference offers has continued to rise.
One impact of the drop in applications could be that LAs have been able to offer more pupils their first preference of school. These offers increased to 91.8 per cent this year, up from 90.2 per cent in 2020.
Drop in secondary school first preference offers
There was a small increase in the number of secondary school applications, which are up by 0.8 per cent this year.
However, the proportion of applications which received an offer of their first preference school dropped by 1.1 percentage points, to 81.1 per cent.
DfE says this figure will have been affected by the delay to the selective school tests.

Last summer, grammar schools were advised to push back entry tests until as late as November and parents were given an additional preference in admission applications.
DfE says this meant that in some LAs, parents could name selective schools on the form when their child may not have reached the standard required to be eligible for an offer.
For the first time, the LA with the lowest first preference rate was not in London, but in Slough (56.1 per cent).
DfE said Slough was one of the selective LAs where the test results were not known by the application deadline.