Primary school academy trusts have the largest pay gaps between men and women according to new national data – and senior figures are pointing to the high numbers of female staff in low paid roles as the main reason.
The government announced in April 2016 that academy trusts and schools with more than 250 workers would have one year to publish their gender pay gap statistics.
Reports are published online and show the median and mean gender pay gap, as well as the proportion of men and women in each quartile of the pay structure.
Women's pay is lower across all of the multi-academy trusts which so far have published their data and two in five pay their male staff at least 25 per cent more on average than women overall.
But the trusts with the largest gaps say the figures are skewed by the proportion of women in lower-paid jobs, a situation most common in trusts dominated by primary schools. In fact, three of the top five trusts with the largest gender pay gaps were all-primary.
Ocean Learning Trust had the largest gap: women earn 35.9 per cent less than men on average. The trust, an all-primary MAT in Bournemouth, Poole and Dorset, declined to comment on the figures.
In Cornwall, the Peninsula Learning Trust, which has seven primaries and one secondary, had the second-largest gender pay gap at 35.2 per cent.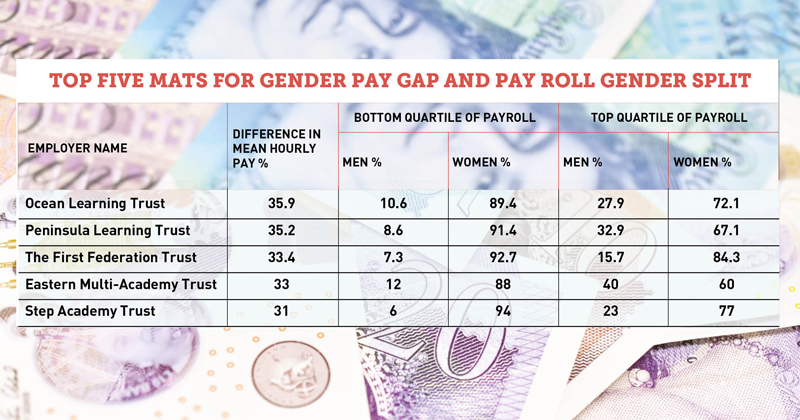 A spokesperson told Schools Week the gap was a result of "the structure of the workforce" and that "no discrimination takes place between men and women at Peninsula Learning Trust".
The First Federation Trust, one of England's first primary federations, had the third-highest pay gap at 33.4 per cent. The trust has 10 primary church schools and four secular schools across Devon.
Its CEO Paul Walker said that "nationally there are usually more male employees in senior positions".
He claimed that First Federation has equal pay for men and women in "all similar posts", but the majority of the trust's workforce are in lower-paid teaching and support posts held by women.
Education is supposed to be a profession about equity, inclusion and fairness
This is often because of a choice to "work around having and caring for children", he said.
"Men hold under 10 per cent of the roles in the lower quartile; the directors have noted that there are very few male applicants for these roles."
Eastern Multi-Academy Trust, which has 12 primary schools and two secondaries, ranked just below First Federation with a gap of 33 per cent.
It acknowledged that career progression is "particularly affecting the gender pay gap within the trust".
"The trust is also looking to implement leadership development programmes for those aspiring to middle and senior leadership to enable equal access to all staff," it said.
Vivienne Porritt, the co-founder of campaign group WomenEd, said Schools Week's findings were "not a surprise".
"Education is supposed to be a profession about equity, inclusion and fairness. This data will ensure education institutions can be held to account," she said.
She advised trusts not to "wait for somebody else to say you need to do it".
"Use this data to say we can do targeted programmes for women leaders, we can offer them coaching, we can be asking the women themselves about this, and drawing on organisations such as WomenEd for support."