Ministers are under growing pressure to introduce post-qualification applications for university after research found most students believe applying after receiving their results would be fairer.
A study by the Sutton Trust into reforming university admissions found that 66 per cent of just over 500 students surveyed in September felt a post-qualification approach would be fairer than the current system of predicted grades, with 30 per cent saying it would be "much fairer".
It comes after the Office for Students launched a major review of admissions. One of the options being explored, with the blessing of education secretary Gavin Williamson, is whether the admissions process should take place after pupils know their A-level grades. But the review has been paused during the pandemic.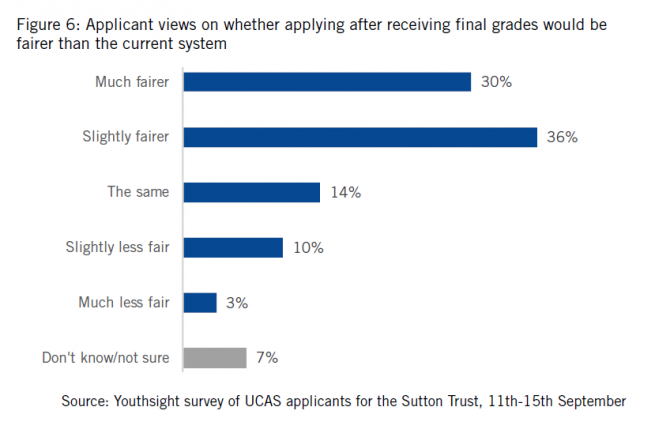 Although researchers say a post-qualification admissions system would not be a "silver bullet" for university access, moving away from predicted grades could "help level the playing field" for students from less advantaged backgrounds.
They also say the discussions on how to award grades in the absence of exams has highlighted "major failings of the current system", including the dependence on "unreliable teacher predicted grades".
Geoff Barton, general secretary of heads' union ASCL, said the research "reinforces the pressing need for serious consideration to be given to an overhaul of the university applications system".
He said issues with the current system "could be addressed by moving to a system of post qualification applications where students have the confidence of applying for courses with their grades in hand, but this idea is too easily put in the too-difficult drawer".
Clare Marchant, UCAS' chief executive said they are "looking carefully"  at the benefits of the different models of post qualification admissions and they will publish details of "what reform would mean in the coming weeks".
The Sutton Trust's research is based on a nationally representative poll by research business YouthSight of 502 of this years' university applicants.
Researchers say that even with exams cancelled this year, just 38 per cent of applicants received grades that matched their teachers' initial predictions. However, this is significantly higher than in recent years.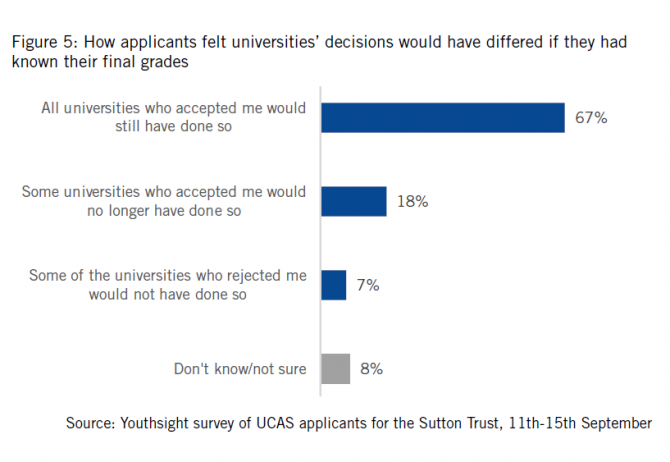 And while 69 per cent of those surveyed received a place at their first choice university, middle class students were more likely (72 per cent) than working class students (63 per cent) to do so.
The research also found that if they had their final grades when making a decision on which universities to apply to, 16 per cent of working class students were more likely to have applied to universities with higher requirements. The figure was 10 per cent among middle class students.
But nearly a fifth of students – 18 per cent – said they felt some universities would not have accepted them if they had known their final grades. Most – 67 per cent – said the result would have been the same.
The report acknowledges the "uneven playing field" will remain even with PQA, and other steps will be needed to "redress the balance".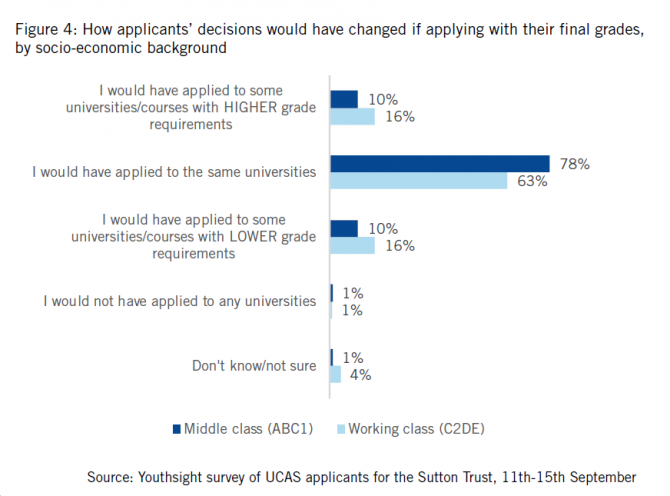 Sir Peter Lampl, founder and chair of the Sutton Trust and chair of the Education Endowment Foundation, said the "utter chaos" of this year's university admissions "exposed major flaws with the system that are due principally to our reliance on predicted grades".
Chris Millward, director for fair access and participation at the OfS, said the report's overall should be given "serious consideration".
But he adds it is likely there would continue to be a "significant attainment gap" between the most and least advantaged students, with or without the system, and it will be important for universities to understand the context in which grades were achieved.
A Department for Education spokesperson said: "The Government is committed to delivering on our manifesto pledge to improve the admissions system and we are exploring options that will ensure it is as fair as possible."