The progress made by poor pupils at primary school is being "wiped out" during their secondary years, with those in rural schools falling the furthest behind, a new study has found.
Research published today found children on free school meals achieve almost half a GCSE grade less progress in 'attainment 8' core subjects than their more affluent peers.
The Social Mobility Commission report stated poorer pupils have been making less progress year on year since 2012.
The attainment gap is the greatest in large schools with average levels of pupil disadvantage. Pupils in rural schools also make less progress than those in cities, the study found.
But the report, titled 'low income pupil's progress at secondary school', found the progress gap was largely down to how poorer pupils do within each school.
Researchers suggested this is because poorer pupils are more likely to be placed in lower sets, with less qualified teachers and lower expectations.
Alan Milburn, Social Mobility Commission chair, said "successive generations of poor kids are being let down by a school system that is supposed to be there to help them move up and get on".
The report, by LKMco and Education Datalab, found the gap was largest in rural areas – where poor pupils make less progress than in urban areas, and their peers make more progress (see image right).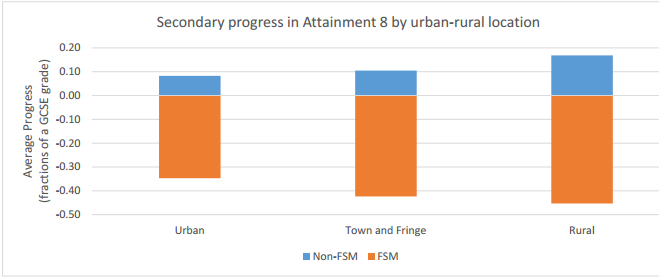 Researchers stated this could be down to a small 'skewing effect' of the high attainment of pupils in London schools, and also that it's easier for groups of schools to work together in cities.
Further analysis found free school meal pupils do best in schools that have particularly high or low proportions of poor pupils.
Bart Shaw, the lead author from education think tank LKMco, said: "Our research has found that teacher expectations and actions taken be school can have a profound impact on outcomes.
"Parents also have an important role to play be creating an effective home learning environment and taking an active interest in their children's education."
The report stated this difference could be attributed to the effects of setting hindering the progress of pupils because it "restricts them to a lower tier of exam … [which can] cap how much progress they are able to make".
The study also states that teacher expectations may be lower for low income pupils.
The report urges schools to exercise "great caution" using setting and streaming practices that can "negatively impact" poorer pupils.
Generations of poor kids are being let down
Where this is the case, schools need to make sure the best teachers are reaching the lowest-attaining pupils, or consider whether mixed ability grouping would be more effective, researchers said.
Schools leaders should also make "regular use" of data to analyse progress so they can intervene as soon as possible when the progress of poorer pupils "stagnates".
Milburn called on the government to set an "explicit target" for narrowing the GSCE attainment gap, including by getting the best teachers into the toughest schools.
The report also urges the government to halt plans to increase selection to prevent "further segregation of pupils from low-income backgrounds".
But the Department for Education pointed to grammar schools' "track record of closing the attainment gap to almost zero".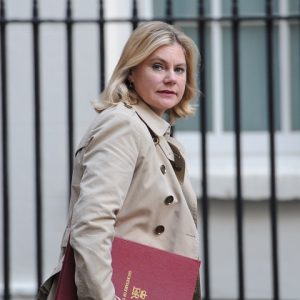 A spokesperson said education is "at the heart" of creating a country where "everyone has a fair chance to go as far as their talents will take them".
"That's why we have set out plans to create more good school places, in more parts of the country, by ending the ban on new grammar schools, where we know bright children from disadvantaged backgrounds thrive, and harnessing the resources and expertise of our universities, independent and faith schools."
The spokesperson also highlighted the £72 million investment in 12 opportunity areas across England that will help "break down the barrier to social mobility that too many still face".