As schools broke up for Easter, the government published the explosive findings of its investigation into financial mismanagement at the Perry Beeches Academy Trust in Birmingham.
The inquiry centred on a £1.3 million payment to a private company that included a £160,000 "second salary" paid to Liam Nolan, the trust's superhead. It also revealed undeclared links between the company and Nicola Harris, the Perry Beeches Academy Trust chair of directors.
Schools Week has now discovered further links between the trust, connected companies and the £1.3 million payment. It shows a picture of the multi-layered ways that finances are passed between private firms and academies.
It is now well known that Perry Beeches Academy Trust breached a string of regulations after an Education Funding Agency report reveal a series of financial management issues.
It found the trust, which runs five free schools, broke the rules when it paid £1.3 million to a company called Nexus Schools without a contract or adequate tendering.
After the report's publication last month, media coverage of the investigation focused on an undisclosed second salary of £160,000 that Nexus paid over two years to the trust's "superhead" Liam Nolan for his role as chief executive. The payment was on top of his annual £120,000 salary as executive headteacher and trust accounting officer. This payment was not disclosed in financial statements.
The findings have been awkward for the prime minister as well as the current and former education secretaries – all of whom have publicly praised Nolan and the trust.
The fall-out has continued, with three Labour MPs in Birmingham last week saying they will repay donations totalling £15,000 from Nexus into their constituency funds.
The EFA report also revealed undeclared links between Nexus and the Perry Beeches Academy Trust chair of directors, Nicola Harris.
But a Schools Week investigation has now found further ties – uncovering the multi-layered, elaborate ways finances can be passed between private companies and academies.
The EFA investigation found Harris was also director of the company Making Learning Work Partnership (MLWP) with Nexus director Robert Llewellyn. Accounts show Perry Beeches paid more than £43,000 to MLWP in 2013 and 2014.
The EFA found the joint directorship had not been "appropriately managed" as it was not disclosed in the trust's annual declaration of interests.
The report said Nexus was registered at the same address as MLWP. But, Companies House records place Nexus in a different building in Stafford, which is the address of the company's accountants, Wright & Co.
Schools Week has established that one of Wright & Co's senior accountants is also named as the independent auditor for Perry Beeches Academy Trust's latest accounts.
Wright & Co are the named accountants for MLWP and Nexus, but do not have an audit role in those companies.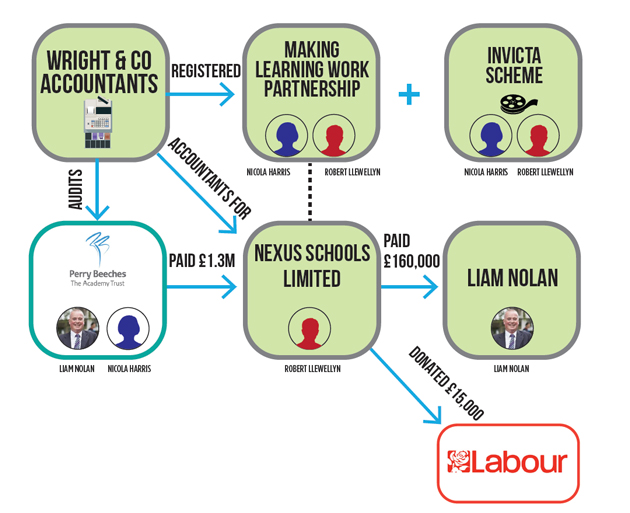 There is no suggestion of impropriety in and it is not unusual for accountants to be involved in firms with connected parties.
Wright & Co said they adhere to all accounting regulations and international auditing standards.
The accountants raised a number of issues in their audit reports of Perry Beeches, in particular that certain expenditure did not conform to the rules for academies.
The EFA investigation found Perry Beeches also did not routinely obtain subcontractor invoices from Nexus – which buys in all services and then produces its own invoices for the trust.
The EFA said that without the underlying invoices it would be "extremely difficult" to confirm what the trust is paying Nexus was "correct and accurate".
Schools Week approached both Harris and Llewellyn to ask questions about their business relationship after the EFA report and our findings.
Asked if she benefited financially from any of the cash paid to Nexus, Harris said: "Absolutely not. I didn't benefit from any money that exchanged hands from the academy trust [with Nexus]."
She said that Llewellyn's firm, Nexus, has a room in the building from which she runs MWLP. "I have my business there and employ six people. We rarely cross paths. He's based in the schools he works in."
However, after Schools Week sent a letter to Llewellyn's business address at Wright & Co, Harris was the one who called the publication.
It's unclear when Nexus started working with the academy trust, but minutes of a finance sub-committee in February 2014 recorded that trust directors made a "unanimous" decision to continue a Nexus contract.
No alternative contracts or supplier quotations were mentioned, despite other contracts discussed on that day having between three and ten supplier quotations.
At the meeting Harris was said to have declared knowledge of Nexus, but following "interrogation" by attendees, it was felt this did not undermine her position to vote on the Nexus contract, the EFA report said.
Harris and Llewellyn are also directors of an Invicta film partnership scheme now reportedly being investigated by HM Revenue and Customs over potential tax avoidance.
Harris said she and Llewellyn sought legal advice and were advised that it "was not a tax dodge scheme".
Invicta did not respond to requests about whether the inquiry was ongoing. HMRC said it could not comment on individual taxpayers.
Harris told Schools Week she had
resigned as chair of directors at the trust. She remains a trustee and governor of Perry Beeches The Academy.
Llewellyn did not respond to a request for comment.
What is Nexus? And how did it get £1.3 million of school money?
Nexus Schools provided services including accountancy support, payroll and HR support to the Perry Beeches trust.
Schools Week could not find a website, phone number or email address for the company, so we sent a letter with questions for Robert Llewellyn to its registered address at Wright & Co.
A day later Nicola Harris called our offices. She said she had seen the letter after visiting her accountant's office.
When later asked to clarify in writing how and why she had seen the letter and who opened it, she wrote that she "was being nosey, but shouldn't of [sic] been".
She said Llewellyn was on holiday, but that she could respond to any questions.
She said she set up MLWP with Llewellyn in "2001 or 2002" as 50-50 business partners, but when Llewellyn set up Nexus she became sole owner of MLWP.
Llewellyn was now a "non-executive director" at MLWP, which, she said "means nothing, it's basically to advise you. He's nothing to do with my business."
However, company accounts for MLWP show that he signed off last year's financial statements.
Llewellyn did not respond to our letter.
Companies House documents show Nexus has two directors, Llewellyn and Haidee Llewellyn. The latter is the only shareholder.
Accounts show it posted a £170,827 profit in 2014 and £190,920 profit in 2013.
What happens now?
The EFA has issued a financial notice to the trust with a long list of conditions that it must meet, including an independent review of its membership and board of governors.
The trust's five schools are reportedly set to be taken over by the West Midlands Academy Trust headed by David Kershaw, a Labour cabinet member of Coventry City Council. Kershaw has denied the reports.
Liam Nolan said he is stepping down as chief executive and accounting officer at Perry Beeches, but will stay on as an executive headteacher. He will take a pay cut.
The trust is advertising for an executive director of finance and resources.
The Department for Education said Perry Beeches was working urgently to resolve issues.
A spokesperson added: "We continue to work with Perry Beeches to make sure it complies with the terms of the financial notice to improve."