The new teacher and school leadership pay rates for 2020-21 have been confirmed by the Department for Education.
In July, the DfE announced salaries for new teachers would rise by 5.5 per cent this year year, with the upper and lower boundaries of the pay ranges for all other teachers to rise by 2.75 per cent
While local authority-maintained schools are required to follow these pay scales, academies and free schools are allowed to set their own scales.
Here are the new pay rates, effective from September 1 2020. Please note that for the first time from this year, these apply only to England, rather than to England and Wales.
Classroom teachers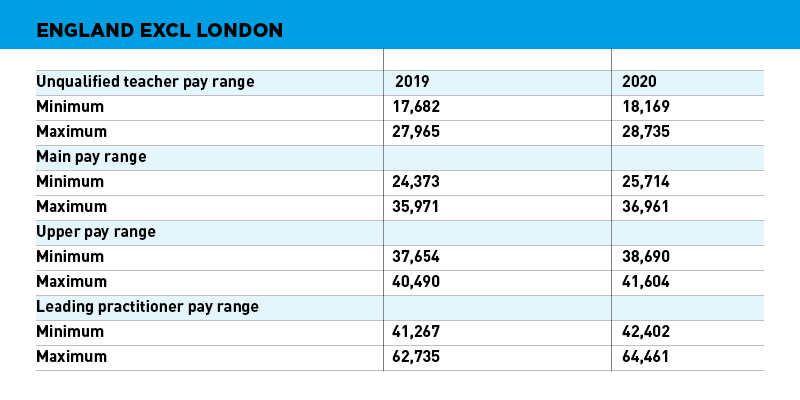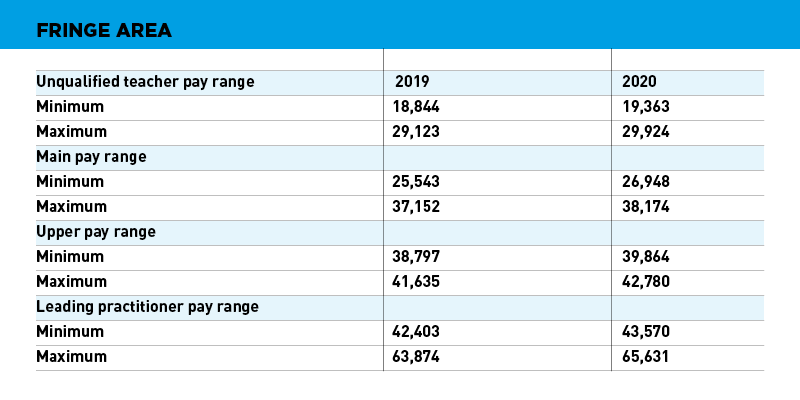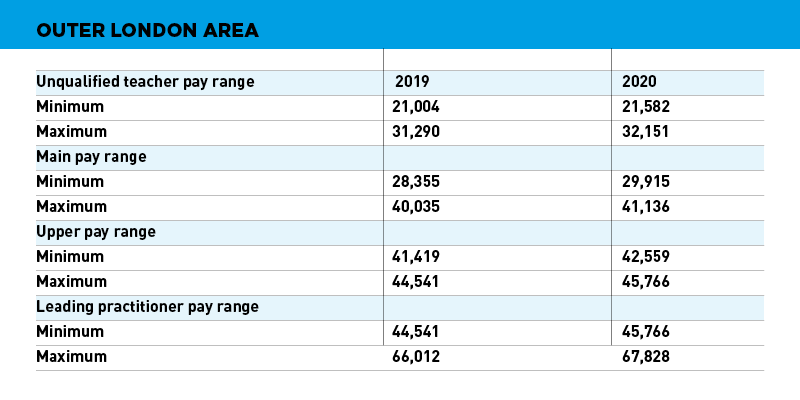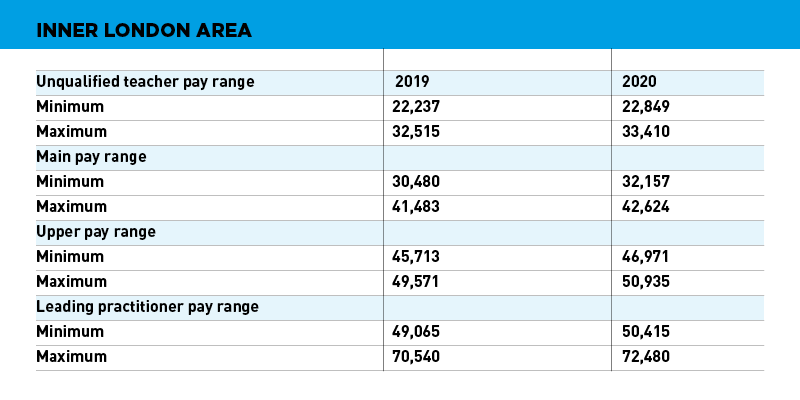 Headteachers and school leaders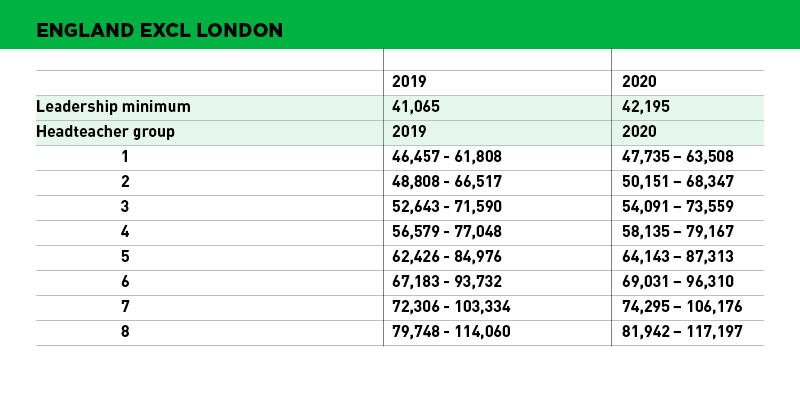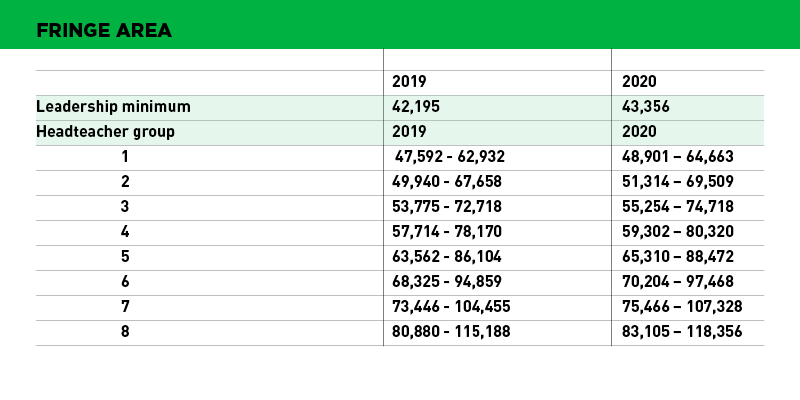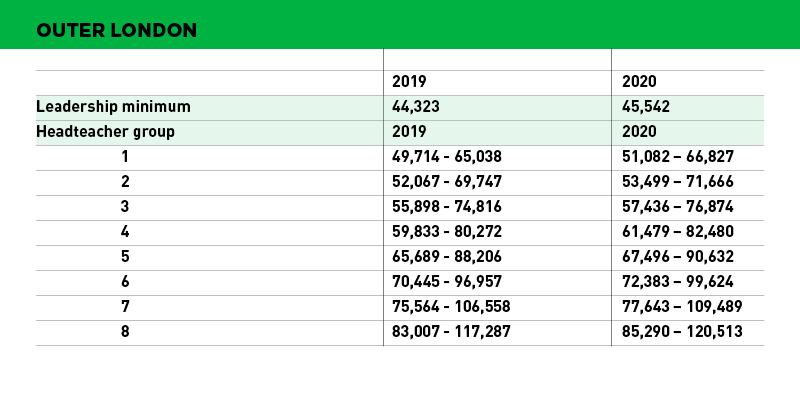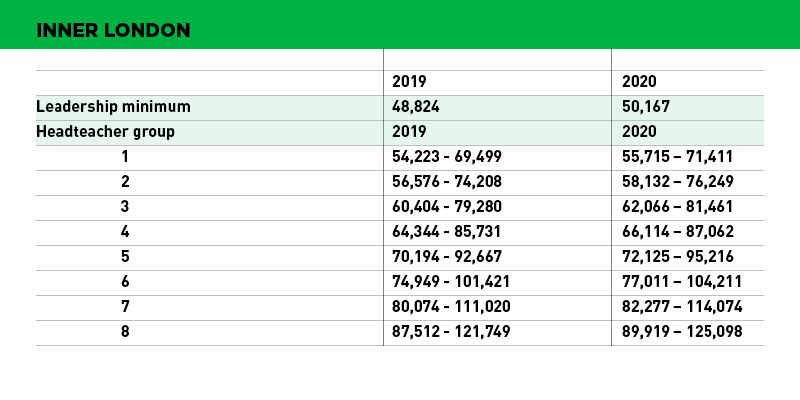 Here's the text version in case you need to copy and paste…
Classroom teachers

England excl London
Unqualified teacher pay range
2019
2020
Minimum
17,682
18,169
Maximum
27,965
28,735
Main pay range
Minimum
24,373
25,714
Maximum
35,971
36,961
Upper pay range
Minimum
37,654
38,690
Maximum
40,490
41,604
Leading practitioner pay range
Minimum
41,267
42,402
Maximum
62,735
64,461
Fringe area
Unqualified teacher pay range
2019
2020
Minimum
18,844
19,363
Maximum
29,123
29,924
Main pay range
Minimum
25,543
26,948
Maximum
37,152
38,174
Upper pay range
Minimum
38,797
39,864
Maximum
41,635
42,780
Leading practitioner pay range
Minimum
42,403
43,570
Maximum
63,874
65,631
Outer London area
Unqualified teacher pay range
2019
2020
Minimum
21,004
21,582
Maximum
31,290
32,151
Main pay range
Minimum
28,355
29,915
Maximum
40,035
41,136
Upper pay range
Minimum
41,419
42,559
Maximum
44,541
45,766
Leading practitioner pay range
Minimum
44,541
45,766
Maximum
66,012
67,828
Inner London area
Unqualified teacher pay range
2019
2020
Minimum
22,237
22,849
Maximum
32,515
33,410
Main pay range
Minimum
30,480
32,157
Maximum
41,483
42,624
Upper pay range
Minimum
45,713
46,971
Maximum
49,571
50,935
Leading practitioner pay range
Minimum
49,065
50,415
Maximum
70,540
72,480
Headteachers and school leaders

England excl London
2019
2020
Leadership minimum
41,065
42,195
Headteacher group
2019
2020
1
46,457 – 61,808
47,735 – 63,508
2
48,808 – 66,517
50,151 – 68,347
3
52,643 – 71,590
54,091 – 73,559
4
56,579 – 77,048
58,135 – 79,167
5
62,426 – 84,976
64,143 – 87,313
6
67,183 – 93,732
69,031 – 96,310
7
72,306 – 103,334
74,295 – 106,176
8
79,748 – 114,060
81,942 – 117,197
Fringe area
2019
2020
Leadership minimum
42,195
43,356
Headteacher group
2019
2020
1
47,592 – 62,932
48,901 – 64,663
2
49,940 – 67,658
51,314 – 69,509
3
53,775 – 72,718
55,254 – 74,718
4
57,714 – 78,170
59,302 – 80,320
5
63,562 – 86,104
65,310 – 88,472
6
68,325 – 94,859
70,204 – 97,468
7
73,446 – 104,455
75,466 – 107,328
8
80,880 – 115,188
83,105 – 118,356
Outer London
2019
2020
Leadership minimum
44,323
45,542
Headteacher group
2019
2020
1
49,714 – 65,038
51,082 – 66,827
2
52,067 – 69,747
53,499 – 71,666
3
55,898 – 74,816
57,436 – 76,874
4
59,833 – 80,272
61,479 – 82,480
5
65,689 – 88,206
67,496 – 90,632
6
70,445 – 96,957
72,383 – 99,624
7
75,564 – 106,558
77,643 – 109,489
8
83,007 – 117,287
85,290 – 120,513
Inner London
2019
2020
Leadership minimum
48,824
50,167
Headteacher group
2019
2020
1
54,223 – 69,499
55,715 – 71,411
2
56,576 – 74,208
58,132 – 76,249
3
60,404 – 79,280
62,066 – 81,461
4
64,344 – 85,731
66,114 – 87,062
5
70,194 – 92,667
72,125 – 95,216
6
74,949 – 101,421
77,011 – 104,211
7
80,074 – 111,020
82,277 – 114,074
8
87,512 – 121,749
89,919 – 125,098