The heads of some of the country's largest academy chains have pocketed pay rises totalling more than £80,000 this year – despite a 1 per cent cap on pay increases for their teachers.
A Schools Week investigation reveals that four chief executives received salary increases of at least £20,000 in the past 12 months.
Professor Toby Salt of Ormiston Academies Trust got a £30,000 boost from £150,000 to £180,000, while Sir Daniel Moynihan (Harris Federation), Karen Roberts (TKAT) and John Murphy (Oasis Community Learning) received £20,000 each.
The pay of other chief executives of the 13 chains that operate more than 20 schools stayed on the same level, except David Moran of E-ACT who dropped by £8,500 after the chain lost 10 schools, and John Mannix of Plymouth CAST, who moved up by £1,000.
Click on the image for a larger version
Our analysis of the 2014/15 accounts of these 13 chains also shows a huge disparity in the salary of chief executives and the number of schools they run, leading to accusations from one union head that the academy system is "dysfunctional and completely unaccountable".
After our analysis, we produced two tables, one showing the per-school cost and one showing the pay per good or outstanding school (right).
Sir Daniel was again the highest paid chief executive with a £395,000 salary, more than £10,000 per school.
That compares to just £2,429 per school for Mr Mannix, the lowest paid, who takes home £85,000.
Professor Salt's pay rise works out at more than £6,000 per school.
Christine Blower, general secretary of the National Union of Teachers, who described the system as "dysfunctional and completely unaccountable", said teachers would feel aggrieved at the "completely unjust state of affairs".
She added: "Pay deregulation and the implementation of market reforms have predictably resulted in these massive disparities, with soaring salaries for some CEOs while teachers have suffered a
pay freeze.
"It is totally illogical given the crisis in teacher recruitment and retention."
Sir Daniel now earns more than two-and-a-half times the salary of prime minister David Cameron.
A spokesperson said all 25 of Harris's academies that have been inspected since the trust took over have been rated good or outstanding.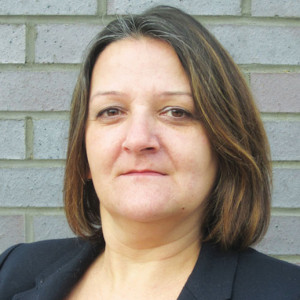 "Just one of these joined the federation with a 'good' rating. Many of the others were very challenging schools but have, without exception, been transformed."
Mr Mannix said there was "muddled thinking" about roles in education that were above headteachers.
He would not be drawn on specific examples, but said: "The current variation in senior pay is understandable while a new system and a new way of thinking about education responsibilities beds in."
Only time would tell "what value society ought to put on this role".
An Ormiston spokesperson said Professor Salt's salary was increased after a review and market benchmarking to "take into account the excellent job he does as chief executive of a large academy trust that has never shied away from taking on some of the toughest challenges in education".
Click on the image for a larger version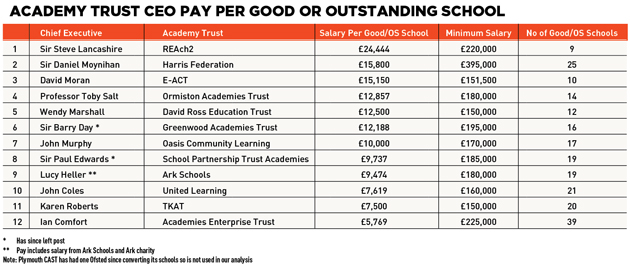 Schools Week found further disparities when the number of good or outstanding schools in each trust's stable is taken into consideration.
Sir Steve Lancashire topped this table – earning nearly £25,000 for each of REAch2's nine good or outstanding schools.
That compared to £5,769 for the 39 good or outstanding schools run by Ian Comfort's Academies Enterprise Trust (AET).
But a REAch2 spokesperson said more than two-thirds of the trust's schools have yet to be inspected, adding: "Of those that have, 80 per cent – which prior to joining
the REAch2 family were failing – are now good or outstanding."
Mr Comfort remained on a minimum salary of £225,000 for the year. AET – England's largest multi-academy trust with 67 schools – was criticised by Ofsted last month for failing too many
pupils and handed over eight schools last year after concerns about their "geographic isolation".
A spokesperson said the number of good or outstanding academies in the trust had doubled to 64 per cent in two years and Mr Comfort had headed "significant improvements" since taking the role in 2013.
Malcolm Trobe, the interim general secretary of the Association of School and College Leaders, said salary levels were set by factors including the value-for-money the chief executives provided, and could be offset by the saving an academy chain could bring, such as group discounts for contracts.
"It is important that individual trusts have autonomy over pay policies in order to take account of their specific circumstances.
"Strong and effective leadership of multi-academy trusts is essential and salaries have to be commensurate."
 Credit: Ofsted inspection data from www.watchsted.com was used as part of this analysis