A war of words has broken out between the Universities of Oxford and Cambridge and a key charitable partner after it called their admissions processes "confusing and complex" and warned they could deter poorer students from applying.
The Sutton Trust, which has over the years worked closely with the Oxbridge universities on access issues, has called for the streamlining of admissions processes in the wake of research which found the way applications are handled "can differ significantly" from college to college.
But the Universities and Oxford and Cambridge have defended their policies, with Oxford accusing the Trust of "perpetuating some of the most common myths" about its application process and both claiming many of the proposals in the Trust's report are already common practice.
The report, Oxbridge Admissions, demands a single application process at both universities after claiming there are over 400 possible tests an applicant may need to take.
It also calls for more transparency in the interview process and a review of the usefulness of the entry tests set by colleges.
Sutton Trust chair Sir Peter Lampl (pictured) said more needed to be done to increase the proportion of state schools students attending Oxbridge universities, adding: "Our surveys and experience suggest that many bright state school students are put off by the application process which is both intimidating and complex."
He said the universities, rather than the colleges, should control the admissions policies and interviews and that the numbers of "additional exams and tests" should be reviewed to "avoid advantaging those who gain from extra tuition and support".
His comments follow Cambridge's public confirmation on Tuesday that it will be bringing back "entrance tests" for all its applicants – a move first revealed by Schools Week last April.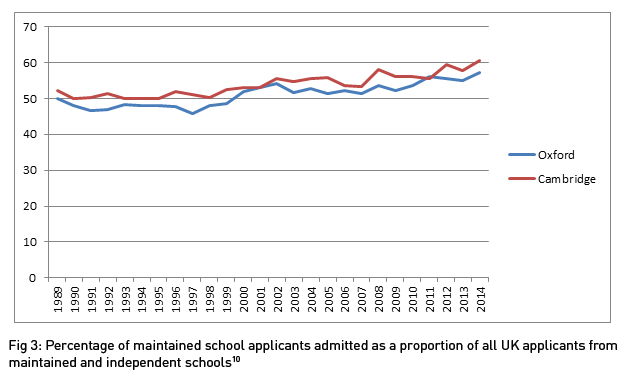 Both universities have issued strong statements, with Cambridge telling Schools Week it was "disappointed" at the "lack of understanding" of the admissions process demonstrated in the report and what it described as a "series of incorrect and unjustified criticisms and recommendations".
A spokesperson said: "We have a proven track record of improving access."
An Oxford University spokesperson said the organisation was disappointed that one of its longstanding access partners was "actively perpetuating some of the most common myths about how the selection process works".
He added: "These myths are a fundamental barrier to Oxford's access work, and only reinforce perceptions that deter exactly those candidates we try hardest to encourage to apply."
He said the university already had a single central application process which was used by all candidates, regardless of college preference.
"While different subjects may vary in the admissions tests or written work they ask candidates for, the application process for all candidates in a given subject is the same and course selection is highly standardised," he added.