The Education Funding Agency has published its annual report and accounts. Here are some of the more interesting findings…
1. Overdue debts double in a year
The value of overdue debts owed to the Education Funding Agency has more than doubled in a year, the agency's annual accounts show.
According to the documents, the EFA had total overdue debts of £65.6 million in 2017, compared with £31.5 million in 2016.
Almost half of the debts owed in 2017 are overdue by more than 180 days.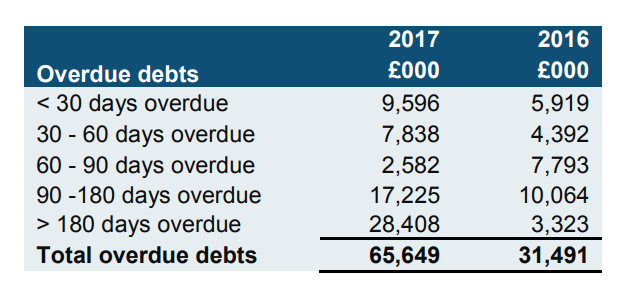 Non-payment of debts usually relates to commercial or charitable education providers that become insolvent, but the EFA blames the increase on recoverable VAT transactions with academy trusts, which are outstanding from capital programmes.
2. Related-party transactions investigated at 47 academy trusts
The EFA says it has identified 47 academy trusts from which it is seeking "further information in respect of related party transactions" and where "further work is necessary by the academy trusts to demonstrate compliance" with the EFA's requirements.
The agency has also identified cases of non-compliance or financial irregularity at academy trusts and sixth-form colleges through its review of financial statements, desk-based reviews, MAT reviews, fact-finding visits or investigations.
3. Eight sets of academy accounts outstanding
As of June 16, there were eight sets of outstanding academy financial statements. Of these, seven trusts have closed and their academies have been transferred to other MATs, while one remains open but is delaying submission "because of going concern issues".
Of the trusts with outstanding statements, the EFA still expects to receive four sets of financial statements, including from the trust that is still open. It does not expect to receive the remaining four because the companies have been dissolved or liquidated.
Academy trusts are supposed to submit their accounts to the EFA by the end of December every year. Schools Week reported in May that 137 missed the latest deadline.
3. Spending on external contractors up £1.3m
The cost of external contractors employed by the EFA has risen from £19.9 million in 2015-16 to £21.2 million in 2016-17.
According to the EFA, this increase was "largely due to an increase in project manager fees as a result of the increased capital programme".
Project manager fees rose from £16.3 million in 2015-16 to £17.2 million in 2016-17.
4. Staff numbers and costs up, and so is sickness absence
In 2016-17, the EFA spent £52.6 million on wages and salaries, social security and pension costs for 1,125 members of staff, 897 of whom were permanently employed.
Meanwhile in 2015-16, £47.1 million was spent on 1,031 people, 767 of whom were permanent.
The number of days lost to sickness has also risen, from 3,227 in 2015-16 to 3,748 in 2016-17. However, as a result of an overall increase in the number of employees, this represents a rise from 3.9 days per employee to 4.1 days.
5. The average salary of an EFA employee has decreased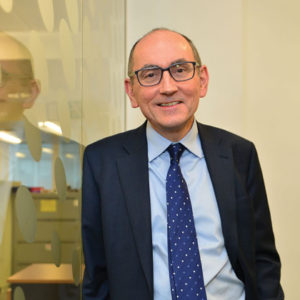 In 2016-17, the median pay for an EFA employee was £40,700, down from £42,900 in 2015-16.
The highest-paid director was Peter Lauener (pictured), who earned between £140,000 and £145,000 and received pension benefits of between £5,000 and £10,000 in 2016-17.
The second-highest-paid director was Simon Parkes, who served as chief financial officer until the end of February. His salary range was £135,000 to £140,000.
Mike Green, the head of the EFA's capital group, was on a salary of between £130,000 and £135,000.
The lowest-paid employee of the EFA earned around £18,000 in the same year.