At least 65 education sector workers with COVID-19 have died, new statistics show.
Data published today by the Office for National Statistics provides information on deaths involving COVID-19 across England and Wales, broken down by occupation.
It shows at least 65 education staff have died with coronavirus, of which 43 were women and 22 were men, as of April 20.
That includes 17 secondary school teachers, seven primary and nursery teachers, two SEND teachers, ten teaching assistants, six school lunchtime supervisors and school crossing patrols and two school secretaries.
However some of the occupation groups are generic (ie senior professionals of education establishments), so it's unclear which education sector some of these staff worked in (see full table below).
The figures also include 10 higher education and 10 further education staff who have died with COVID-19.
The statistics solely look at the deceased's occupation, it provides no further analysis – such as where the disease was caught.
The rate of COVID-19-related deaths among teaching and educational professionals, which for the purposes of the data collection excludes TAs, educational support assistants, lunchtime and crossing patrols, school secretaries and advisers and inspectors, was 6.7 per 100,000 for men and 3.3 for women.
This is roughly the same rate as those classed as business and public service associate professionals (6.8 and 2.8) and corporate managers and directors (6.4 and 2.6), but much lower than those in elementary trades and related occupations (27.8 and 12.5) and those in textiles, printing and other skilled trades (24.6 and 7.0).
The ONS stated its analysis "does not prove conclusively that the observed rates of death involving Covid-19 are necessarily caused by differences in occupational exposure".
They also said the findings could change as more deaths are registered. And while the findings were adjusted for age, they do not take other factors such as pre-existing health conditions or ethnicity into account.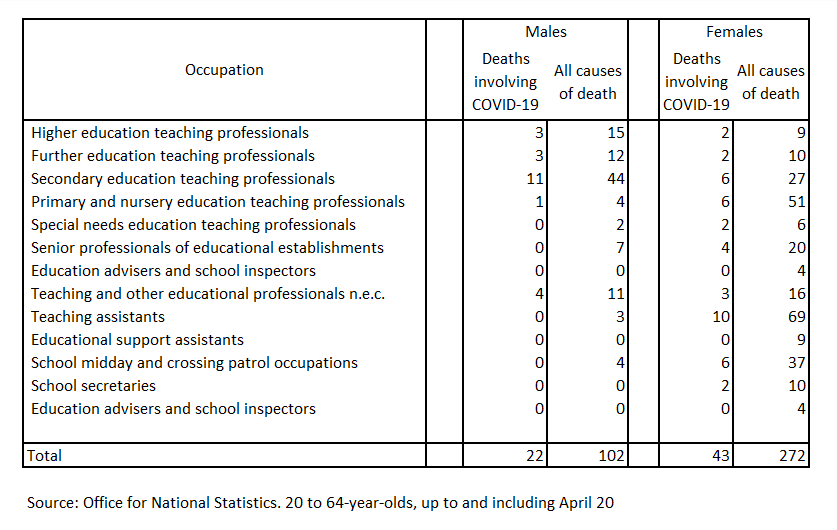 In a separate analysis also published today, the ONS created an estimate of potential exposure to coronavirus for UK occupations, based on figures from a United States study last year.
It stated that workers in the education sector have "lower exposure to disease than healthcare workers, but primary and nursery education teaching professionals, and special needs education professionals work in close proximity with pupils, and are more likely to be exposed to disease than secondary or higher education teaching professionals".
The findings come as the government today set out its plans to reopen schools to more pupils from June 1, at the earliest.
New Department for Education guidance released this evening set out how ministers believe schools can reopen safely, including capping class sizes at 15 pupils. However the government admitted that primary pupils will be unable to observe social distancing measures.
The government's chief medical officer, Chris Whitty, said at the daily coronavirus briefing today that teachers and parents are "understandably concerned about individual risk" of schools reopening, and that will be something "we're consulting on with the profession".
He added it was "very important" to have a "proper debate to make sure people understand that we can do many things to reduce the risk".
Overall, the ONS statistics showed that men in low-skilled jobs were almost four times more likely to die from coronavirus than men in professional occupations.
Dr Michael Head, a senior research fellow in global health at the University of Southampton, told the Guardian: "There is much still to disentangle around Covid-19 risk factors and how best to use that information to manage aspects such as population return to work.
"However, right now the forthcoming guidance for safe working simply has to provide extensive detail on how each sector is expected to manage their staff and working environments. Employers and employees need that reassurance."