Ofsted should be more vocal in challenging schools that narrow the curriculum with three-year GCSEs, the head of England's largest academy trust has said.
Writing in Schools Week, Sir Jon Coles, chief executive of United Learning, said Ofsted was "doing the right thing" and should do so "more full-throatedly".
Ofsted is now finally doing the right thing in challenging the three-year key stage 4
He said good schools "teach the full range of subjects up to age 14, keep their curriculum broad and protect children's access to learning against exam pressures".
Coles also hit back at claims by other academy chiefs that Ofsted's approach disadvantages schools teaching poorer pupils, insisting that it is those pupils "who most need schools to inject cultural wealth into their lives".
School leaders claim they have been penalised for running three-year GCSEs.
But the watchdog has stood firm, and insists schools can still be rated 'good' or 'outstanding' and have a three-year GCSE, as long as pupils still learn a broad curriculum until the end of year 9.
Although he accepted that exam results matter for children, Coles said they "can become an unhealthy obsession", and warned that "educationally dubious practices" have become "contagious diseases".
"So, the case for regulation is overwhelming, and Ofsted – having exhausted all other possibilities – is now finally doing the right thing in challenging the three-year key stage 4. It should do so more full-throatedly.
"They do so not in the interests of the middle classes, but most importantly for the poor and the dispossessed."
Coles, whose academy trust now has 72 schools, said England was an "absolute outlier" in its approach to curriculum breadth.
"No similar country allows young people to opt out as early as we do from learning about the nature of our planet, how human, social and political structures came to be as they are, or how to communicate in another language."
Earlier this week, Amanda Spielman defied critics of Ofsted's embattled new inspection regime, insisting her organisation "won't turn a blind eye to schools narrowing education".
The chief inspector used her speech at the annual Ofsted report launch on Tuesday to go on the offensive following heavy criticism of the new framework.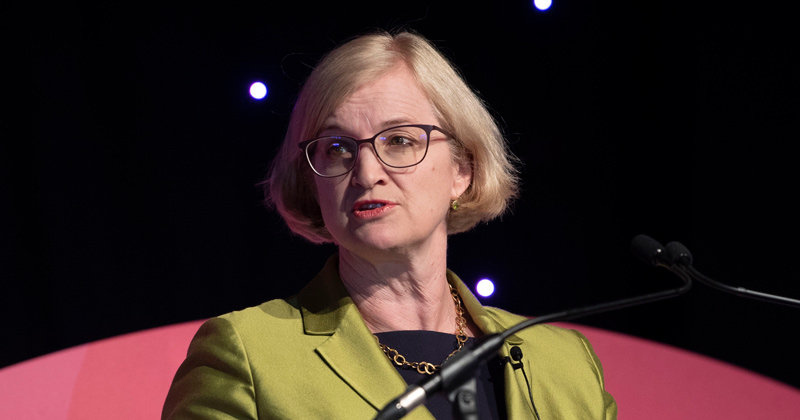 She also slapped down claims that schools were being penalised solely for the length of their key stages, and said Ofsted judgments were based on the "totality" of a school's approach.
"I've looked at some of the inspection reports where people have said 'we were marked down for a two-year key stage 3'. The report itself makes blindingly clear that that isn't the case, that there is a broader set of issues that have been uncovered in the inspection," she said.
"So, it's really important that we don't slide into this narrow characterisation."
Paul Whiteman, the general secretary of the NAHT leaders' union, said the report showed "a high-performing system under immense strain".
He said schools needed policy, accountability measures, inspection and improvement support to be "properly aligned".
The watchdog also issued a warning about "settings we cannot see", such as illegal schools, and again pushed for more enforcement powers.
"Our blindspots are caused by weak legislation, weak powers and weak enforcement," the report concluded.