Ofsted is to launch a secondment programme for middle leaders who want to spend a year working as full-time inspectors, Amanda Spielman has announced.
In a speech to the annual conference of school leaders' union ASCL this afternoon, the chief inspector of schools set out plans for "one-year secondments to Ofsted for middle leaders", so the watchdog can "involve even more" leaders in inspections.
It really is an exciting time for people to join us
Faced with a rising workload, Ofsted has in recent years had to adopt various new schemes to boost inspector numbers. Last February, Schools Week revealed plans by the watchdog to allow 25 junior inspectors who signed up to a fast-track training programme with a cash incentive to lead new short inspections.
"As you know, many of our inspectors are serving school leaders, and we plan to start a secondment programme early next year to involve even more of them," Spielman said.
"Our plan is for one-year secondments to Ofsted for middle leaders. They will get access to our training and development, and through inspection gain insight into what all different types of schools are doing.
"We will get their expertise and up to date experiences of running a school. After 12 months they would go back to their school and hopefully will have gained hugely from the experience, benefitting the school in turn."
In its last annual report and accounts, Ofsted accepted that inspector shortages have in recent years have reduced the number of inspections carried out against the watchdog's targets.
"This year, we have completed more and are now much closer to target across all types of inspection. Last
year, inspections of state-funded schools were 83 per cent of target, which has risen to 94 per cent this year," the document states.
"We achieved this by developing the capability of our Ofsted inspectors (OIs) contracted to inspect
schools, 68 per cent of whom are serving practitioners. Many more OIs have been given the expertise to
lead short inspections of good schools."
Speaking today, Spielman said collaboration and discussion during inspection was possible because of "the shared experiences of inspectors and school leaders".
"Ofsted is part of the education system, not separate from it," she insisted.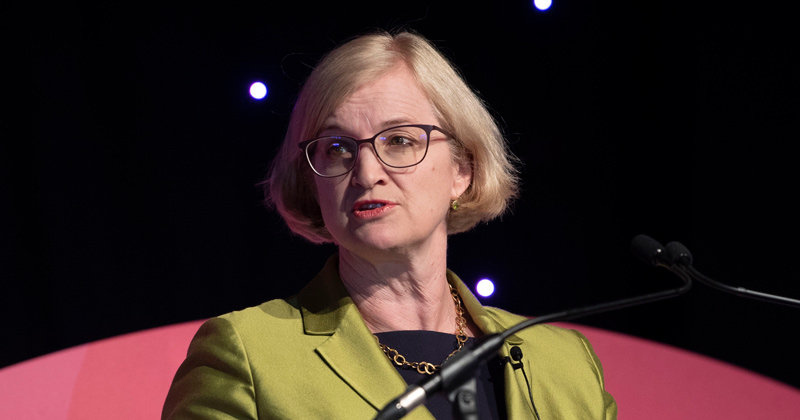 A trial this year of the secondments programme will initially only be open to existing part-time Ofsted inspectors, but Spielman said she would like to see them "open to any school leader who has had some whole school responsibility".
"We see this as forming part of the development journey of talented school leaders who are on a trajectory to headship or beyond.
"After the pilot, we hope to open the scheme more widely from January next year."
Spielman said she was "determined to be a force for improvement in education", and believes the new scheme will help "by widening our recruitment net and sharing our training".
"And of course we will benefit enormously from the direct experience that school leaders have. It really is an exciting time for people to join us."
Speaking to journalists following her speech, Spielman said that although Ofsted would pay the salary of their secondees for the year of the programme, no further compensation is expected to go to schools to help them cover their loss.
"We're not expecting schools to get an additional sum of money to replace the person as well," she said, when pressed by Schools Week, and insisted the scheme would be of benefit to institutions, not a burden, and may even help schools retain staff looking for different experiences.
"This is not a forced levy. We're [not] going to take one of your middle leaders away.
"But if someone is potentially thinking about moving on to get some new experience this might be a way of saying 'no, I do expect there to be opportunities for you to move on and up, I can't do it right now but if you do this then we'll be able to make a path onwards and upwards to you when you come back'.
"Schools have to manage and retain people and really good experiences are a way of retaining. It might be something that's genuinely helpful for a school in a remote bit of the country that will otherwise lose somebody good permanently."