Ofsted has moved to quash fears among schools that enrolling a high percentage of pupils in certain BTEC qualifications will automatically be viewed as "gaming".
Last week Ormiston Bolingbroke Academy, in Cheshire, was placed in special measures and rated 'inadequate' by the inspectorate after it entered all pupils into two vocational courses against "pupils' educational best interest".
The practice "artificially inflated" the school's overall progress store and "partially concealed" poor performance in English, maths and science, Ofsted said.
Schools Week can reveal the qualifications in question were BTECs in business studies and sports studies, at a level equivalent to a GCSE, with the school enrolling 98 per cent and 99 per cent of pupils respectively.
Ormiston Academies Trust said the inspection was "conducted when the school was sponsored by a previous academy trust".
But the ruling has prompted concerns that schools with a high percentage of pupils enrolled in these courses now face being classed as 'gaming' by Ofsted.
Research conducted by Education Datalab previously found both the BTECs are "higher scoring qualifications" in which "pupils tend to score more points… than they do in GCSE English and maths".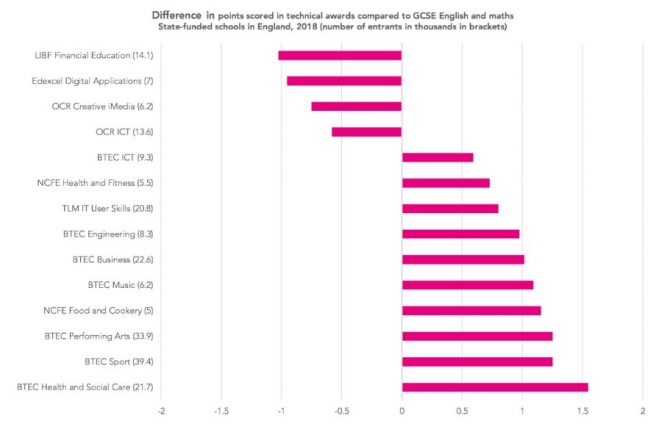 Following analysis of Key Stage 4 qualification entry data from 2018-19, Schools Week found nine schools which had enrolled more than 75 per cent of pupils in BTEC business studies and 30 which enrolled more than 95 per cent of pupils into BTEC sports studies.
Some of the schools recorded entry rates greater than 100 per cent – though this is due to resits counting as another entry.
One of those was actually another Ormiston school – Ormiston Chadwick Academy – which featured on both lists. The trust said it was "crucial students take the qualifications that are right for them and in their best interests – that is one of our guiding principles". They added that future cohorts may have different ratios between qualifications.
Dover Christ Church Academy topped the sports studies list at 169 per cent – with all pupils required to take the qualification.
Gary May, vice principal at Dover Christ Church Academy, revealed that the school had been challenged over the high percentage by Ofsted during its last inspection – and anticipated being challenged again.
However, he said it was a "conviction decision" which reflects the schools' desire to have a curriculum which "works for our students".
May explained the school is located in a "coastal area of high disadvantage" and is dealing with "epidemic proportions of obesity and mental health issues".
May said the sport BTEC is appealing to the school for its units on coaching and personal fitness which he believes provide "something which is useful for life and that it's hard to deliver somewhere else in quite the same way".
Goffs-Churchgate Academy in Hertfordshire is the second highest on both lists – with 100 per cent business studies enrolment and 79 per cent sports studies. It did not respond to a request for comment.
Elsewhere, United Learning Trust had two schools which featured prominently on both lists, Sheffield Park Academy and Sheffield Springs Academy.
A spokesperson explained both subjects were mandatory at the schools until 2017. However, both schools have since changed their approach and there is no whole cohort BTEC entry.
Meanwhile, Delta Academies Trust explained its De Lacy Academy had a high proportion – 99 per cent – due to its strong sporting tradition.
A spokesperson said: "We are locally recognised for our sporting expertise, with our head of department also acting as regional sport grants officer. "
Elsewhere the analysis found that three schools from the Harris Federation have more than 95 per cent of pupils enrolled in the sport BTEC.
Harris said pupils take the course in addition to their options and complete their full entitlement of practical PE. The schools also have sports specialisms.
May said that 'gaming' was now being used by Ofsted as a "blanket term" which applies pressure on schools to stop initiatives that positively impact pupils, adding: "We believe acting to support long term health has to be the right thing to do."
An Ofsted spokesperson said it monitors "unusual patterns of entry" at schools and deals with it on a case-by-case basis.
But they added: "Data showing an unusual pattern of qualification entry does not necessarily mean that gaming is taking place; instead, it leads to questions that inspectors will explore with schools.
"Gaming can sometimes mean using a perfectly legitimate qualification in a way that is not in the interests of pupils."