Replacing Ofsted with a system of local inspection teams has been backed by the Association of Teachers (ATL) and Lecturers in its report on the future of inspection.
Launched today, ATL's report outlines five key principles for improved inspections, and suggests a move to non-graded inspections undertaken by local teams. Instead, inspection reports would highlight school strengths, areas for improvement and provide schools with a 'mutually agreed action plan' that identified where further support for issues could be found.
The union's general secretary Dr Mary Bousted (right) claimed that "fundamental reform" of inspections is needed, and that ATL's model answers "many criticisms of current Ofsted inspections".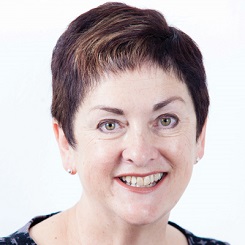 Highlighted in the report are issues of teacher workload and stress. In a survey last year, ATL found that four in 10 members had noticed a rise in mental health problems among colleagues in the past two years; six in 10 cited inspections were a factor in staff mental health.
The report asks that any future reform of inspections should be "defined by what is right for pupils in a given school, not by centrally determined criteria chosen because they are easy to measure, nor by benchmarks or a focus for short-term political or media appeasement.
"Its nature would be supportive not adversarial; advisory not dictatorial; empowering not punitive."
The report seeks to head off concerns that a system in which local inspectors working with schools over a period of time would get too close, by recommending that parents or community stakeholders could request a review of inspection arrangements if teams appeared too close and uncritical.
Full inspections, similar to those currently undertaken, would still occur for schools at risk of failure.
The report states: "Full inspections, as a summative assessment, would take place only occasionally. They would be triggered by a local stakeholder request, the inspection and improvement partnership determining that capacity to improve is limited or that a sufficient number of areas of provision causing concern warrant whole-school inspection.
"Findings under a full inspection would be able to offer a clear public signal when there is severe weakness causing the quality of education to be below a good standard."
Speaking about the model, Dr Bousted said: "We propose an inspection system that is tailored to school improvement, proportionate in its impact and works with, not against, the teaching profession.
"We do not shy away from the fact these proposals call for a significant change in culture. The time is right, now, to seriously consider the fundamental reform of school inspection. It is too important to be left unreformed and unsuited to its primary purpose – raising further the standards of education in all our schools, for the sake of all who learn within them.
"Many agree that it is time to redesign school inspection. ATL has provided a model that can answer the many criticisms made of current Ofsted inspections and satisfy the demand for effective accountability with an emphasis on professional agency. Most importantly, children and young people will benefit from schools' active involvement in improving teaching and learning."